* Part of a letter sent to Gov. Bruce Rauner by 14 Downstate and suburban school superintendents plus Forrest Claypool, the CEO of CPS…
The [state's school funding] formula is broken. Yet despite collective agreement on this from across the state, including your own acknowledgement of that fact, you continue to push a proposal that puts more money into this worst-in-the-nation K-12 funding system in the same way.

We are profoundly disappointed in the decision to play politics with the state education budget and pit school districts against each other in an unnecessary competition for insufficient resources. We expect the Governor of the entire state to rise above political games to put all of our children's futures before politics. However, instead of suggesting reforms that reflect the economic diversity of Illinois, your proposal continues to put a greater burden on the districts supporting our most vulnerable students. In the face of the many recent proposals to improve our state's inequitable approach to education funding, you put forward one that maintains the failed status quo of Illinois' outdated funding formula.
Click here for the full letter. Signatories…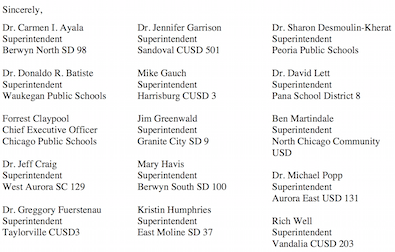 * Meanwhile…
Gov. Bruce Rauner plans to hold a news conference Monday in Ottawa as part of his effort to persuade the General Assembly to enact a short-term funding package for schools, a local official says.

Mayor Robert Eschbach confirmed Saturday night that the governor's office requested space for Rauner to hold the news conference at 1:45 p.m. Monday at Ottawa City Hall. Area school superintendents are expected to attend.

Eschbach said the governor's office made the request about 3 p.m. Friday.

This would be Rauner's first public visit to La Salle County since taking office in January 2015.
Gee whiz. He's visiting a politically targeted House district. What a coinkydink.
…Adding… There could be a demonstration…
Illinois Valley Building Trades and Construction Council asked its members to attend in the following post on Facebook Sunday: "The Governor will be in Ottawa Illinois to talk about school funding. Construction workers and all working people need to attend this rally. Don't forget he wants Illinois to be a right to work state and lower the prevailing wage to non union standards. If you are lucky enough to be working, send your better half or your mother or father if they are busy send gramma. This goes for AFSCME workers, Teacher Unions, Industrial Unions. It's time to stand up for yourself. I will be there, hope to see you."
But it looks like from reading the actual post that there isn't much online interest.
*** UPDATE 1 *** Quite a few people attended after all…
Union members chanting: "Hey, hey, Rauner's gotta go" in front of Ottawa City Hall pic.twitter.com/BTdEwYrUnt

— Derek Barichello (@tt_derekb) June 6, 2016
*** UPDATE 2 *** This pic from inside looks like it could possibly be a hostile crowd. A local radio station is promising live coverage of the governor's press conference. Click here.
*** UPDATE 3 *** Word from the locals is the governor may be moving the event to another venue.
I'm told the protesters are now moving to the courthouse.
*** UPDATE 4 *** I'm told protesters completely surrounded the city hall before the venue was moved a block away to the court house.
*** UPDATE 5 *** Like I said, the protesters have moved to the courthouse…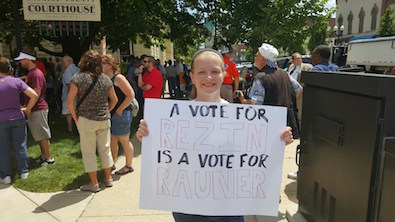 *** UPDATE 6 *** Live radio coverage has begun. Click here.
*** UPDATE 7 *** Courthouse was reportedly closed to the public. No protesters allowed inside.
*** UPDATE 8 *** Rauner apologized for having to move venue, but said he wanted to have a "constructive" discussion. Says he'll take questions from the audience.
*** UPDATE 9 *** The governor called out appointed Rep. Skoog for voting with Speaker Madigan. "We need the people of Illinois who don't live in Chicago, who live in the rest of the state" to stand up to Madigan and the city.
*** UPDATE 10 *** He just said, with a straight face, that Attorney General Lisa Madigan was trying to stop "hard workin' state employees" from getting paid in order to force a tax hike.
*** UPDATE 11 *** First audience question is hostile. Person supports graduated income tax. Asks governor to be a "strong advocate for collective bargaining." Rauner says it's "false, baloney spin" that he wants to strip collective bargaining rights. "I am not anti-union, I am not anti-collective bargaining." Says Madigan has cut school funding for years. "I've made a ton of money and I'm proud of it," the governor said. Said he's given "tens of millions of dollars" to public schools.
*** UPDATE 12 *** The governor said Streator was getting a lot more money under his K-12 spending plan. Turns out, it's just $6,119.
*** UPDATE 13 *** Rauner raged against the "Corruption and cronyism and self-dealing to benefit a machine." He's in high dudgeon.
*** UPDATE 14 *** Rauner: "There is no right to work anywhere in our agenda. Zero. Zero."
*** UPDATE 15 *** "The Democrats are in the super majority, so I'm not going to push anything that won't pass."
*** UPDATE 16 *** Ouch…
#Rauner says "right to work" is nowhere on his agenda, interrupting a media member

— Derek Barichello (@tt_derekb) June 6, 2016
"If you don't want to be in a union, you should have the right to choose," Rauner just said, isn't that right to work?

— Derek Barichello (@tt_derekb) June 6, 2016
#Rauner took one question from the media, then darts. He answered that question with the same answer for minutes

— Derek Barichello (@tt_derekb) June 6, 2016
*** UPDATE 17 *** Ouch… One more…
Our reporters have confirmed #Rauner took four questions from the media after the radio broadcast was taken off.

— Derek Barichello (@tt_derekb) June 6, 2016
79 Comments












































































































































































































































Sorry, comments for this post are now closed.