* Press release…
Today, as Republican Mark Kirk refuses to criticize Donald Trump for his racist comments about Latino & Muslim Judges, the Democratic Party of Illinois is launching a new website to highlight the similarly offensive rhetoric employed by Kirk and Trump. The website, www.TrumporKirk.com, will be accompanied by a digital advertising campaign. It presents viewers with a series of ridiculous comments and quizzes them on whether they were said by Mark Kirk or Donald Trump.

"Republican Mark Kirk and his endorsed presidential candidate Donald Trump share a habit of making offensive comments and embracing fringe conspiracy theories. One endorsed discriminating against Muslims and accused President Obama of having a U.S. Senator indicted out of political retribution. The other says Latino and Muslim judges are incapable of objective decision making. Examining their rhetoric, it's clear that Republicans Mark Kirk and Donald Trump are two peas in a pod. No wonder Kirk said he'd 'certainly support' Donald Trump and offered to serve as Trump's 'steady conservative hand,'" said Democratic Party of Illinois spokesperson Sean Savett.

Yesterday, Democratic Senate nominee Tammy Duckworth delivered a forceful speech condemning Trump's racist comments about Judge Curiel and Kirk's refusal to disavow them.

Examples of the quotes featured on the website include:

"She's as good-looking as a super model, but with a business education."

"He's going to have a rotating first lady … he's a bro with no ho."

"Tens of thousands of people are gonna lose their lives because of Barack Hussein Obama."

"The little rich girl is having a temper tantrum. It is ironic that an heiress with no record of service to her country would attack me."

"She has yet to lift her manicured little pinkie for our national security."
I took the test and only got half of them right, mainly because [click here to see the reason so I don't spoil your own quiz experience].
Oops.
* OK, now on to the other "controversy" mentioned above. Here's the Tribune…
Democratic U.S. Senate candidate Tammy Duckworth on Monday accused Republican Sen. Mark Kirk and others of being "complicit" in Donald Trump's campaign of "hate and division" and said they deserve "to be judged harshly" for failing to publicly rebuke the presumptive GOP presidential nominee over comments about the judiciary.

Speaking to a West Loop gathering of the national pro-Democratic women's group EMILY's List, the two-term congresswoman from Hoffman Estates warned the first-term Republican senator that "silence is betrayal" when it comes to failing to take a stand against Trump's criticism of federal Judge Gonzalo Curiel.
The problem here is that the Republicans are in a major trick bag. The moment they denounce Trump, they look like fools because they're immediately asked if they still support him.
* For instance…
House Speaker Paul Ryan (R-Wis.) had harsh words Tuesday for Donald Trump's comments about Judge Gonzalo Curiel, calling out the presumptive GOP nominee for racist comments while simultaneously reaffirming that his endorsement of Trump stands.
Kirk needs a better answer than Ryan. We'll see soon enough if he comes up with one.
…Adding… Forgot to note that I received this postcard in the mail…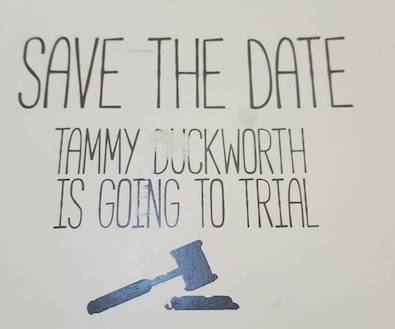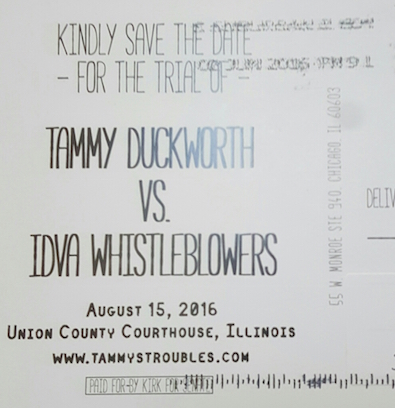 33 Comments


































































































Sorry, comments for this post are now closed.