* From the Illinois Collaboration on Youth…
Dear PNI coalition and potential plaintiffs,

We wake to newspapers across the state declaring "Enough!" and a small cameo for the PNI Coalition in last night's broadcast of The Daily Show.

We also wake to details of the Governor's proposed stopgap bill that was filed yesterday. Unfortunately, it appears that HB6591 will have little to offer human service providers despite its 773 pages. ICOY has analyzed it for youth-related funding in human services (see attached analysis of Federal and non-Federal funding) and found that it will do NOTHING to address our concerns about payment under our contracts. I strongly encourage you to take a look to see if your funding would be included as well.

Further, Nora (ICOY's Policy Director) notes:

HB6591 was filed 6/28/16 as the Governor's second proposed stop gap bill for FY16 and FY17. Article 23 provides for limited operational expenses, but this does not include many of the services delivered via contractual obligations without existing appropriation authority. Article 94 provides for limited operations for FY17, including many FY17 federal passthrough funds. Please note that if this bill is enacted - and SB2038 is enacted - HB6591 has a provision that repeals the section of SB2038 that prohibits the executive branch from reallocating funds to other budget items outside the intent of SB2038. Specifically, it would repeal ARTICLE 996 of SB2038: "No appropriation authority granted in this Act shall be used for personal services, state contribution for employee group insurance, contractual services, travel, commodities, equipment, permanent improvements, land, electronic data processing, operation of automotive equipment, or telecommunications services, as those terms are defined in Section 13 of the State Finance Act." (The Governor also had another "clean" K12 education bill filed HB6590 on 6/28/16).

In short, please do not get swept away by rhetoric and false hope today. Please review this bill closely and speak to your legislators about what you find. It is unlikely that they have scrutinized such a massive bill with your interests in mind. The House convenes at 11 am and the Senate at noon.
* Click the chart if you need a larger image…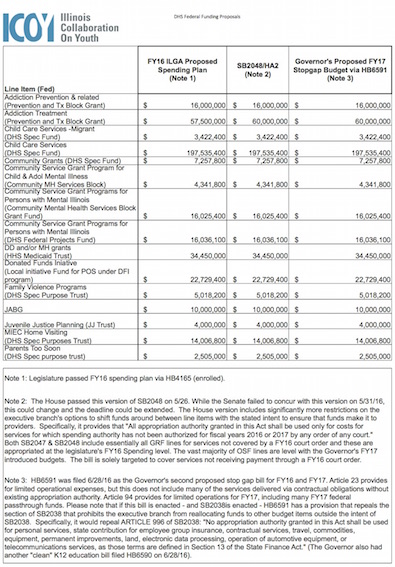 30 Comments

























































































Sorry, comments for this post are now closed.