* Stand for Illinois Children takes a look at the new K-12 plan…
We got some snippets of information about the education bill that looks like it's coming together and wanted to provide an update. (But keep in mind that we haven't seen bill language for the formula changes and that none of this is a done deal until they pass it to the Governor's desk and he signs it into law.) […]

First, the (as-yet-unseen) bill would give every school district the same amount as they received last year through the formula. Then, $250 million would be distributed through an Equity Grant, which would flow to districts based on their poverty concentration. Finally, every district would get at least what it would have received if the formula were fully funded next year, even if the first two pieces didn't get them quite there. My math shows the total increased cost would be $328 million.

This isn't a long-term solution to fix the deeply inequitable funding disparities in Illinois. Illinois's school formula is one of the most regressive and unfair system in the country and we desperately need a comprehensive solution. But, without an education budget in place, the neediest students in the poorest districts will suffer the most. The Equity Grant proposal takes a step toward equity while giving the legislature time to come up with a new funding structure.

Below are two charts. The first shows where new dollars would be allocated if the current General State Aid (GSA) formula were fully funded. The second shows how the Equity Grant proposal increase is allocated. Funding the current GSA system results in a trendline that has no correlation to district need. The Equity Grant trend shows more dollars being delivered to schools with higher rates of poverty – exactly the direction that Illinois needs to move in.
The bill was released after the above was written. It's an amendment to SB 2047.
* The two charts…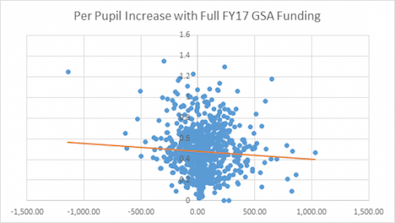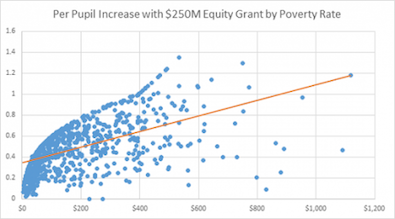 * More…
Want to know more details about what this means for your own school district? Here's our best guess. Keep in mind we haven't seen language and there are a few variables that could change. (In fact, one variable will definitely change – we need to revise this using net GSA numbers for last year instead of gross GSA. It's not a huge difference, but we'll dig that up ASAP and update this.) In general, lower-income districts across the state will see the biggest per pupil gains, from Antioch far up north (+$788 per pupil) to Anna-Jonesboro far down south (+$600) and from Brooklyn in the Metro East (+$650) to South Holland in the South suburbs (+$491). Chicago Public Schools has the 111th biggest per pupil gains (+$291).
14 Comments









































Sorry, comments for this post are now closed.