* This form is being circulated in AFSCME circles…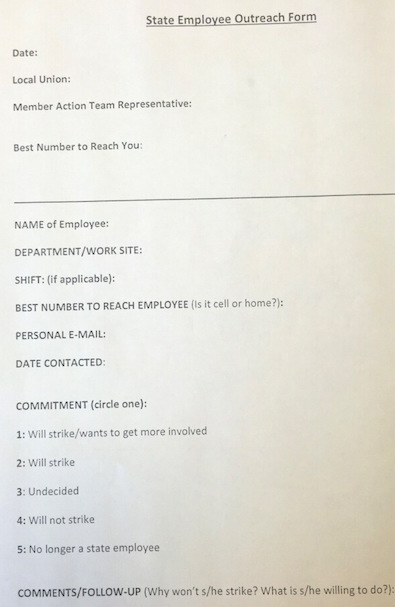 There are tons of rumors out there right now, and this form is spiking them up even further. Some folks are worried about retaliation from either side, for example.
* But Anders Lindall at AFSCME pointed me to his comments the other day about "strike assessment and informational meeting" notices that went up on union billboards in which he said in part…
But we know that as a candidate, Bruce Rauner vowed to force a strike and shut down state government. We know that last summer his administration was attempting to recruit strikebreakers, even reportedly discussing the mobilization of the National Guard. And we know that the administration still refuses to meet with our bargaining committee.

Governor Rauner's threatening approach has created instability and uncertainty throughout state government. We have to be prepared for him to continue seeking confrontation and sowing chaos. That's why AFSCME local unions throughout Illinois are meeting to share information and answer questions, and continuing to organize and build community support.
It could get truly crazy relatively soon. I'll let you know more when I know more.
*** UPDATE ***  From Jason Barclay, Gov. Rauner's General Counsel…
Last week we learned that AFSCME is conducting strike assessments throughout the state. This document confirms that AFSCME is now asking individual members to commit to a strike. And we have also heard that they have already selected a strike date of September 1 – which, depending on the status of the Impasse Case at the Labor Board, could be a violation of the Tolling Agreement AFSCME signed with the State wherein it committed not to strike until the Labor Board determines if an impasse has been reached. An AFSCME strike could result in serious disruptions to its members lives – disruption to pension calculations because of a lengthy strike, loss of wages and health insurance during a lengthy strike, and the possibility of being replaced by replacement workers, potentially permanently. The Governor has laid out a much more reasonable path – no strikes or lock outs, respecting the outcome of the Labor Board process agreed to by AFSCME, and allowing AFSCME members to vote on the Governor's proposals which are substantially similar to those that have been approved by 17 other bargaining units. AFSCME members should remember that the same executives calling for this strike will continue to be paid and will continue to receive their own health and pension benefits while marching members down this unknown and unprecedented path. As an administration, we will continue to hope for the best, but prepare for the worst to ensure that AFSCME's actions do not shut down services so critical to our taxpayers.
119 Comments




































































































































































































































































































































































Sorry, comments for this post are now closed.