* From Sean Stott at the Laborers Union…
The organization that issues workers compensation advisory rates just released their recommendations for 2017. The NCCI says that Illinois employers should see a 12.9% cut in their WC rates next year - the 3rd largest cut in the nation - totaling more than all of our neighboring states combined.
* The https://drive.google.com/file/d/0B_inyf2A_T9KWmJzQ0ZOdDE2b0k/view?ts=579901aa">chart…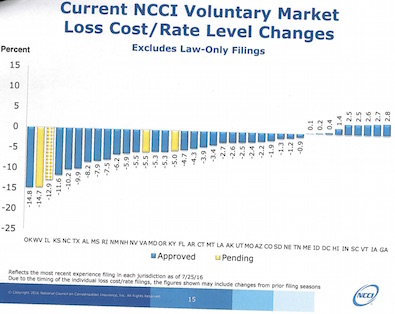 * The Illinois Manufacturers Association disagrees…
"Nothing in the NCCI filing suggests that Illinois is actually closing the gap when it comes to the high cost of workers' compensation relative to other states. It is abundantly clear that states like Illinois and West Virginia experiencing significant job loss in manufacturing, construction or mining jobs have also witnessed a reduction in indemnity and medical severity costs. However, the actual cost of workers' compensation in Illinois remains among the highest in the nation." - Greg Baise

· Largely as the result of the continued loss of good, high-paying jobs in manufacturing and enhanced workplace safety programs, the National Council on Compensation Insurance (NCCI) offered an advisory recommendation in Illinois with a reduction.

· It is important to recognize that the advisory 12.9 percent reduction in the overall voluntary rate is separate and distinct from insurance company premiums.

· In 2016, only four states including Illinois, Virginia, Kentucky, and West Virginia have received their NCCI recommendations at this time. Last year, NCCI reviewed 38 states and recommended advisory decreases in 27 states (71 percent). In Illinois, NCCI recommended no change in 2015. This year's recommended decrease follows the national trend.

· The advisory recommendation does not include self-insured companies and excludes 40 percent of the competitive insurance market that have large deductible policies.
18 Comments





















































Sorry, comments for this post are now closed.