* Sun-Times…
[House Republican Leader Jim Durkin] said Trump might hurt in some races this November, and help in others. And Durkin said he's still not ready to support the GOP presidential nominee.

"I'm not there yet," Durkin told reporters. "I want to hear someone talk like a president and act like a president before I vote for one."

State Senate Republican Leader Christine Radogno warned that a vote against Trump shouldn't mean a vote against Republicans across the state. And she argued that members of both parties have doubts about their presidential nominees.

"We'd be silly not to say there's mixed feelings about the top of the ticket. The great news is, though, that the other side has the same problem. I think we're starting on kind of an even basis here," Radogno said. "We may have people that love Trump and want to go out there and just vote for him. Our job is to say that's great but don't forget the rest of the ticket."

On her own feelings about Trump, Radogno called her ballot "private," but vowed that she wouldn't vote for Hillary Clinton.
I fully agree that Trump could actually be helpful to the Republicans in some districts. But statewide? No.
A Republican poll taken July 12-13 found Clinton leading 46.4 to 32.5. Another GOP poll taken July 14-16 had Clinton up 51-33. A Democratic poll taken August 1-4 had Clinton up 51-32.
…Adding… I meant to post this, too, but somehow forgot. Notice anything missing from the front of the ILGOP State Fair tent?…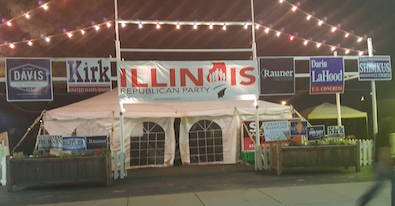 26 Comments













































































Sorry, comments for this post are now closed.