* Press release…
On the 45th anniversary of Women's Equality Day, State Rep. Dwight Kay continued his long-standing attacks on women. After publicly suggesting women who use birth control are immoral, Dwight Kay's latest attack on women suggests his opponent, educator Katie Stuart, isn't even capable of driving a car. Kay's piece portrays Stuart as a smiling passenger helping "navigate" while a man drives the vehicle.

"Dwight Kay continues to treat women like second-class citizens," Stuart said. "Dwight Kay has repeatedly failed to stand up for women's rights, putting corporate profits over equality in the workplace by voting against equal pay protections, voting against requiring insurance companies to cover birth control, and failing to support programs that protect women and their health, such as life-saving breast cancer screenings, domestic violence shelters and services for victims of sexual assault. So his latest stunt is just a continuation of his pattern of disrespect and outright scorn for women."

Kay's attacks on women date all the way back to his first year in office, when he voted against holding corporations accountable for failing to pay women equal pay for equal work, and reached a highpoint earlier this year when Kay made radically out of touch comments when debating a bill requiring insurance companies to cover the cost of birth control. "I seriously question how much promiscuity should an insurance company pay (for)," Kay said during debate on the bill in April.

Soon after, Kay voted multiple times against critical funding for life-saving breast cancer screenings, domestic violence shelters and victims of sexual assault. Continuing to show his lack of respect for women, Kay voted three times against a bill allowing women who are victims of domestic violence to take additional time off work to seek medical care, legal assistance and put their lives back together.

"On the 45th anniversary of Women's Equality Day, Representative Kay continued his unrelenting attack on women," Stuart said. "The people of the 112th district deserve better than having a misogynist representing them in Springfield."
* The mailer…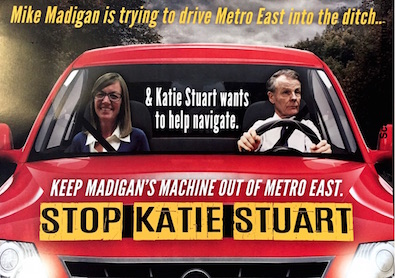 * React…
Kay said there was no sexist intent in the ad — only a goal of showing that Madigan's tenure has hurt downstate and the rest of Illinois, and that Stuart would be beholden to Madigan. Kay said he wonders if Stuart would be happy if the ad depicted Stuart serving as Madigan's driver.

"If it would make her feel better to switch drivers, we could certainly do that," Kay said. "Would she prefer to have the places switched? And have her chauffeuring around Speaker Madigan, who certainly is supporting her? Maybe that's something we should do; maybe that's a good thought." […]

Kay said Sunday he will be issuing a challenge to Stuart, asking her to sign a pledge that she won't vote for Madigan to serve as the House speaker if she's elected.

Kay said Stuart's criticism of the mailer is an attempt to "gin up interest in a campaign that's failing."

"I care about and respect all women, men and children I serve as state representative. For my opponent to say otherwise is wrong," Kay said.
That's a pretty good pivot by Kay (who is advertising on the fairly expensive St. Louis radio station KMOX at last check). Your thoughts?
30 Comments

























































































Sorry, comments for this post are now closed.