* From a reader…
Rich,

I'm a regular reader of the blog and an infrequent commenter. Not sure if you've seen this yet but the Illinois Policy Institute is trying to get AFSCME members to resign their membership to "protect" themselves from "the union's rules and disciplinary procedures." I've attached pictures of the cover letter they sent and the resignation letter they're encouraging us to send to AFSCME.

I wasn't sure whether you'd consider it newsworthy, though it certainly was to me 😊. Feel free to share, though I'd prefer to be kept anonymous.
* The cover letter…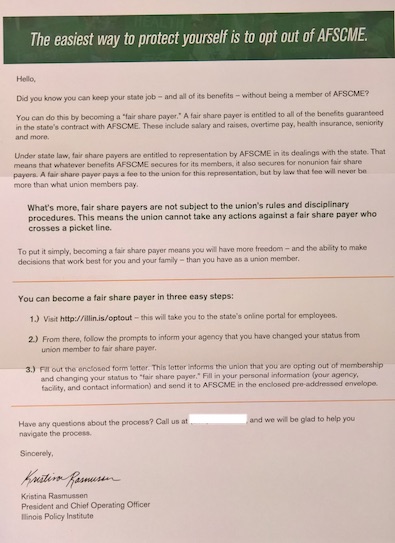 *** UPDATE ***  From Anders Lindall at AFSCME…
Through their union, state workers have a voice for fair pay, safe working conditions, affordable health care, a secure retirement and the tools they need to do their jobs.

On the other hand, the Illinois Policy Institute — funded by a half million dollars from Bruce Rauner — wants to privatize public services, replace pensions with Wall Street accounts, double employee health premiums and has even advocated firing all state employees.

I highly doubt whether public service workers who know the real IPI agenda will fall for this deceptive attempt to strip union members of their rights and silence their voices.
58 Comments













































































































































































Sorry, comments for this post are now closed.