* Just what this US Senate campaign needed, a 2010 acid flashback…
Sen. Mark Kirk's campaign falsely asserted on its website that the Illinois Republican was a veteran of the Iraq war, a misstatement that comes six years after exaggerations over his military record nearly cost him his state's Senate seat.

The Republican, now battling for a second term in a tight race in Illinois, stayed in the United States during the Iraq War when he served in the Navy Reserves. But on a public webpage on his official campaign website touting his record on veterans' issues, Kirk was listed as a "veteran of the Iraq war."

While Kirk campaign officials said it was a staff error, the issue resembles the controversy that nearly caused his 2010 Senate campaign to implode. Moreover, Kirk is now running for reelection against Democratic Rep. Tammy Duckworth, a military veteran who lost both of her legs during combat in Iraq. […]

Kirk campaign officials said the webpage was not meant to be made public, saying that it was supposed to be a private site while edits were being made to the page.

Campaign officials said a third-party vendor had drafted the language that they said had not been vetted or reviewed by the senator's staff. The language, they acknowledged, was inaccurate, saying it would be changed when the campaign began a more direct push to court military veterans.
Google's cached version dates back to September 15th. The Internet Archives Wayback Machine's most recently crawled version of the page which made the false claim is yesterday at 11:28.
* Here's a screen cap CNN posted of the site before it was put behind a firewall…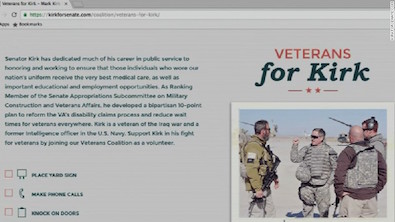 * And in case you don't remember, Kirk was sharply criticized in 2010 for an earlier claim on his official congressional website that he was "the only member of Congress to serve in Operation Iraqi Freedom." And that wasn't the only problems he had…
* GOP Senate candidate Kirk overstated military award

* Kirk apologizes, acknowledges more errors in military resume

* Kirk's try to dodge blame for false claims
There's lots more, but you get the idea.
Kirk needed to avoid any repeat of that goofiness at all costs, so whether it was an honest mistake or not, CNN has now glommed on and others may follow.
24 Comments







































































Sorry, comments for this post are now closed.