REPORTER: "Did you watch last night's debate?"

RAUNER: "I did not."

Which means he didn't hear his party's nominee, Donald Trump, say this about Illinois' largest city:

"In Chicago they've had thousands of shootings — thousands - since Jan. 1. And I'm saying 'Where is this? Is this a war-torn country? What are we doing?' "

When asked about it, this was the governor's response:

"I'm not commenting on the presidential politics."
* Last week, before the debate, I asked the governor's office where Gov. Rauner stands on reinstating "stop and frisk." Trump had said that this was absolutely needed in Chicago. This was the response…
Think I will point you to SB 1304 that he signed - supported by ACLU, etc. It addresses a range of issues including the stopping issue - which requires giving a receipt to folks when stopped.

https://capitolfax.com/2015/08/13/rauner-signs-body-cam-bill/
Yep. The body cam bill did, indeed, lay down rules on stop and frisk. And the ACLU did back the proposal.
And Trump repeated his assertion during this week's debate that stop and frisk must be implemented in the city.
* Now, check out this tweet from CNN's Senior White House Correspondent Jim Acosta…
Trump talking points on taxes: "Mr. Trump complies with all applicable rules and regulations" pic.twitter.com/DeoVA6Bslw

— Jim Acosta (@Acosta) September 28, 2016
* Drill down…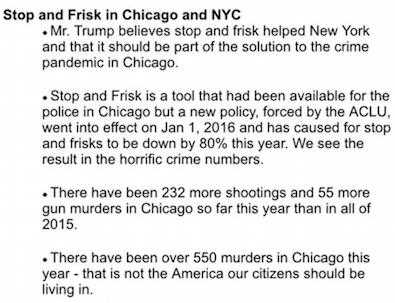 So, maybe the governor will have to answer now that the Trump campaign is blaming a bill signed into law by Rauner for the increased crime problem in Chicago. Or not. He's been awfully good at avoiding this topic.
39 Comments




















































































































Sorry, comments for this post are now closed.