* I told subscribers about this earlier today…
A 91-year-old World War II veteran from Auburn says he is "absolutely outraged" that his political views were "completely" mischaracterized in campaign fliers put out by a union organization.

"They took advantage of an old man," Vincent Speranza wrote in a letter distributed to area newspapers after he saw a flier, from Service Employees International Union Healthcare, that has him attacking state Rep. Sara Wojcicki Jimenez, R-Leland Grove, and Gov. Bruce Rauner, over proposed cuts to funding for a home-care program.

The flier also backs Jimenez's opponent in the 99th House District, Democrat Tony DelGiorno of Springfield.

Speranza said he received a call Friday morning from Jimenez. He said he backs her candidacy, and he offered to campaign with her.

"We had a nice chat," Speranza said.
* Here's the mailer…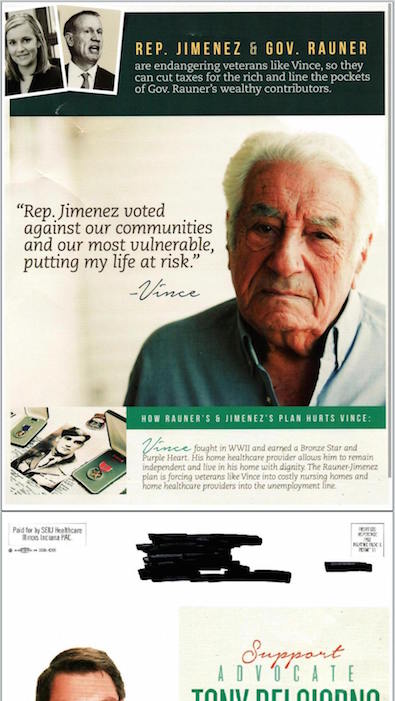 * And here's the resulting letter to the editor from Speranza…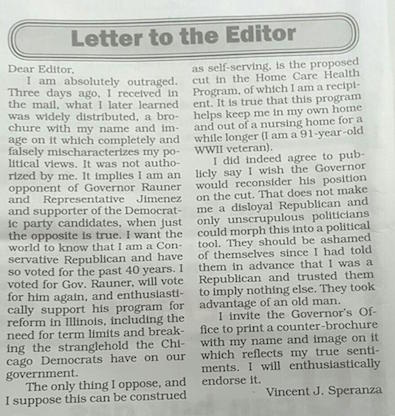 * Meanwhile, check out the latest mailer sent by the ILGOP on behalf of Rep. Wojcicki Jimenez…
48 Comments















































































































































Sorry, comments for this post are now closed.