* The Illinois Policy Institute is apparently miffed with the media's coverage of its "documentary" on Speaker Madigan. Click here, and here.
I offered to buy the original of the cartoon about me, but I was rebuffed. Too bad, even though the image looks a lot more like Rick Pearson than me (just kidding, Pearson). [Adding: I'm now told that they're working on an arrangement, which is fine by me as long as the price is reasonable because I have a spot for it in my office.]
* Here's the latest story…
Edwin Bender, executive director of the Montana-based National Institute on Money in State Politics, said this is the first he's heard of a social welfare group producing this type of documentary at the state level.

But Bender said it's a natural extension of other activities these groups have engaged in across the country, including campaign-style tactics such as opening field offices, knocking on doors, sending out mailers and making phone calls.

"Any (social welfare group) that says it's nonpartisan … that's the letter of the law, but their activities belie that, whether it's conservative or liberal," Bender said. "(These groups) are designed to be involved in elections."

The organizations typically argue that they're advocating on issues, not doing election work, he said.

"That's a thinly veiled excuse for being involved in electioneering," Bender said. "They're conforming to the letter of the law, but the spirit of the law has long ago vanished."
- Posted by Rich Miller 24 Comments


* The United States Supreme Court has refused to hear independent congressional candidate David Gill's case that he was illegally knocked off the ballot for coming up short on petition signatures. Gill won his case at the district level, then lost at the appellate level. Supreme Court Justice Elena Kagan denied the request for appeal. The Peoria Journal Star is hopping mad…
For us, it was the principle of the thing in a state where Gill is quite right that the political system is "rigged" — against third parties, in favor of incumbents, etc. To suggest, as the state did in federal court, that Illinois law on this subject is "reasonable and non-discriminatory" is nonsense. It's clearly discriminatory against independents. It's only reasonable if you're among the favored in an Illinois that has made a mockery of every aspect of a government "of the people, by the people, for the people."

What we have instead in the state we have the gall to call the "Land of Lincoln" is a government for them and against us, that has few peers for incompetence and corruption, that goes out of its way to deny its residents the choices they want (see the Independent Maps effort).

George Washington may have been on to something in warning us to the dangers of a two-party system — "itself a frightful despotism." Not in our experience have Illinois and U.S. voters been so fed up as they are now with such "deplorable" — to borrow a popular term — choices at the ballot box. Come the revolution, don't say it came without warning.
Keep in mind when commenting that these were federal judicial rulings about a state law. Also keep in mind that independent candidates aren't subject to primary opposition, which is one reason why they have to obtain so many signatures. You can make the case that it's a bad law and does discriminate, but it's apparently not unconstitutional.
- Posted by Rich Miller 21 Comments


* Let's call it a toilet, starve its funding source and lay off a third of its employees and toss in an incompetent board of trustees and then all act surprised when this happens…
Chicago State University enrolled just 86 freshmen this fall, an alarming drop as the embattled public institution faces an uncertain future.

Overall, the university now has fewer than half the number of total students it did six years ago. There are 3,578 students taking classes at the Far South Side campus this fall, down from 7,362 students in 2010, according to university figures released Tuesday. The numbers include 2,352 undergraduates and 1,226 graduate students.

While enrollment has been declining for years, the past year has been particularly troubling. Overall enrollment is down 25 percent, and undergraduate enrollment is down 32 percent in one year, the largest decline of any public university in the state. The 86 freshmen includes both full-time and part-time students — smaller than a kindergarten cohort at many Chicago Public Schools.
- Posted by Rich Miller 70 Comments


* Tribune…
Judging by your social media feeds, it seems nearly everyone was tuned in to the first presidential debate between Democratic candidate Hillary Clinton and Republican nominee Donald Trump.

But don't ask Republican Gov. Bruce Rauner what he thought of the faceoff — he wouldn't even tell reporters if he planned to watch the debate.

"I am not commenting on politics," Rauner said when asked if he'd be in front of the television Monday night.

It's the same response Rauner has given time and time again when asked about his support for the controversial Trump. In fact, he repeated a version of that phrase four times when pressed on the issue at an unrelated event Monday.
* More from the Sun-Times…
"I'm not commenting on politics," Rauner said. "I said I'm not commenting on politics. I hope you can believe that. I'm not doing it." […]

Asked why he won't show some leadership as the leader of the Illinois Republican Party and take a stand on the presidential race, the GOP governor said "As I've said, I'm not commenting on politics today."
* The Question: Do you think the governor can keep this up through election day? Take the poll and then explain your answer in comments, please.
bike trails
- Posted by Rich Miller 52 Comments


* Sun-Times…
Enrollment at Chicago Public Schools has dropped by 3.5 percent since last September, according to a preliminary count that shows a loss of about 13,000 students.

The loss is more than twice as large as district officials projected in July.

Some 8,181 of those students left CPS-run schools, which now count 294,967 students in grades K-12, according to numbers tallied from the 10th day of school.

Privately-managed charter schools have so far lost 6,600 students compared to last September, totaling 54,889 students — a loss of about 10 percent. Three charter schools left the district but remained open, though, accounting for about 1,000 of charters' decline.

Some 195 schools have exceeded expected projections district officials released in July, but 306 fell short.

Pre-kindergarten numbers and enrollment in alternative schools haven't yet been tallied. CPS will take its official count of students on the 20th day of school, which this year falls on Oct. 3. That count determines a school's final budget, and whether it will add teachers or lay them off. And last year, CPS picked up about 2,200 kids between the two counts.
* Tribune…
Chicago Public Schools' financial reputation took another hit from a major Wall Street credit ratings agency on Monday.

Moody's Investors Service dropped the district's bond rating further into junk status, lowering its view of the school system's debt one notch to a B3 rating.

Moody's cited a variety of factors for the downgrade. Among them: the district's reliance on short-term borrowing, a "deepening structural deficit" and a budget "built on unrealistic expectations" of help from a state government with money woes of its own.

Word of the downgrade came on a day when the district announced budgets at about 300 schools would lose a total of $45 million because of enrollment declines, and the Chicago Teachers Union said its members authorized a strike if contract talks break down.
Oy.
- Posted by Rich Miller 19 Comments


* Speaker Madigan's approval rating is about the same as Rod Blagojevich's was near the end of his rule. So, dealing with questions about Madigan can be tricky for House Democrats.
Here's an exchange between Democratic state Rep. Sam Yingling and his Republican opponent Rod Drobinski at the Daily Herald…
Drobinski criticized Yingling's support of veteran House Speaker Michael Madigan.

"His second vote every session, after he votes for Mike Madigan to be speaker of the House, is for the rules that give Mike Madigan the power to cause any bill to die in committee," Drobinski said.

Yingling said he's thought about his votes for Madigan as speaker and would consider another Democratic choice.

However, he added, he wouldn't vote for a Republican if no Democrat challenged Madigan to lead the House.
A dodge, for sure, but not a bad one.
* Democratic Rep. Fred Crespo professed his independence and agreed with his Republican challenger Katy Dolan Baumer on leader term limits…
Crespo responded that he's been anything but a Madigan puppet during his decade in the state legislature. He counts among his supporters the Republican mayors of Hoffman Estates, Schaumburg and Hanover Park.

"I'm proud to say that I have a lot of Republican friends and have gotten support from Republican elected officials," he said. "Unlike Chicago, in the suburbs your success is going to be closely connected to your ability to work with the other side."

But Baumer said there is a need for new ideas and leadership in the House, and only a push for term limits on the position of speaker may bring that about. She said it's unfair that one person from one part of Chicago has controlled the direction of so many state issues for so long. […]

Crespo declined to say whether he would back Madigan for another term as speaker, but said he supported fellow Democratic state Rep. Jack Franks' proposal to create term limits for the position.

His most important criteria for House leader is who is best able to bring together a diverse and potentially divided Democratic caucus, he said.

"At the end of the day, I'm taking direction from the people of the 44th District, not the speaker," Crespo added.
* Rep. Skoog said he'd be independent and then clammed up…
Q: Would state Rep. Andy Skoog, D-La Salle, and his GOP rival, Jerry Long, of Streator, vote to retain Michael Madigan as House speaker?

A: Long, along with virtually every Republican, has vowed to vote against Madigan.

In an Oct. 13, 2015, interview — two days after Skoog's candidacy for state representative became publicly known — The Times asked him whether he would vote for Madigan as speaker. Skoog, who had yet to be appointed as longtime Rep. Frank Mautino's replacement, didn't answer the question directly. Rather, he said he would stand up to Madigan, Gov. Bruce Rauner or any other politician in defending the interests of the 76th House District. His response was published in the Wednesday, Oct. 14, print edition. Skoog has not answered such questions since.
* And Rep. John Bradley turned the Madigan question into a Rauner question…
Severin's primary attack in this campaign has been that Bradley's loyalties are to Madigan and Chicago Democrats and not Southern Illinois.

To that, Bradley said, "I would point out that folks that aren't in leadership in both parties are receiving the same criticisms and I think there's a tendency in politics, particularly in this very, very ugly campaign season for those kinds of assertions, whether they be true or not, to be made." Bradley said he has never taken a vote "to the determinant of our area."

In this election cycle, Bradley said he has been "the victim of a lot of questionable advertising against me." As for the attack ads he's running against his opponent, Bradley said those ads are fair. It's only the ones being run against him that he finds unfair.

Bradley refused to answer specific policy questions related to the attack ads he's running against Severin. He would only repeat in regards to specific policy questions related to the ads that he thinks they are fair. For example, the ad that states "Dave Severin's biggest supporter wants to let 25 percent of the state's prisoners loose into our communities" is a reference to Rauner's bipartisan efforts to reduce the prison population. But Bradley refused to answer a question about whether he could support any type of prison reforms being proposed by the commission that Rauner created. […]

Bradley also said he worked with Rauner in his first months in office to solve the shortfall in the fiscal year 2015 budget when the temporary income tax increase partially reset to a lower level. But Bradley said that bipartisan spirit eroded shortly after that because Rauner took cuts too far and began picking winners and losers. Bradley said some of the losers were John A. Logan College, SIU and the Hardin County Work Camp. "So the wheels just kind of fell off after that," he said of Democratic leaders' ability to work with Rauner to solve the budget.
- Posted by Rich Miller 14 Comments


Voters will decide if the state should put constraints on money raised through license plate fees and motor fuel taxes … by forbidding that money to be used on other needs.

Governor Bruce Rauner won't say whether it's a good idea or not.

"I, definitely have always had a view on it … I'm just not going to comment on it.

A well-funded campaign backed by (both) business and labor (groups) is calling on voters to choose "yes." They say too much money intended for roads has been swept for other uses … and this will keep roads and bridges safe. Critics say it's writing a gravy train for contractors and labor unions into the constitution. They also say it will leave lawmakers hamstrung to make budgeting decisions.
* Tribune…
"There's a lot of pluses and minuses to it," Rauner said when asked about the transportation question Monday. "There's a lot of things I'm focused on, but that's not one."
- Posted by Rich Miller 17 Comments


* Donald Trump last night…
We have a situation where we have our inner cities, African-American, Hispanics, are living in hell because it's so dangerous. You walk down the street, you get shot. In Chicago, they've had thousands of shootings, thousands, since January first. Thousands of shootings. And I'm saying where is this? Is this war-torn country? What are we doing? And we had to stop the violence. We have to bring back law in order.

In a place like Chicago, where thousands of people have been killed, thousands over the last number of years, in fact almost four thousand having killed since Barack Obama became president. Over four, almost four thousand people in Chicago have been killed. We have to bring back law and order. Now, whether or not in a place like Chicago, you do stop and frisk which worked very well Mayor Giuliani is here worked very well in New York. […]

No, the argument is that we had to take the guns away from these people that have them and that are bad people that shouldn't have them. These are felons and these are people that are bad people that shouldn't be…when you have three thousand shootings in Chicago from January 1st, when you have four thousand people killed in Chicago by guns from the beginning of the presidency of Barack Obama, his hometown, you have to have stop and frisk.

You need more police. You need a better community, you know relation, you don't have a good community relations in Chicago. It's terrible. I have property there. It's terrible what's going on in Chicago. But when you look — and Chicago's not the only one. You go to Ferguson, you go to so many different places. You need better relationships, I agree with Secretary Clinton on this, you need better relationships between communities in the police because in some cases it's not good but you look at Dallas where the relationships were really studied the relationships were really a beautiful thing. And then five police officers were killed. One night very violently. So there's some bad things going on, some really bad things.
The claims about stop and frisk's impact on NYC's crime rate have been thoroughly debunked.
Other than that, your thoughts?
* Related…
* Trump injects Chicago crime into debate: 'A war-torn country?'

* U.S. Attorney: A few bad cops make it harder for good officers
- Posted by Rich Miller 54 Comments


* From the Illinois Policy Institute's news service…
While some blame the lack of state funding for various services and programs as a reason why there's violence in the streets of Chicago, Gov. Bruce Rauner said a lack of opportunity is a bigger culprit.

Rauner said no community is immune from violence and dismissed assertions that dried-up state funds is the root of the problem.

"The No. 1 problem we have for the long term, whether it comes to violence or poverty or low incomes or anything else, is lack of economic opportunity, and that comes from lack of being competitive in Illinois."

Rauner has been pushing for reforms that he said will make Illinois more competitive.

"We have not been doing this for decades, and it's the No. 1 reason we have these problems," Rauner said.
* Rauner actually made a much more pointed connection between gang violence and his Turnaround Agenda…
"Violence caused by gangs and drug battles, directly related to lack of opportunity. Directly related to lack of opportunity."
And then he pointed yet again to Indiana as a model for economic growth, correctly noting that tens of thousands of manufacturing jobs have been added in that state, while Illinois lags infinitely behind.
* But how is Indiana doing on violence and quality of life issues? After all, if it's such an employment mecca, shouldn't we also see a far better way of life over there?
From Jake Lewis at Illinois Working Together, a pro-union, anti-Rauner group…
Hi Rich -

Not sure if you saw the governor's comments today regarding violence and the budget impasse (see here at 3:25). The governor says the "number one problem" causing violence or poverty is "lack of economic opportunity." The governor then points to Indiana as a model for Illinois, a state that has "created economic opportunity" to address the problems of crime and poverty.

Though the governor may be enamored with our eastern neighbor, there are a few things he failed to mention about Indiana:

Though Illinois certainly faces challenges - challenges exacerbated by Rauner's failed governorship - following the Indiana model would throw Illinois into a race to the bottom. Instead, the governor should drop his extreme agenda, pass a fully funded budget, and work collaboratively to get Illinois back on track.
Indiana has a lower average cost of living than Illinois, so higher median incomes don't buy as much here as they do there. And the reductions in respective poverty levels are well within the margin of error.
But still.
- Posted by Rich Miller 17 Comments


* As we've already discussed, the Illinois Policy Institute's legal arm filed a lawsuit to block implementation of the state's election day registration law because it allegedly applied unevenly and unfairly to different parts of the state. Large counties were required to have same day registration at the precinct level, while smaller counties only had to provide a single central registration/voting location.
US District Judge Samuel Der-Yeghiayan sided with the plaintiffs today and issued a preliminary injunction. Unless this is successfully appealed, precinct registration on election day in the state's ten largest counties will be prohibited.
Click here for the full ruling…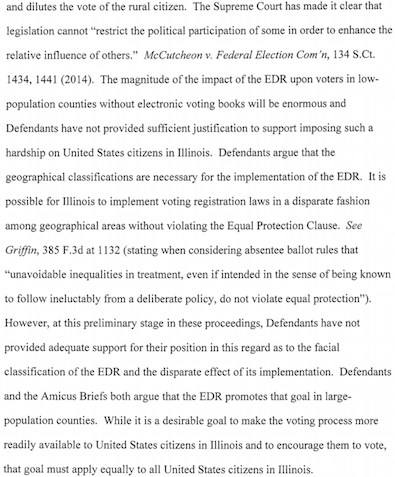 *** UPDATE 1 ***  Press release…
Joint Statement of
ACLU of Illinois and the Chicago Lawyers' Committee for Civil Rights Under Law
RE: Decision in challenge to Illinois' Election Day Registration System
September 27, 2016

Earlier today, U.S. District Court Judge Samuel Der-Yeghiayan granted a motion to block Election Day voter registration at polling places in Illinois for the November general election. The decision comes in the case of Harlan v. Schotz, in which plaintiffs claimed that election day registration (EDR) as authorized in Illinois is unconstitutional because while it is mandated in all 102 of the state's counties, only larger population counties are required to have EDR available at each polling place. All counties are required to have EDR available at their central election headquarters, often the county seat. The court's order today undermines the wide availability of Election Day registration at polling places.

A group of voting rights advocates, including the ACLU of Illinois, Chicago Lawyers' Committee for Civil Rights Under Law, Better Government Association, League of Women Voters of Illinois, and the Illinois Campaign for Political Reform, filed an amicus brief in August urging Judge Der-Yeghiayan to reject the effort to eliminate EDR so close to the November general election. EDR has been in place in Illinois since the 2014 general election. In the March 2016 primaries, more than 100,000 eligible persons registered and voted using EDR, including Democratic and Republican voters.

The following can be attributed to Edwin C. Yohnka, Director of Communications and Public Policy, ACLU of Illinois:

"We are concerned about the impact of this decision, changing the rules of voting so close to this hotly-contested election. We must continue to use every available method to ensure that every eligible voter in our state can access the ballot – not create obstacles to the franchise. We encourage the State of Illinois and the Cook County Clerk – parties in this matter – to explore all legal options to protect voters' rights. Thousands of people who are depending on EDR could lose the ability to vote if this ruling stands for the November general election."

The following can be attributed to Ami Gandhi, Director of Voting Rights and Civic Empowerment:

"We are extremely disappointed in this decision, on National Voter Registration Day, to restrict ballot access across the state. We want to be clear: scaling back Election Day Registration threatens to silence thousands of eligible voters in Illinois. We urge the Illinois State Board of Elections and the Cook County Clerk's office, who are parties in the action, as well as all election authorities across the state to pursue all options to promote voter access and minimize confusion for voters this close to Election Day."
*** UPDATE 2 *** Press release…
Common Cause Illinois and other members of the Just Democracy Illinois coalition are disappointed by the federal judge's decision to grant a preliminary injunction that would suspend Election Day Registration in polling places for the November Presidential election.

"To suspend Election Day Registration and suppress the vote less than two weeks before the voter registration deadline will hurt communities across Illinois who were counting on being able to register and vote on November 8," said Trevor Gervais, Lead Organizer for Common Cause Illinois. "The court's decision to side with a conservative group with ties to ALEC and the Koch brothers, combined with Governor Rauner's recent veto of Automatic Voter Registration, signals a step backwards for voting rights in Illinois and continues a nationwide trend of coordinated and well-funded voter suppression efforts."

The challenge to Election Day Registration is a troubling tactic to limit voter turnout during such a crucial election year. This decision further threatens communities with a history of experiencing voter suppression, at a time when voter interest is anticipated to be extremely high.

"Election Day Registration breaks down barriers to the ballot and ensures that the right to vote is accessible to all citizens," said Andy Kang, legal director of Asian Americans Advancing Justice | Chicago. "We will fight this ruling on the appeal and also continue our efforts to override the veto of Automatic Voter Registration. Ensuring that these two measures are law will help restore Illinois as a national leader in ballot access."

More than 110,000 people registered to vote on Election Day last March.

It is fully anticipated that the Illinois Attorney General's Office will be appealing the decision to the Seventh Circuit Court of Appeals. The next court date is set for October 27th, with the appeal to be heard as soon as possible. Common Cause Illinois and other voting rights advocates are confident that there will be a favorable ruling in the appeals process.
*** UPDATE 3 *** From the League of Women Voters…
Today's decision in Harlan v Schotz (in which plaintiffs claimed that election day registration (EDR) as authorized in Illinois is unconstitutional because while it is required in all 102 of the state's counties, only counties with populations greater than 100,00 0 must have EDR at each polling place. All counties are required to have EDR available at their central election headquarters), by the United States District Court is a disappointing one – not so much based on the merits of the plaintiff's underlying argument that smaller counties are at a disadvantage when it comes to EDR but the fact that the decision comes so close to the 2016 election. One voter registration deadline is less than two weeks from today.
- Posted by Rich Miller 53 Comments


* From Emily Miller…
Hi Rich,

With the election in full swing, it's easy to forget the details regarding the devastating impact the budget impasse continues to have. The Responsible Budget Coalition's #OneinaMillion campaign is tapping its members (whose numbers now top 300) to share stories about how the lack of a fully funded year-long budget is impacting our state.

Today Voices weighs in by asking and answering the question, "What is going on with the Illinois budget?"

The "stopgap" measure from this summer actually cut programs for children and families by about a third from previous spending levels. It also adds to our back bills, and Illinois will owe over $10 billion by January 1. Worse, the measure doesn't fund programs for the full fiscal year. On January 1, 2017, Human Services and Higher Education will be back to square one with no budget and no money available to keep programs running. There won't even be enough money to pay for the full year PK-12 appropriation in the stopgap measure.

Lawmakers and the governor have two choices when they return to Springfield after the election: They can either keep spending money we don't have, adding to the backlog of unpaid bills, or they can choose to develop a responsible plan to raise revenue for a balanced budget.

For those who'd like a visual aid: https://twitter.com/Voices4ILKids/status/780769070375469056

Thanks,

Emily Miller
Policy and Advocacy Director, Voices for Illinois Children
- Posted by Rich Miller 13 Comments


Streator resident David Cooke finally secured legal representation to pursue his election board complaint against former state Rep. Frank Mautino.

In another development, Mautino, D-Spring Valley, on Monday appealed the state Board of Elections' decision last week to deny his request to delay the issue while a related federal investigation continues.

The Chicago-based Liberty Justice Center, a conservative nonprofit group, revealed Monday it had agreed to represent Cooke, a former Streator High School board member.

In February, Cooke filed a complaint with the Board of Elections questioning Mautino's spending of campaign money for more than a decade. Mautino resigned to become the state's auditor general Jan. 1. […]

The Liberty Justice Center has filed subpoenas for information from the service station, bank and Mautino himself, Huebert said. […]

The Liberty Justice Center is linked to the Illinois Policy Institute, with which it shares a downtown Chicago office.
They don't just share an office, the Illinois Policy Institute founded the group.
- Posted by Rich Miller 53 Comments