* Politico…
Hackers are targeting state Democratic Party officials and have successfully breached and impersonated some of them, according to a message the Association of State Democratic Chairs sent Wednesday to its members.

"A number of chairs and state parties have been victims of hacks and impersonation recently," read the email, which POLITICO obtained.

On Monday, [Raymond Buckley, president of the Association of State Democratic Chairs] posted on Facebook that his Twitter account was hacked last week and that Facebook had warned him about someone pretending to be him and trying to delete his profile. "Three other Dem State Chairs had their emails hacked," he wrote in his post, which has since been deleted. "Interesting times."
Speaker Madigan doesn't use e-mail, doesn't have a Facebook page and doesn't use Twitter, so we can safely assume he wasn't hacked.
* The Question: What would a hacked Democratic Party of Illinois Facebook page look like?
Snark is heavily encouraged, of course.
- Posted by Rich Miller 46 Comments


* Tribune…
U.S. Sen. Mark Kirk on Wednesday released a letter from the physician that led the medical treatment of his stroke declaring that the senator has made a "full cognitive recovery" while still dealing with some physical limitations.

"He is unlikely to regain further range of motion on his left side, but he continues to undergo regular exercise and physical therapy to maintain his strength," stated Dr. Richard Fessler of Rush University Medical Center, who called Kirk otherwise "a healthy 56-year-old male."

"His speech is occasionally halting but has vastly improved. The stroke did not affect the left side of his brain, which controls cognitive and verbal functions," Fessler continued.

Kirk suffered a severe stroke in January 2012, returning to the Senate after a near year-long absence for recovery and rehabilitation. He often uses a wheelchair and occasionally uses a cane. Fessler wrote that Kirk has "no increased risk" of suffering another stroke.
* Sun-Times…
Politically, Kirk's campaign believes the big question voters have is about the mental state of Kirk, who turns 57 on Thursday, and what the lingering fallout of the stroke is on his judgment, if any.

Some of Kirk's controversial remarks — such as calling his colleague, Sen. Lindsey Graham, R-S.C., a "bro with no ho" in 2015 — have fueled speculation about Kirk's mental status.

Kirk's stroke did not impact "the left side of his brain, which controls cognitive and verbal functions," Fessler wrote, concluding Kirk "has made a full cognitive recovery."

The Fessler letter omits basic information yielded in routine physical exams — what medications Kirk takes, the results of basic lab tests, his blood pressure, electrocardiogram results.
Discuss.
- Posted by Rich Miller 29 Comments


* Unreal…
After just nine months at embattled Chicago State University, President Thomas Calhoun Jr. is apparently parting ways with the Far South Side university.

Trustees on Friday plan to vote on Calhoun's "separation agreement" and name an interim president, according to a board meeting agenda posted Wednesday morning. Calhoun is paid $300,000 a year, and the terms of the agreement were not immediately available. […]

On Wednesday morning, the president of the university faculty union sent a letter to the board to show the faculty's "virtually unanimous support" for Calhoun, saying he has "provided steady leadership and a strong public voice" during the difficulties presented by the budget crisis of the past year. […]

"The board has chosen a path guaranteed to create continued conflict, contention and uproar on this campus," said [Robert Bionaz, president of the faculty union], a history professor. "This is a truly dark hour for our university, and Gov. Rauner should immediately replace every member of this current board of trustees."
- Posted by Rich Miller 42 Comments


* Dusty Rhodes thought a young man's testimony to the General Assembly in favor of a bill to restrict school suspensions and expulsions sounded too good to be true. For instance…
"My junior high school had a very set protocol for disciplinary referrals," Anderson said. "At three you got an out-of-school suspension; at five you got expulsion. In 8th grade, I set my junior high school single-year record at 54, and I was not expelled. And the reason for that was: I had an assistant principal who pulled me aside and told me that I was too smart for the dumb things I was doing. He said that he wasn't going to let my behavior at age 13 affect what I was going to do at 23, 33 and 43.

"Every time that I would get those disciplinary referrals, he would pull me into his office and he'd make sure that my teachers forwarded my homework to his office, and I would do my school work in his office. And because of that, he didn't allow my immaturity to affect who I became as an adult. And now I have a college degree, a law degree, and I'm sitting here before you to advocate on behalf of legislation that is that champion, that is that assistant principal who was there for me. All these young people — they don't always have that. What this legislation does is it seeks to give those young people that additional champion."
* But then she tracked down that assistant principal…
"Quentin Anderson! Really, really liked him. He drove me crazy!" Hampton said, "I'm not going to lie, he drove me crazy. It was just… at the time, he wasn't a bad person, he just was going through some tough times, which led to really poor choices." […]

"Quentin went through some really difficult phases, but you know what? If you can look past their choices and look into their heart, I really believe that there's a big difference between who a person is versus the choice they make," Hampton said. "Yeah, you have to pay for this choice, but are you really a bad person? No. Let's rethink this. That's how you change behavior."

But Hampton didn't just change Quentin Anderson's behavior. The change Hampton made in that one student eventually changed the law in Illinois.
* But the story doesn't end there. Dusty sent me an e-mail today…
So yesterday we aired this story that originated when I watched this kid lobby for Lightford's SB100, and became suspicious that his personal tale he kept telling all the lawmakers was exaggerated if not wholly fabricated. Turns out — it wasn't. But when I sent him a pic of the principal he had talked about every time he testified, he responded, "Yep, that's the dude that saved my life." I thought — well that's a little melodramatic. But then last night, he contacted me and said his brother had called him after hearing the story, in tears. And he sent this link so that I could see who his brother is:

https://www.google.com/search?q=cornealious+anderson&ie=utf-8&oe=utf-8​

And now I don't think it was so melodramatic.
If you click that link, you'll see that Anderson's brother also caught a lucky break that led to a reformed, honorable life.
- Posted by Rich Miller 12 Comments


* Some folks just can't ever seem to fade out…
if you're keeping tabs of potential gubernatorial candidates, Tio Hardiman today said he's considering another run for governor.

— Tina Sfondeles (@TinaSfon) September 14, 2016
* The press release…
Tio Hardiman Offers Strong Alternative as 2018 Gubernatorial Prospect

(Chicago, IL) - After racking up 125,500 votes, securing nearly 30 percent of the vote statewide, and winning 30 counties downstate in the March 2014 Democratic Primary, Tio Hardiman is considering another run for Governor. The Chicago native has focused his career on strong community development and social change, and he believes in the face of economic and political stagnation, he is the catalyst Illinois needs. In a statement released today he said:

"My priorities have always focused on what is best for everyday people – ensuring youth have jobs, communities are economically stable and violence is reduced in every neighborhood. I represent the people, and in my first run for governor in 2014, I learned exactly what it would take to ensure a successful primary campaign. I'm determined to represent the common voice, and I'm the only candidate in the state of Illinois who does not need millions of dollars to win a primary. I could win the March 2018 Primary with $500,000, which promises to be a wide-open raise that is anyone's game. Governor Bruce Rauner has disappointed millions of people across Illinois by allowing the state's economy to languish. He has failed to reduce the state deficit, failed to address violence in Chicago, refused to fairly fund Chicago Public Schools, and has aggressively worked to break apart Illinois unions that protect hard working citizens. Illinois needs a leader who can take us in the right direction, and I plan to run a comprehensive grassroots organizing effort that will galvanize over 100,000 people to join my campaign." - Tio Hardiman, prospective 2018 gubernatorial nominee
He says he can win the race with $500,000? Does he recall that he only raised $19,372.11 in the first quarter of 2014? And all but $555 of that was a loan to himself?
Hardiman ran an almost non-existent campaign. So, he didn't "win" those votes and counties. The inept, unpopular Pat Quinn lost them.
But, whatevs. It's a free country. Have at it.
- Posted by Rich Miller 11 Comments


* WAND TV…
Governor Bruce Rauner told law enforcement officers fixing the states wasteful bureaucracy will help free up the money needed for public safety.

The Governor made his comments at the Decatur Conference Center & Hotel. He spoke to more than 200 criminal interdiction police officers.

"Reduce wasteful bureaucracy, the cost of bureaucracy in our government, and free up money that we can put into public safety," Rauner told WAND's Doug Wolfe before leaving the conference.

The Governor told officers the money could be used to put extra police on the streets and provide them with the technology to do their jobs.
* Rauner…
"So we've got this vicious cycle going. Bureaucracy wasting money and low economic growth not generating money and it's taking away resources from you, it's taking away from our school and making all the problems that you're dealing with every day worse."
- Posted by Rich Miller 46 Comments


* ILGOP…
If the people of Illinois skipped out on their job responsibilities 73% of the time in the month of September, they would get a pink slip – not a promotion.

Why does Congresswoman Tammy Duckworth hold herself to a different standard?

As NBC Chicago reports, Duckworth – one of the least-effective members of Congress, has missed 19 out of 26 votes in this month alone:

Duckworth has missed 19 out of 26 votes in September following a seven week recess. That includes seven votes Tuesday…Last week, the Duckworth campaign claimed the congresswoman missed votes because she was busy on the campaign trail.

One of the seven votes Duckworth skipped yesterday would prevent tax hikes on out-of-pocket medical expenses for middle class Illinoisans and seniors over 65.

Yet, that just wasn't important enough for Duckworth to show up to work.
They list a couple of bills that'll probably never become law and conclude…
The United States Congress isn't just another office in the Rod Blagojevich administration where public officials can skip out on their responsibilities without consequence.

Tammy Duckworth should stop ripping off her constituents by wasting their tax dollars on an empty, ineffective congressional office.
* NBC 5 with the Duckworth response…
"On Tuesday, Tammy was warmly received by over 2,000 working men and women of the International Association of Machinists and Aerospace Workers union, where she laid out her vision for an economy based on fair trade and opportunity for all in contrast to Senator Kirk, who supports the tax loopholes companies use to ship jobs overseas and tax breaks for millionaires and billionaires, paid for by raising taxes on middle-class families by $2,000," Duckworth spokesman Matt McGrath said in a statement.

"She also noted that Illinois has lost more than 270,000 manufacturing jobs since Kirk was first elected to Congress, a fact not lost on those in attendance, or working families across Illinois," McGrath added. "With that record, it's no surprise Kirk was a no-show in Illinois on Labor Day."

The Duckworth campaign also pointed to votes missed by Kirk, including one in May that looked to protect and enhance the rights of sexual assault survivors. The Kirk campaign noted that Duckworth also missed a vote that day on a measure that looked to help police find kidnap victims.
This meaningless campaign can't be over soon enough.
- Posted by Rich Miller 26 Comments


* This isn't as silly as some might think. As the article rightly notes, no state has defaulted on its bonds since Arkansas during the Great Depression and states can't file for bankruptcy…
For a year, Citigroup Inc. has recommended a strategy that has been controversial among its clients: Buy debt issued by the lowest-rated U.S. states to boost returns in a market where tax-exempt yields sank to historic lows.

Though there is "little optimism" that some of the worst-rated states with negative credit outlooks will see their funding of public pensions improve enough to help their bond ratings, Citigroup continues to "cautiously" recommend the debt to investors, according to a new report.

"It's a controversial topic, but we think it is a compelling buy," Vikram Rai, head of municipal strategy at Citigroup, said in a phone interview. "There is downgrade risk, but the credit stress is going to unfold slowly. The spread is compelling."

Citigroup's report declines to name specific states but some of the lowest rated such as Illinois and New Jersey, have returned 5.148 percent and 6.067 percent this year, respectively, according to S&P Municipal Bond Indices, some of the highest in the market.
- Posted by Rich Miller 25 Comments


* Press release…
The Kirk For Senate campaign will launch its first Spanish television ad tomorrow, titled "Su Senador," highlighting Senator Kirk's work on behalf of Illinois' Hispanic community and residents. The ad will run on Univision and Telemundo until the end of the election cycle.

Senator Kirk has consistently broken from his party to support and advocate for comprehensive immigration reform. In 2013, he was one of 14 Senate Republicans to support comprehensive immigration reform and has continued the effort throughout his term, working with organizations like the Illinois Business Immigration Council. In 2005, Senator Kirk launched his Abuelitas program that has reunited over 3,000 separated families. He is fluent in Spanish and studied at the Universidad Nacional Autonoma de Mexico.
* Tribune…
So far, Univision, which airs on WGBO Ch. 66, reported the Kirk campaign bought seven ads for this week at a cost of $3,175. No spending report was on file with the Federal Communications Commission for Telemundo, which airs on WSNS Ch. 44.
So, more people may read about it than actually see it.
* The ad…
* Script…
When Donald Trump says bad things about immigrants, I have spoken out against him.

I don't support Trump.

I've worked with Republicans and Democrats to reduce gang violence in Chicago.

And I support immigration reform so families can stay together.

I'm Mark Kirk. I approve this message and I am proud to be your Senator.
Thoughts?
- Posted by Rich Miller 19 Comments


* Press release…
The Campaign for Comptroller Leslie Geissler Munger on Wednesday called on Chicago City Clerk Susana Mendoza to pass on one of her two public pensions to make up for her ten years of simultaneously taking in two government paychecks.

The campaign noted that Mendoza raked in two salaries – one from the city of Chicago and the other from the state – during her ten years of "service" in Springfield. The paydays coincided with government contributions to her two public pensions.

"Susana Mendoza voted for the unbalanced budgets, tax increases and pension holidays that put Illinois in fiscal crisis," Munger Campaign Manager Phil Rodriguez said. "At the same time, she picked up two paychecks and sweetened her two pensions. It embodies all the problems that have led us to this place."

Mendoza started working for the City of Chicago in 1998 as a Project Coordinator. In 2000, she won a Party Primary for State Representative and received a 33 percent raise for her city job a month later. She then served ten years in the General Assembly, all the while remaining on the city and state payrolls.

The salaries coincided with contributions to two public pensions.

"It's time for a change," Rodriguez said. "Leslie Munger spent her career balancing budgets and meeting financial expectations. She has dedicated nearly two decades to serving developmentally disabled adults. She doesn't accept a public pension or state health care benefits. The contrast could not be clearer."
You'd think that info about Munger's "two decades" of dedication to "serving developmentally disabled adults" would be on her campaign bio page. It ain't.
Other than that, what do you think of the release?
…Adding… Her explanation is in her official bio…
She is an active community leader and volunteer, and was honored as Lincolnshire's Citizen of the Year in 2004. She is a long time volunteer and former Board member at the Riverside Foundation, a not-for-profit residential facility for developmentally disabled adults in Lincolnshire where she was the Volunteer of the Year in 2013 and the Distinguished Service Award Honoree in 2016.
*** UPDATE ***  From Susana Mendoza…
"Like Rod Blagojevich, a pathological liar who attacked Susana on this same false charge years ago, Leslie Munger isn't telling the truth. When Susana retires, she will have only one pension. What's true is Leslie Munger flat out lied at the Chicago Tribune last week when she denied that her campaign chair is Elizabeth Brandt when official documents signed by Munger herself show Brandt, the leader of the movement to slash the paychecks of thousands of Illinois private sector workers, is in fact her campaign chair. Leslie Munger is very wealthy and doesn't have to worry about a safety net when she retires unlike 99% of other Americans. We need a truth-telling independent comptroller, not a Rod Blagojevich quoting, factually challenged lap dog for Bruce Rauner."
Yikes.
- Posted by Rich Miller 77 Comments


* Reboot Illinois…
Illinois voters were asked for whom they would vote if the election were held today and 51 percent supported Clinton, 33 percent preferred Trump, Johnson got just over 4 percent and Stein polled a bit more than 1 percent.
* And then they asked voters if they'd like other choices. 38 percent said yes…
More than 44 percent of Republicans surveyed said they'd prefer a different candidate, while only 26 percent of Democrats wanted a new nominee and 51 percent of independents wanted new presidential contenders. Men wanted a new nominee more than women by a margin of 12 percentage points, 46-34.
Both obviously have their intensity problems.
* But check this out…
The results show Clinton has done a better job of solidifying her base than Trump. Clinton wins the support of 84 percent of those who say they are Democrats, while Trump has the commitment of 74 percent of those who identified themselves as Republicans.

As expected, Clinton polls best in Democratic Chicago, but also does well in suburban Cook and the collar counties. Trump, though, garnered more than one-third of the support of collar county voters. His strength is in downstate Illinois, but he still falls short of winning 50 percent support in that region, where more than 12 percent of voters remain undecided.

"The only area of Illinois Mr. Trump enjoys a lead is downstate–and the further south of I-80 you travel, the stronger he leads," Durham noted.
Trump's only getting a third of the collar county vote and he isn't at 50 Downstate? That ought to send shivers down some GOP spines.
* Methodology…
This poll was conducted on 09/12/2016 among 955 registered voters using both automated (recorded) on landline phones and live interview calls to cell phones. 40% of the responses came from cell phones. Margin of error is ±3.17%.
- Posted by Rich Miller 35 Comments


* Since Gov. Rauner has involved himself so intricately with this pick, Rep. Harris was likely doomed anyway. Too much of a free thinker…
One of the candidates to replace departing state Sen. Matt Murphy of Palatine says he's dropping out of the running.

Republican state Rep. David Harris of Arlington Heights told the Daily Herald Tuesday he plans to withdraw his name from contention and continue serving as a member of the Illinois House.

Harris, who was elected in 2010 and previously served in the state legislature in the 1980s and '90s, said his decision was influenced by the seniority, committee assignments and good relationships with colleagues he has in the House.

The announcement comes several days after Republican Gov. Bruce Rauner and a number of his allies held interviews for the six candidates interested in the job. Harris has at times criticized Rauner's continued push for pro-business changes in state laws and operations without a full state budget in place.
*** UPDATE 1 ***  From Rep. Harris…
State Representative David Harris (R-Arlington Heights) today announced that he was informing the Republican Township Committeemen from the townships in his area that he wants to be removed from consideration for possible appointment to the District 27 State Senate seat when the seat is vacant.

The local Republican Committeemen in the 27th District area vote on a weighted basis for the individual they want to appoint as a replacement. The incumbent State Senator, Matt Murphy, has announced that he intends to resign effective September 15th. The Committeemen would vote on a replacement after the office becomes vacant.

"I have thought long and hard about the possibility of seeking the Senate appointment," said Harris, "and after much reflection I have decided that I want to continue to serve my constituents in the House of Representatives. Serving in the Senate would be an honor, but serving in the House is a great honor, as well."

Harris added "I have excellent committee assignments in the House; I have positive relationships built up over the years with my House colleagues; and I have seniority in the House that I would lose in the Senate. All of these factors work to the benefit of the people of my House district, and they enable me to provide effective service to my constituents. I do not want to lose all those positive factors by moving to the Senate."

There are several quality candidates that the Republican Committeemen are considering right now, and it is expected that a vote on the appointment could come very soon after the incumbent's resignation takes effect.
*** UPDATE 2 *** From what I'm told, Rooney is pretty much a sure thing (nothing is ever 100 percent in this biz). More for subscribers tomorrow…
Republican state Rep. David Harris of Arlington Heights first told the Daily Herald he planned to withdraw his name. Less than three hours later, state Rep. Tom Morrison of Palatine followed suit. […]

Morrison threw his support behind Rolling Meadows Mayor Tom Rooney, who could emerge as the consensus candidate among a group of suburban Republican committeemen who don't always get along.
- Posted by Rich Miller 28 Comments


* From Scott Cisek's Facebook page…
I have been thinking about it the last 24 hours. When you consider campaign staff survives for a year on a diet of nothing but alcohol, cigarettes, cold pizza, and parade candy you really get a sense of how strong and driven these women and men really are.

Those are the four "campaign food groups" - ask any staffer, I'm not making this up.
His commenters chimed in that he'd forgotten to include caffeinated drinks like coffee and pop.
* The Question: Your favorite personal campaign story?
- Posted by Rich Miller 36 Comments


* Jim Nowlan has a new column about lobbyists and interest groups and includes this thought as well…
Having already personally committed $20 million or more to the campaigns of others, Rauner is now both inside the game as governor and also a one-man interest group, doggedly pursuing a business-friendly, anti-union agenda.
That's one way of looking at it, for sure.
- Posted by Rich Miller 20 Comments


* Press release…
Dennis FitzSimons, Chair of Independent Maps, on Tuesday issued the following statement in response to the Illinois Supreme Court's refusal to reconsider its 4 to 3 decision disqualifying the redistricting reform amendment from the ballot:

With the Illinois Supreme Court's refusal to reconsider its 4 to 3 ruling against the Independent Map Amendment, Illinois voters have been denied their right to vote on a constitutional amendment to remove politics from the way state legislative maps are drawn. Four members of the state's highest court have rejected an amendment that we firmly believe meets the state constitutional requirements for amendments that can be proposed by voters.

Our bi-partisan coalition collected more than 563,000 signatures on petitions to place the amendment before voters and to allow voters to decide whether to change the redistricting process, which now gives legislators the power to draw their own district boundary lines – a clear conflict of interest and one of the reasons there is only one candidate running in 60 percent of this year's legislative elections.

Unlike what they had done in every single similar case, the majority of the Supreme Court refused to consider transcripts of the Constitutional Convention debates, which support our argument that the amendment is exactly what the framers intended to allow citizens to do. They ruled on only one of seven arguments made by opponents and did not consider the other six counts – leaving those questions "for another day." But that "another day" may never come.

We asked that, at a minimum, the court give voters guidance about what the majority believes is permissible in a citizen-initiated amendment to reform redistricting through a fair and impartial commission. Today, without comment, the court refused.

Our coalition remains committed to reform and believes an independent redistricting commission would be one important step in changing state government and making the legislature more responsive to the voters of this state. Whether that is possible through a citizen-initiated amendment is now an open question to be discussed by supporters throughout the state.

We are grateful to our thousands of supporters and contributors, to the many, many Illinoisans who gave up nights and weekends to circulate petitions and organize volunteers, and to the great outpouring of support from newspaper editorial boards and opinion leaders throughout Illinois.

Change is difficult, especially in Illinois government, but it is a battle worth fighting.
* From Gov. Rauner…
"Today's court decision is very disappointing, but not unexpected. Now that the courts have denied Illinoisans the right to vote on a redistricting referendum in November for the last time, it is up to the General Assembly to address political reform - term limits and independent redistricting - as soon as they reconvene this fall."
….Adding… ILGOP…
"The court again sided with the political machine against the people of Illinois who overwhelmingly support redistricting reform. Now is the time for Democrats to show their independence from Mike Madigan and pledge to allow a vote on the Independent Map Amendment during the veto session this fall." - Illinois Republican Party Spokesman Steven Yaffe
- Posted by Rich Miller 47 Comments


* This excerpt from Greg Baise's City Club speech still burns me up to no end…
Just remember as you leave, in the last seven years….

Wisconsin created 44,100 manufacturing jobs
Ohio created 75,900 manufacturing jobs
Indiana created 83,700 manufacturing jobs and
Michigan created 171,300 manufacturing jobs.

Illinois created 4,600 jobs. Even Idaho created 9,100 manufacturing jobs. A state better known for its potato farms.
Idaho.
That kills me.
* The folks at the Illinois Clean Jobs Coalition saw the piece and wrote a response entitled "Rich Miller is right: Illinois has a jobs crisis. We have a plan to help solve it." OK, so flattery will get you somewhere. From the post…
When Illinois creates half as many factory jobs as Idaho ("a state better known for potato farms," as Miller writes), you know we have a full-blown jobs crisis on our hands. In fact, in July, Illinois was tied for the third-worst unemployment rate in the country.

We believe our plan can help.

Miller is even-handed in saying that the responsibility for creating jobs is not exclusive to one party, and he calls on Illinois leaders to "step up and offer a plan."

Once the Illinois Clean Jobs Bill (SB1485/HB2607) fully ramps up, the bipartisan plan would create 32,000 jobs over the course of a decade in every part of Illinois.

In a divided Springfield, fixing the Renewable Portfolio Standard (RPS), expanding successful energy efficiency programs, and expanding low-income energy projects is supported by Republicans and Democrats, as well as the Illinois Clean Jobs Coalition, which includes more than 150 businesses and 60 organizations including groups advocating for environmental justice.

What it means for jobs:

> By fixing the broken RPS [Renewable Portfolio Standard], Illinois can again gain solar and wind energy jobs, instead of losing them as we did last year and seeing big gains in other states.

> It would create thousands of jobs, especially in energy efficiency, that cannot be outsourced or moved overseas, let alone to other states.

> And the expanded energy efficiency component would build them in every corner of Illinois, from economically disadvantages neighborhoods in Chicago to small cities in towns across that state which have lost manufacturing jobs over the last twenty years.

The fact is: Illinois hasn't modernized its energy policy in a way that creates jobs for nearly a decade.

This is a lost opportunity, and our losses can be measured in the gains that other states have made at our expense:

> Barely a week goes by without Iowa's Republican Gov. Terry Branstad, whose state is already a leader in renewable energy, announcing a new plan for big investments and the jobs that come with them.

> In wind production, Illinois fell behind Oklahoma last year and we are poised to be overtaken next by Kansas.

> Last year, Michigan gained 700 jobs in the field of solar energy, and Ohio gained 500 jobs. Nationally, solar jobs are increasing at 12 times the rate of the overall economy.

Meanwhile, Illinois lost more than 500 jobs in wind and solar combined last year.

It's time to reverse this trend. And it's time to spread these gains to every community.
Go read the whole thing because there's quite a bit more to it than what's posted here.
Seems more feasible than the hoped for 1.4 percent solution.
Your thoughts?
- Posted by Rich Miller 52 Comments


* The Times of Northwest Indiana…
Illinois Gov. Bruce Rauner is dropping a fraction of his multimillion-dollar fortune across the state line trying to keep a fellow Republican in place as Indiana's chief executive.

The first-term governor gave $100,000 last week to Indiana Lt. Gov. Eric Holcomb's campaign to succeed Gov. Mike Pence. […]

"Eric and Gov. Rauner have known each other for years, going back to when Rauner was exploring a bid and sought out Gov. Mitch Daniels and Eric for advice," [Holcomb spokesman Pete Seat] said. […]

Indiana Democratic Party spokesman Drew Anderson said he believes Rauner's donation to Holcomb is more about Rauner's 2018 re-election bid than any genuine interest in Indiana politics.

"Gov. Rauner wants to keep Indiana's current leadership and failed economy in place — one that includes falling wages and discriminatory policies," Anderson said. "Rauner wants a Holcomb administration so he can continue to make himself look better."
Nice try by the Democrats, but I seriously doubt that's what he's doing there since Rauner believes Indiana is an economic model for Illinois.
The polling shows a back and forth race.
- Posted by Rich Miller 20 Comments


* We talked about this story yesterday, but the two big papers have picked up on it, so let's revisit…
Bankrolled by Gov. Bruce Rauner, Illinois Republicans on Monday attacked Illinois House Speaker Michael Madigan by raising questions about the property tax appeals business handled by his law firm.

The bid to muddy up the powerful Democrat came in a television commercial running in the Chicago area and aimed at re-electing state Rep. Michael McAuliffe, the lone city Republican in the House. His district covers portions of the Northwest Side, as well as the suburbs of Niles, Des Plaines, Franklin Park, Park Ridge, Rosemont and Schiller Park. […]

The new McAuliffe spot aims to boost him by demonizing Madigan, who wears three hats: speaker of the House, chairman of the Democratic Party of Illinois and partner in a law firm specializing in appealing property tax assessments. The spot asserts that Madigan's tax work is responsible for "saving his friends millions, forcing you to pay more." It claims Marwig got her property taxes lowered "at your expense."

Illinois Republican Party spokesman Steven Yaffe said Madigan is being used in campaign ads because he's "never been more unpopular" and because "far more people are able to hear our reform message this year than in past cycles."
* Tribune…
Democrat Marwig, a political newcomer, is challenging Republican Rep. Michael McAuliffe, who has been up on expensive broadcast TV with positive biographical ads for months. According to the latest ad, Marwig "thought her property taxes were too high," and "got them lowered, at your expense."

Appeals of property taxes are common, and you don't have to be politically connected to file an appeal. But Republicans are trying to make the November election a referendum on Madigan, so Marwig's property tax history is an easy way to try to draw a connection between her and the veteran speaker.

Marwig defended the property tax appeals. "Like many residents of the 20th District, I filled out and turned in a form to appeal my property tax bill on my own, without any outside help," she said in a statement.
* Marwig didn't mention it, or if she did her quote didn't make it into the paper, but check out this October 28, 2014 post on Rep. McAuliffe's website…
McAuliffe's Message: Back to School Safety Tips, Property Tax Appeals and More […]

Maine Township Property Tax Appeal Seminar

Do you live in Maine Township and are you interested in learning how to appeal your property tax assessment? Cook County Board of Review Commissioner Dan Patlak, Cook County Commissioner Peter Silvestri, and I are hosting two free Property Tax Appeal Seminars for Maine Township residents. Dates, times, and locations are as follows:

Wednesday, September 10 at 6:30 p.m.
Niles Senior Center
999 Civic Center Drive Room 127
Niles, IL 60714

Thursday, September 11, 2014 at 6:30 p.m.
Park Ridge City Hall
505 Butler Place, Council Chambers
Park Ridge, IL 60068

The hour long sessions will educate taxpayers on how to file a successful tax appeal, provide information on property tax exemptions and address why property taxes go up when the value of your home goes down. Attendees may fill out and submit appeal forms at the end of the event. Analysts from the Board of Review will be on hand to answer any questions.
So, Rep. McAuliffe was enabling this vile practice of appealing one's own property taxes?
I'm so shocked.
*** UPDATE 1 ***  Merry Marwig's full statement…
Mike McAuliffe is a hypocrite 20-year career politician who is so out of touch he believes local residents who appeal their property taxes are corrupt, even though he personally benefited himself from a successful property tax appeal on a condo he owned.

Like many residents of the 20th District, I filled out and turned in a form to appeal my property tax bill on my own, without any outside help – a process that McAuliffe himself encourages local residents to do at property tax appeal seminars, even though he has repeatedly voted against proposals to freeze property taxes. Just like when he lied about being a veteran, 20-year politician Mike McAuliffe says one thing publicly and does the opposite when people aren't looking.

Unlike 20-year politician Mike McAuliffe, I actually understand the strain local homeowners are under to afford rising property taxes and remain in their own homes. But since just last year, McAuliffe voted 18 times against freezing property taxes, and now it appears he wants to get rid of the ability for residents to appeal their property taxes. The thousands of voters I have spoken to at their doors desperately need relief, but McAuliffe keeps thinking of ways to make them pay more.

Mike McAuliffe and Donald Trump are using the same playbook of distracting voters from the issues our neighborhoods are concerned about. McAuliffe is trying to hide his inexcusable record of voting to protect sex offenders, voting against funding to track sex offenders, and using more than a million dollars in campaign contributions from failed Republican Governor Bruce Rauner to try to sweep his lie about being a veteran under the rug."

The first page of the attachment highlights a property that McAuliffe owned that had a successful property tax appeal applied to it. Further documentation is included in the attachment as well.
The attachment is here.
*** UPDATE 2 *** From the ILGOP's Steve Yaffe…
Hey Rich,

With regards to Merry Marwig's statement this morning, if you look at the last page of her own documentation, it shows that Rep. McAuliffe did not appeal his condo's property taxes. Page thirteen of the document states that "Rebecca Dossman" was responsible for filing the appeal. Dossman filed appeals for every other unit in the building, indicating it was an action taken by the condo association, not McAuliffe.

The difference between Marwig and McAuliffe on this issue is twofold:

First, Marwig personally appealed and McAuliffe did no such thing.

Second, Marwig is directly funded by Mike Madigan, who profits directly from Illinois' broken property tax system and refuses to reform it. It is ridiculous for Marwig to ever claim to be for lower property taxes while taking money from the career politicians and special interests that have driven tax rates up for decades.

Thanks,
Steven
- Posted by Rich Miller 22 Comments


* From the Illinois Policy Institute's news service…
Gov. Bruce Rauner said economic and political reforms will help the state capture as much investment from Japan as possible and, in turn, grow the state's economy.

During the Midwest U.S.-Japan Association Conference in St. Louis on Monday, Japan Consulate General at Chicago Toshiyuki Iwado said his country's businesses are ready to boost partnerships in the Midwest.

"The Midwest should market itself first as a region so that Japanese companies know that this is the place to be. The more the Midwest shines, the more individual states will benefit."
That's actually an insightful comment by Iwado. We're a regional economy, particularly the Great Lakes states.
* And then…
Rauner listed said overly high workers' compensation insurance costs and property taxes, along with labor regulations, need to be reformed. Rauner also said Japanese businesses want to see political reforms.

"What many would like to see is that we reform our political system in Illinois so that democracy is working for the people again," Rauner said. "Many investors, many company owners, want to see that democracy and taxpayers have a voice."
So, you're telling us that Japanese business owners want term limits and remap reform?
Really?
- Posted by Rich Miller 69 Comments


* They don't really explain their methodology, except to say that it's an online poll of registered voters, and their results go back to May (which is ancient history in polling terms), but Morning Consult claims that US Sen. Mark Kirk's approval rating is now just 35 percent, with a disapproval rating of 38 percent. Another 27 percent didn't know enough about the six-year incumbent to have an opinion. And Kirk's trendline is not good at all…
Vulnerable Republican senators have spent much of 2016 under siege from their Democratic opponents and super PACs, but Morning Consult surveys show only two GOP incumbents — Pat Toomey of Pennsylvania and Mark Kirk of Illinois — who are definitively trending in the wrong direction in terms of how their constituents view their job performance. […]

Kirk checks in with the second largest drop in support among constituents. Voters in the Land of Lincoln over the past few months approve of Kirk's performance at a 35 percent to 38 percent margin. That's a net loss of 9 points from earlier this year, when almost four out of 10 of voters (39 percent) approved of his work in the Senate, compared with 33 percent who did not.
Discuss.
- Posted by Rich Miller 11 Comments


* From a reader…
Rich,

I'm a regular reader of the blog and an infrequent commenter. Not sure if you've seen this yet but the Illinois Policy Institute is trying to get AFSCME members to resign their membership to "protect" themselves from "the union's rules and disciplinary procedures." I've attached pictures of the cover letter they sent and the resignation letter they're encouraging us to send to AFSCME.

I wasn't sure whether you'd consider it newsworthy, though it certainly was to me 😊. Feel free to share, though I'd prefer to be kept anonymous.
* The cover letter…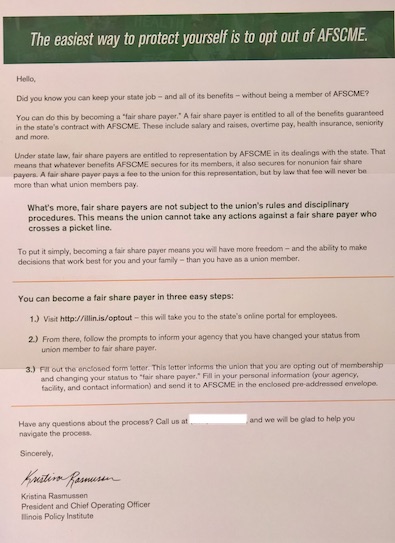 *** UPDATE ***  From Anders Lindall at AFSCME…
Through their union, state workers have a voice for fair pay, safe working conditions, affordable health care, a secure retirement and the tools they need to do their jobs.

On the other hand, the Illinois Policy Institute — funded by a half million dollars from Bruce Rauner — wants to privatize public services, replace pensions with Wall Street accounts, double employee health premiums and has even advocated firing all state employees.

I highly doubt whether public service workers who know the real IPI agenda will fall for this deceptive attempt to strip union members of their rights and silence their voices.
- Posted by Rich Miller 58 Comments


* Crain's…
An unlikely but powerful force is coming to the aid of the beleaguered owner of Illinois' largest fleet of coal-fired power plants.

Exelon, the nation's largest nuclear power generator and a frequent critic of its peers that burn coal, has floated a plan that would raise electricity prices in downstate Illinois and potentially keep open several coal-fired plants slated for closure. As recently as April, a senior Exelon executive accused the operator of those plants of using "the sky as a carbon sink."

But the Chicago-based power giant has not suddenly had a change of heart. It's gearing up for another run at winning subsidies from Springfield to save two of its nuclear power plants that are on the chopping block and feels like it needs the support of the state's second-largest power generator, Houston-based Dynegy. That could help win votes from downstate lawmakers Exelon will surely need to secure backing for a statewide electric bill surcharge to benefit the money-losing Clinton and Quad Cities nukes, two of six stations Exelon operates in Illinois.

Dynegy dominates the power market in downstate Illinois and has opposed Exelon's legislation. Executives at the two companies are meeting regularly, sources say.

At the same time, execs at Exelon and its Commonwealth Edison subsidiary have been in talks for more than a year with leaders of environmental and consumer groups as well as renewable-energy developers on a compromise. That would keep the nukes open and spur development of wind farms in Illinois, which have been stalled for years.
If they do cut a deal with the coal power generators, the question then becomes what the environmental folks do. There might be some division within those ranks, as the rest of the story hints.
- Posted by Rich Miller 11 Comments


* 49th Senate District candidate Michelle Smith (R-Plainfield) took one of those Facebook test things about how much she agrees with presidential candidate Donald Trump. The candidate, who's challenging Sen. Jennifer Bertino Tarrant (D-Shorewood), posted the "94 percent agreement" results on her Facebook page and the Democrats turned it into a TV ad.
A couple of my pals recorded the ad with their phones and texted it to me. Here's the better quality version…
* The Question: What grade would you give this TV spot? Take the poll and then explain your answer in comments, please.
survey service
- Posted by Rich Miller 39 Comments


* Gov. Rauner today in Chicago…
We came up with a stopgap spending plan. It is not a budget, it is not a balanced budget.

It is better, the current deficits that's being run is better than the substantially worse out of balance budget that was proposed in the General in the spring. We were able to defeat that budget. This is better, but it's not balanced and it's not even a true budget. There are still programs that probably should be funded that aren't.
Once again, Rauner repeatedly claimed that the House Democrats' budget was $7 billion out of whack. But the Commission on Government Forecasting and Accountability projected the stopgap budget which the governor negotiated and signed into law is almost $8 billion out of whack.
It's quite possible that the governor's budget office underestimated the true cost of the HDem plan. But $7 billion is the number Rauner used, over and over and over again.
However, I would agree that the stopgap is, indeed, "better" than the HDems' budget plan simply because it was a negotiated settlement.
* Comments start at about the 3:18 mark…
- Posted by Rich Miller 20 Comments


* Remember this from Dan Proft's DuPage Policy Journal?…
Republican candidate for Illinois State Senate District 23 Seth Lewis' Democratic opponent Sen. Tom Fullerton (D-Marion) was recently called out for his tax policies and inability to say no to House Speaker Mike Madigan.
* Well, here's another one from Dan Proft's Lake County Gazette…
Lake County's Rod Drobinski, the Republican contender for state House in District 62, recently spoke out regarding the rank-and-file Democratic response to the failure of the Independent Maps Amendment.

"Many rank-and-file Democrats insist they support a remap amendment," Drobinski said. "But they say nothing when their own leaders block the effort to get it done. They do not challenge [House Speaker Mike] Madigan (D-Chicago) or [state Sen. Tom] Cullerton (D-Villa Park). They do not protest. They do not demand a vote on the floor. They do not confront. They shrug their shoulders, change the subject."
At least they got his name and home town right this time.
Sheesh.
That wasn't Drobinski's mistake, by the way. When they rewrote his press release, they added the "Tom" and "D-Villa Park" stuff.
Proft's reporter appears to be a freelance writer from Medford, Oregon.
- Posted by Rich Miller 13 Comments


* Gov. Bruce Rauner was asked today about his involvement in legislative campaigns. He said he was focused mainly on party building by contributing to the state GOP. The Republican Party, in turn, funds legislative races…
"I'm not involved in particular races or campaigns for the legislature… But in terms of specific races, I'm not involved in those in any material way."
Bruce Rauner has never struck me as the type of guy who would be content with just writing big checks without ever keeping an eye on what people were doing with his money. Just sayin…
* Comments start at about the 6:30 mark…
- Posted by Rich Miller 30 Comments


* Ed Bachrach, chairman of the Chicago-based Center for Pension Integrity, penned a Tribune op-ed entitled "A federal solution to Chicago's public pension mess"…
Real people — retirees — are getting big checks every month and have been promised they will continue to get them for the rest of their lives. There are tens of thousands of those retirees. The well will run dry, and then what? Shouldn't these retirees be entitled to all of their promised benefits, especially considering they essentially lent the city money over their years of service to pay for them?

But should this burden become a legacy cost to taxpayers — most of whom resent the fact that public employee pensions are so much higher than their Social Security payments will be? Plus, in some cases, taxpayers weren't born when the benefits were promised to retirees — the taxpayers are paying the price for past services. With the plans the city is putting forth, taxpayers will be paying these debts off for another 40 years, two entire generations. And the gap between what's owed and what the funds have in the bank is only getting wider.

The Center for Pension Integrity has a proposed solution for a comprehensive settlement to rectify this mess, and it's a federal one. The relief would not be a bailout. Instead, it would legally allow state and local governments with plans that have funding levels below 50 percent to modify plan provisions and benefits, and ultimately freeze and terminate the troubled plans. At the same time, local taxes would be raised to fund the restructured plans completely because beneficiaries shouldn't give up benefits unless they get complete security for what is left. Because the plans would be terminated, taxpayers would be able to see their way out of this crushing problem.

The plans would be restructured so that pension benefits would commence at age 65 no matter when an employee retires. There would be a cap on overall public employment pension benefits of 150 percent of the local median income — no more automatic cost-of-living adjustments. Such changes would protect those with modest pensions and eliminate the windfalls that some retirees receive from the current generous provisions.
I'm completely sure that no government would ever deliberately allow its funding levels to drop below 50 percent so it could take advantage of this proposal.
* But something's gotta give somewhere. Check out this analysis of the city's new water and sewer tax hike…
Here's what Chicago taxpayers face under the proposal passed today by the Chicago City Council's Finance Committee, supposedly to stabilize one of the city's four pensions, MEABF:

This year and next, taxpayers will contribute $163 million to the fund. The ramp up thereafter is $267 million in 2018, $344 million in 2019, $422 million in 2020, $499 million in 2021 and $577 million in 2022.

Then, the real shocks start. Beginning in 2023, the taxpayer contribution will be based on the "ARC." That's a purported "actuarial" calculation that supposedly would take the pension to 90% funding by the year 2057. The city estimates that contribution would be $879 million in 2023. It keeps going up, passing $1 billion in 2030 and reaching $1.9 billion in 2057.

You might think those contributions would reduce the unfunded liability rapidly. Nope. It's projected to keep rising from today's $9.8 billion until 2040 when it reaches $15.4 billion.

And surely, you probably think, this isn't all based on old accounting using a ridiculously optimistic assumption about what the pension's assets will earn. Wrong again. The assumption is the widely ridiculed 7.5%.

By "taxpayer contributions" I'm including proceeds from the proposed water and sewer tax. That tax, however, isn't enough to cover the contributions described above. It would start at $56 million and top out at $242 million in 2020. The difference will have to come from other taxpayer sources.
- Posted by Rich Miller 109 Comments


* Ugh…
The stack of bills owed by the state to Springfield hospitals, doctors and dentists for the care of state workers and retirees totals at least $160 million and sets new records with each passing month. […]

The amount owed by the state for that care is growing by about $200 million per month and won't stop until there's legislation appropriating general revenue funds to pay the bills, COGFA executive director Dan Long said. […]

Meanwhile, Springfield Clinic has delayed hiring, delayed constructing a physician practice building in Chatham and tapped its reserves to deal with the lack of payment from the state, Kuhn said. […]

At SIU HealthCare, the physician group involving faculty members from Southern Illinois University School of Medicine, the average delay in state payments stands at about 300 days, spokeswoman Karen Carlson said. […]

Because of the [525- to 550-day] delays, Memorial Medical Center, which is owed at least $60 million, has put off constructing an $80 million medical office building that would be rented to SIU doctors in Springfield.
- Posted by Rich Miller 22 Comments


* Consolidating school districts is easier said than done, but it does need to happen…
When compared with 14 peer states that each educate at least 1 million students, Illinois, which averages 2,400 students per district, appears to be managing its resources poorly.

Florida averages 40,012 students per district, while Georgia, North Carolina, California and Virginia each serve more than twice the that Illinois districts.

Over 60 percent of the districts in Illinois contain just 14 percent of the state's overall students. Put another way, the 511 school districts in question serve an average of 526 students.

On the other hand, more than three-fourths of Illinois' 872 superintendents earn six-figure salaries, and 320 of Illinois school district administrators, mostly district superintendents, are awarded annual incomes of $200,000 or more.
- Posted by Rich Miller 43 Comments


"You never want to lie to Mike Madigan. And you don't make it personal. You realize you're coming at it from a different direction, but at the end of the day, you're going to need to compromise."

Edgar doesn't appear sure how that can happen now between Madigan and Rauner.

The former governor ascribes blame to both sides, although he appeared a little tougher on Rauner. Edgar said it was a mistake for Rauner to finance television commercials last year that criticized Madigan for the budget stalemate.
Illinois Republicans began airing a new television advertisement today targeting House Speaker Mike Madigan's property tax appeals business. It explains how Madigan gains personally from high property taxes at the expense of everyday Illinoisans and links candidates for the state house to his inside game. The ad is airing on Chicago broadcast.

"Every single one of Mike Madigan's handpicked candidates will have to answer for his record of profiting from high property taxes at the expense of hardworking families," said Illinois Republican Party spokesman Steven Yaffe. "Madigan is the king at the top of a broken, corrupt system he's protected for decades and that's why he's hands-down the most despised politician on the ballot this November."
Mike Madigan made a fortune on tax appeals.
Representing the powerful and politically connected.
Saving his friends millions, forcing you to pay more.
It's an inside game – played by people like Merry Marwig, Madigan's handpicked candidate.
When Marwig thought her property taxes were too high, she got them lowered, at your expense.
Saved so much she did it again.
Marwig and Madigan – profiting from the same corrupt system.
Looking out for themselves, instead of you.
- Posted by Rich Miller 54 Comments


* Daily Herald on August 26th…
Gov. Bruce Rauner said Friday he doesn't plan to get involved in replacing state Sen. Matt Murphy, a Palatine Republican and top ally who announced his resignation earlier this month.

"I'm not going to be particularly involved," Rauner said. "There's a process that will unfold. And local leaders very much control that process, and I assume they'll come up with a very good person."
* Daily Herald today…
After initially staying out of the process of selecting a replacement for departing GOP state Sen. Matt Murphy, the governor's office and its allies have jumped into the fray. They held interviews for the six candidates Friday in Chicago. Among those questioning the candidates were the governor, chief political strategist Mike Zolnierowicz, John Tillman of the Illinois Policy Institute and Senate GOP Leader Christine Radogno.
I really don't understand why the governor insists on saying that he's staying out of legislative races when everybody knows he isn't telling the truth.
Also, some folks are really starting to get nervous about all the influence that John Tillman appears to wield over Rauner these days.
- Posted by Rich Miller 36 Comments


* Paul Green was a model "public citizen." He revered the value of reasoned and informed public debate, and that was always at the very core of his outstanding chairmanship of the City Club of Chicago, his research projects, his books, his teaching and his punditry.
He thoroughly despised those who debased the public discourse with purely emotional appeals. He had his viewpoints, many of them strongly held, but he relied heavily on facts. And he could wield those facts like a machete.
But while Paul could deftly slice you ear to ear with his razor-sharp wit, you'd laugh as soon as you figured out what had just happened to you. He was an impossible man to hate.
* One advantage Paul possessed over many run of the mill pundits is he actually had political experience of his own. He knew what it was like to run for - and hold - office. He was most definitely not an ivory tower professor.
He was constantly curious about new developments and new points of view and could often be spotted at forums and events other than his own. His mind was like a voracious vacuum cleaner, but he could also analyze all those bits of information and present it in a fair and digestible format.
His knowledge of Chicago and Illinois history was always spot on. During the primary, I wrote about how Rep. Ken Dunkin's campaign was allegedly buying votes for $50 a pop. Paul sent me this e-mail…
To show you political inflation—A century ago Hinky Dink and Bathhouse John would pay 1st ward flophouse residents 50 cents a vote—now $50
* I'm most certainly biased about Paul because he was a friend for over 25 years. After my surgery last year and my subsequent pledge to forever quit smoking cigarettes (after years of constant hounding from Green and others), Paul sent me this…
RM

Two Words–THANK GOD–per stop smoking

As you may remember I told you how smoking basically killed my mom–

Stick to your pledge–TWO reasons–1. you are my friend and 2. the City Club now considers you a Xmas tradition!!

PMG
I kept that pledge, and going through our old e-mails today I realized that he often signed them "Your friend." He was also one of the greatest public allies I've had through the years…
Rich Miller's independent Capitol Fax site, for example, is an established must-read in the state capitol—Paul Green, director of the Institute of Politics at Roosevelt University in Chicago, even suggests that the new efforts [to start up Chicago and Illinois-centric publications] should leave the statehouse to Miller and focus on Chicago.
* From the Sun-Times…
In his head, Paul Green curated unrivaled stacks of knowledge about Chicago politics dating back to the 1800s.

As a political analyst, he regularly shared his thoughts on radio, television and in newspapers.

As a professor, first at Governors State University before heading the Institute for Politics at Roosevelt University, he taught generations of students about the "Chicago machine."

As an author, he delved into City Hall's fifth floor occupants in a series of books, including one entitled "The Mayors: The Chicago Political Tradition."

And as chairman of of the City Club of Chicago — a nonpartisan civic group that hosts forums and debates — Mr. Green served dually as a self-deprecating moderator and tough questioner of top local and national political figures.
* Tribune…
"He was an excellent political scientist and historian, not only in Chicago, but for the state and national issues as well," said longtime friend and colleague Ed Mazur. "He was very direct. He didn't like BS or baloney. He always had a quick wit, so if you were two seconds too slow, he was already on the next page."

Despite a rigorous academic background, Green was a self-styled humorist who was able to convey a sense of the city and its deep politics to national audiences in publications such as The New York Times, The Washington Post, Time and Newsweek.

"The Marquess of Queensberry Rules (for boxing) in Illinois politics is, 'You wear your trunks around your ankles. There are no low blows,' " he once said.

Last month, hosting a City Club event featuring Greg Baise, the CEO and president of the Illinois Manufacturers' Association decrying Illinois' economy, Green quipped to the audience: "For those of you taking Greg's advice very seriously, we'll have small vials of hemlock out there for those of you who think it just ain't worth it."
* WGN Radio…
Long-time WGN Radio host Spike O'Dell, a friend and colleague of Green's, posted the following on Facebook: "My heart is broken today with the news of Professor Paul Green's passing. I always looked forward to our Wednesday morning conversation on WGN radio that I called "Paul and the Politicians". He lived for the political "game". He had a way of explaining it to our listeners in an informative, yet humorous way. He was my go to guy when it came to Chicago or Illinois politics. He will be missed by so many. I'm glad our paths had a chance to cross. Rest in peace my friend."
* He would've gotten a kick out of tributes like this one from Mayor Emanuel…
"Countless people across the city know him as a gifted writer, teacher, historian, and analyst. I have known Paul personally for many years, and was always impressed by his capacious intellect, his boundless curiosity, and his quick wit. But beyond just his infectious personality Paul will leave an indelible mark on Chicago through his Institute of Politics at Roosevelt University, which has inspired a new generation of Chicagoans to answer the call of public service."
* Sheriff Dart…
Many of us knew Paul as the whip smart and jovial host of the City Club of Chicago's many influential events. But he was more than that. Paul cared deeply about the future of our city, and he was never afraid to engage directly and critically with the elected officials in positions to effect legitimate change. I appreciated him for his friendship, but I treasured him most of all for never hesitating to offer me ideas on how I could better serve my constituents. In an age of never-ending partisan squabbling and stalemates, I can think of no one who did not adore and respect Paul Green.

I honestly don't know how our city will fill the incredible void left by this giant of Chicago politics. May he rest in peace, and may God bless his family on this very sad day.
* WMAQ TV…
Green was also the chairman at the City Club of Chicago, a non-partisan group that hosts newsmakers, debates, and forums – one of which he hosted as recently as Wednesday, according to a statement from City Club President Jay Doherty.

"As a professor, Paul taught thousands," Doherty said in the statement. "As a researcher, he will touch generations to come. As a commentator on radio and TV, he helped us understand political currents in the moment, with unerring accuracy."

"As the obligatory first stop for out-of-town journalists, he helped untold millions understand this city he loved. As an ambassador for Chicago on his many overseas speaking tours, he kindled interest in our region and connections that strengthened Chicago's place in the world," Doherty added.
* Public Radio…
"Impeccably honest and brutally frank," Doherty said. "He just called it like it was. He had a very biting wit. As he said many times, 'I don't give a rip. I'm going to tell it how it is.'"

Businessman Ed Mazur, a fellow City Club member who knew Green since they were in college, agreed. "He didn't care much for what you might call BS," Mazur said. "He didn't like to dance around the edges. He liked to get to the heart of the matter."
* Daily Herald…
Politics were food and drink to Green, who liberally shared the vast riches of his knowledge through his writings, speeches and radio commentary.

"He loved government, he loved the city, he loved urban history, political history, public administration," said Sharon Green. "He knew the numbers. He knew the facts. But he appreciated politics. He understood the good and the bad of politics."

His book "The Mayors: The Chicago Political Tradition," co-authored with Melvin G. Holli, is regarded as a classic.
* CBS 2…
Paul Green was the Director of the Institute for Politics and Arthur Rubloff Professor of Policy Studies at Roosevelt University.

"At Roosevelt, we know him as someone with such a strong supporter of his students and a mentor to his junior colleagues, and just a thoughtful colleague to everyone," Bonnie Gunvenhauser, dean of Arts and Sciences at Roosevelt University tells WBBM Radio's Nancy Harty. "He never really seemed happier than when he was telling me about some alum who had gotten a fantastic new job in politics, or with the Mayor's office, or even outside of politics."
* Crain's…
"Paul was an instrumental player in Crain's early expansion into political commentary," said Crain's Publisher and former Editor David Snyder. "He had a rare ability to blend his unmatched skill in dissecting local election results with a shrewd understanding of street-level politics in the city, county and state. Layered on top of it all was a wonderful sense of humor."
I retweeted several rememberances of Paul yesterday, so click here if you'd like to browse through them.
* The City Club gets the last word…
We will miss him for longer than we knew him.
- Posted by Rich Miller 25 Comments


* My weekly syndicated newspaper column…
The Washington Post published a story the other day entitled "Meet the wealthy donors who are pouring millions into the 2016 elections."

The paper listed the top ten national donors to so-called "super PACS." The list is topped by wealthy San Francisco Democrat Tom Steyer at $38 million. Second place went to "New York-based hedge-fund magnate" Robert Mercer, at $20.2 million.

Keep in mind that these are national-minded donors who are giving to super PACs that focus on the presidential race and U.S. Senate and congressional campaigns throughout the country.

Now, take a look at the money contributed by Gov. Bruce Rauner. His personal campaign committee has contributed over $16 million to the Illinois Republican Party alone this year, accounting for 95 percent of all the money the party has raised. The party has, in turn, used that Rauner money to fund television and radio ads, direct mail, polling, staff, etc. for state House and Senate campaigns.

In June, Rauner gave another $2.5 million to Dan Proft's Liberty Principles PAC, which is heavily involved in legislative contests.

And the governor contributed $2 million to the Turnaround Illinois PAC, which describes its mission thusly: "To support state legislative candidates who support Gov. Rauner's bold and needed reforms, and to oppose those who stand in the way."

That's roughly $20.5 million, enough for second place in the aforementioned Washington Post list. The difference is, here in Illinois, it's one guy focusing on only one state.

There are some definite apples and oranges when making this comparison. Not every dime of Rauner's campaign fund came from Rauner himself. But the total doesn't include $2.2 million that Rauner gave to his own campaign fund this year, in order to avoid any possible double-counting as money is passed through.

What it does show you, though, is how one person is dominating the money race here far more than individual wealthy people are influencing the national races.

Yes, the Democrats have raised plenty of money as well this year. At the end of June, all Democrats (including the legislative leaders, the state party, rank and file legislators and Democratic challengers) actually had $3.4 million more cash on hand than all similar Republicans, including Rauner.

But Scott Kennedy at Illinois Election Data took a look at legislative funding so far this cycle and, as of 9 pm on September 6th, 16 of the top 20 total contributions to targeted candidates were Republicans.

So, if the Democrats had more cash on hand, then why aren't they spending more of it? Well, the Democrats can raise only so much more money before November. Rauner and his wealthy friends can simply write big checks and completely erase any disadvantage as need be. It's kind of like how people who are expecting a large inheritance don't save much money for retirement. They know lots more cash is in the pipeline, so they often feel free to spend as they wish today.

Kennedy also looked at all the money raised this cycle by the Illinois GOP, the House Republican Organization, the Republican State Senate Campaign Committee and the personal campaign funds of the two Republican legislative leaders and found that of the $21.8 million they've raked in so far, 73 percent comes from Gov. Rauner. Without that Rauner money, the Republicans would be at a huge cash disadvantage, like they always have in the past.

Gov. Rauner is giving Republican legislative candidates a fighting chance in a year which otherwise would be seen as a complete lost cause. Despite her national problems, all polling shows Hillary Clinton with a double-digit lead in Illinois.

Without Rauner, Republican legislative leaders would be bracing for an even further retreat into their tiny minority, and praying that the off-year election of 2018 would give them enough of a boost to regain a seat or two here and there.

To make it clear, I'm not saying what Gov. Rauner is doing is a bad thing. House Speaker Michael Madigan has in the past absolutely drowned the House Republicans with his ability to outspend them. The tables are finally being turned on Madigan these days. What goes around comes around, as they say.

But if you thought that Rauner exerted a lot of influence on Republican legislators during his first two spring legislative sessions, you probably ain't seen nothing yet, especially if the GOP does better than would normally be expected. The Republican leaders are going to owe him big. Really big. And, whatever happens in November, they'll want to keep that money pipeline flowing freely in 2018.
The WaPo piece referenced above is here.
* Related…
* With backing of wealthy governor, Illinois GOP spending big: Before Rauner, the Illinois Republican Party Committee spent $3.4 million on races in 2012. The Democratic Party of Illinois, meanwhile, spent $6.7 million. Both parties distribute money to candidates through several other committees so those totals don't tell the entire story, but they're indicative of each party's past spending prowess, according to campaign disclosures The Associated Press analyzed dating back to 2006 from the Illinois State Board of Elections. "There's never been a time in recent history where House Republicans have outspent House Democrats. It's been a considerable disadvantage," said Rep. Jim Durkin, the GOP's House leader… "Some of this spending has nothing to do with the election. It has to do with Rauner flexing his muscle," said David Yepsen, director of the Paul Simon Public Policy Institute at Southern Illinois University-Carbondale… "Democrats, if they survive, they're going to know they've been in a fight," he said.
- Posted by Rich Miller 39 Comments