* The Paul Simon Public Policy Institute has a new poll out. Let's start with approval ratings for the governor and the two chamber leaders…
The advertising in many of the 2016 legislative campaigns in Illinois has focused largely on three people who are not on the ballot, that is, Governor Bruce Rauner, Speaker of the House Michael Madigan, and Senate President John Cullerton. The poll asked whether the respondents approved or disapproved of the job each was doing.

The results for Rauner show that his job approval ratings are underwater with 40 percent somewhat approving or strongly approving and 55 percent somewhat disapproving or strongly disapproving of the job he is doing.

However, the governor is more popular downstate where he is somewhat closer to positive territory with 45 percent approving and 51 percent disapproving of the job he is doing. In the suburban areas, Rauner is in negative territory with 55 percent disapproving and 39 percent approving.

The Governor's biggest problem is in the City of Chicago where his disapproval outnumbers starkly overtake his approval (62 percent to 34 percent).

Speaker Madigan's overall job approval ratings are also in negative territory with 63 percent somewhat disapproving or strongly disapproving and 26 percent somewhat approving or strongly approving.

Madigan's best job approval ratings are in the City of Chicago where the ratings are 32 percent approve and 56 percent disapprove. His suburban Cook and collar county job approval ratings are 28 percent approve to 59 percent disapprove. Downstate yields the harshest assessment of the Speaker's tenure with 73 percent disapproving and 20 percent approving.

In the recent negative ads wars, Senate President John Cullerton has not been the lightning rod that the Speaker has. There are 41 percent who disapprove or strongly disapprove of Cullerton's performance while 26 percent approve and 29 percent aren't sure.
* Notice the intensity of "strongly disapprove" on Gov. Rauner…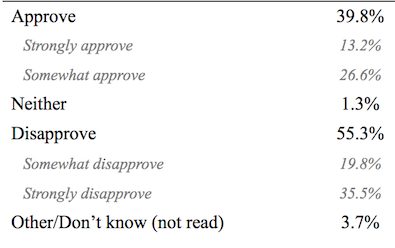 * Now compare that same intensity to Speaker Madigan's ratings…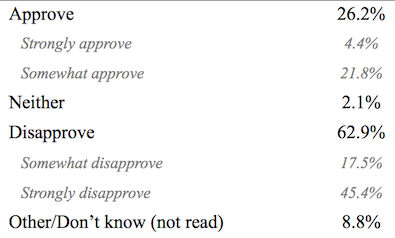 Yikes.
* And here's Cullerton…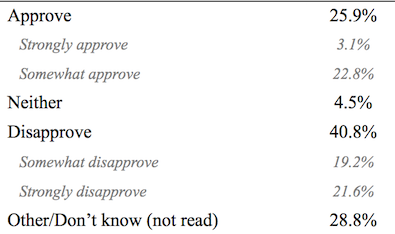 * OK, now on to Rauner by region…

* Compare that to Madigan by region…

Keep in mind that Madigan has a bunch of Downstate races where he has incumbents and some much-ballyhooed challengers.
Oof.
* Methodology…
The margin of error for the entire sample of 1,000 voters is plus or minus 3.1 percentage points. The margin of error for likely voters (n=865) is plus or minus 3.3 percentage points. This means that if we conducted the survey 100 times, in 95 of those instances, the population proportion would be within plus or minus the reported margin for error for each subsample. For subsamples, the margin of error increases as the sample size goes down. The margin of error was not adjusted for design effects.

Live telephone interviews were conducted by Customer Research International of San Marcos, Texas using the random digit dialing method. The telephone sample was provided to Customer Research International by Scientific Telephone Samples. Potential interviewees were screened based on whether they were registered voters and quotas based on area code and sex (<60% female). Interviewers asked to speak to the youngest registered voter at home at the time of the call. Cell phone interviews accounted for 60 percent of the sample. A Spanish language version of the questionnaire and a Spanish-speaking interviewer were made available.

Field work was conducted from September 27-October 2. No auto-dial or "robo" polling is included. Customer Research International reports no Illinois political clients. The survey was paid for with non-tax dollars from the Institute's endowment fund. The data were not weighted in any way. Crosstabs for the referenced questions will be on the Institute's polling web site, simonpoll.org.
More results in a bit.
…Adding… Some folks in comments are completely missing the point. Yes, Madigan doesn't have to run statewide. No duh. But he has become the major "issue" in House campaigns throughout the state. If the House Democrats had a presidential or other statewide type polling as badly as Madigan is, they'd be running away from that person as fast as humanly possible in order to avoid being dragged down by him/her. But the Dems can't run away from Madigan because that's where they get their money.
Same goes for the Republicans, by the way. Not many viable House Republican candidates/incumbents are cheering on Gov. Rauner. He's definitely a drag. He's just not as big of a drag yet as Madigan.
58 Comments













































































































































































Sorry, comments for this post are now closed.