* AP…
Republican Illinois Gov. Bruce Rauner has largely avoided any discussion of the presidential candidacy of Donald Trump.

That changed Monday, when Rauner directed harsh criticism at Trump for the vulgar remarks captured in a 2005 video, although he didn't mention Trump's name.

Speaking after participating in Chicago's Columbus Day parade, Rauner said the rhetoric, the language, the statements in the video was, "disgusting, appalling, outrageous, beyond any reasonable bounds of decency." He reiterated his refusal to back Trump.
* Sun-Times…
When asked whether he supports Trump, Rauner said instead that he's "not endorsing him."

Rauner, as head of the Illinois Republican Party, didn't attend this year's GOP convention and has not endorsed Trump, but he has said he would vote for the Republican nominee. […]

At an event Downstate Saturday, Rauner said, "I'll say this. The rhetoric in this presidential campaign [is] appalling, disgusting. As a father [and] as a husband, the language is vile and repulsive, and I condemn it in the strongest possible way."

Asked if he'll still support Trump, Rauner replied on Saturday, "I've made my comments."
* Tribune…
Rauner's handpicked state GOP chairman, Cook County Commissioner Tim Schneider, has not issued a formal public statement about Trump's leaked comments. Email requests to the Illinois GOP for comment since Saturday gained no response. […]

All politics may be local, but timing also can be a factor. The Sangamon County Republican Party sent fliers to mailboxes in Springfield on Saturday soliciting vote-by-mail for the GOP ticket, political literature that featured Trump.

But the mailer, arriving only hours after the release of Trump's recording, also had photos of Sen. Kirk and Rep. Davis, who by then had called for Trump to drop out.
* The mailer…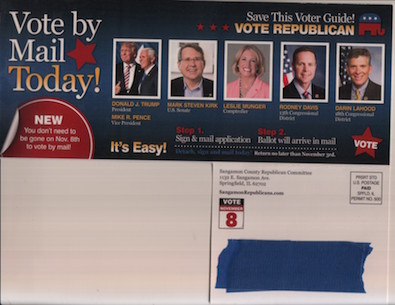 24 Comments







































































Sorry, comments for this post are now closed.