* The Daily Herald updated its Poverty-Achievement Index with new data from the Illinois State Board of Education…
Our analysis divides all elementary schools in the state into 10 tiers based on the percentage of low-income students a school serves. The zero to 9.9 percent tier includes schools serving the fewest low-income students, while those in the 90 percent to 100 percent range covers schools with the highest percentage of low-income students.

We then calculate the average percent met/exceeds for each tier. As in past years, our analysis shows how deeply stratified Illinois schools are by income, with no income tier performing better than any other tier with fewer low-income students.
Emphasis added.
* The chart…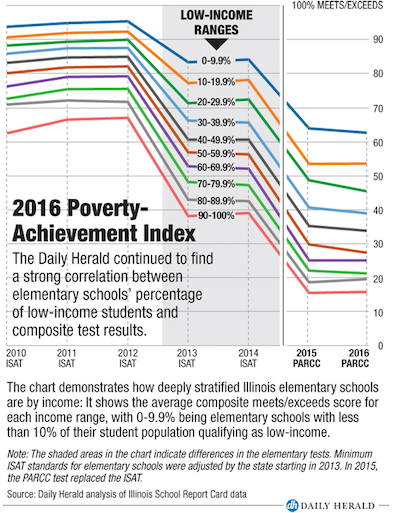 * Meanwhile, from WBEZ…
The message parents should take from Monday's newly released state report card data is that despite Illinois' financial difficulties, school performance is steady — for the most part, according to state officials.

John Barker, the state's new chief of performance, pointed out that overall graduation rates, attendance rates and ACT scores are either the same or up a little compared with last year.

Two areas of concern: Chronic truancy rates, which look at students who missed 5 percent or more days without a valid excuse, increased from 8.7 percent to 9.8 percent. Also, the number of students in preschool went down by more than 12,000 children.
Preschool education is this governor's specialty. He knows a lot about it, including the theories about how and why it works. So, it's weird that the number of preschool kids dropped.
* More from the ISBE…
Students enrolled in Pre-K-12 education – more than two million students (2,041,779) at the beginning of 2015-16, 12,777 fewer than the previous year; percentage of Hispanic students increased slightly (25.1% to 25.5%), while percentage declined slightly for White (49.3% to 48.8%) and African-American (17.5% to 17.3%) students
*** UPDATE ***  It looks like WBEZ and I both misread the ISBE numbers. Those are for all students, not just Pre-K.
35 Comments








































































































Sorry, comments for this post are now closed.