* Pretty much, yeah…
Tl;dr Madigan and Rauner are spending several mil to argue over who should be blamed for the budget neither of them will pass https://t.co/Wpy5yLerdu

— Will Caskey (@WillCaskey) November 7, 2016
I wrote about the race for normally obscure comptroller role in Illinois, which has pulled in big $$$ this year.https://t.co/1vRL6j9cCG

— Will Connors (@wconnors) November 7, 2016
* Kerry Lester…
For example, the race for 20th District Illinois House, which includes portions of Rosemont, Des Plaines and Park Ridge, between 20-year incumbent Michael McAuliffe, a Chicago Republican, and Chicago Democrat Merry Marwig is now considered to be the most expensive state legislative race in the nation, according to the Center for Public Integrity, with more than $4.1 million spent so far.

Ultimately, [former GOP state Sen. Kirk Dillard] said, that money will work to thwart the independence of the eventual victor — and the ability to get along with the other side.

"The amount of money on both sides in that race, no matter who wins that race, will make it very difficult for the winner of that race not to toe the line of their political party or whoever was paying for those ads. When you need that kind of money to win it's very difficult to break from the folks who paid for your campaign. And that's not the way you should legislate."
* Meanwhile, GWB's former voicebox is doing comms work for Rauner's campaign these days…
The Illinois Republican Party gave a $24K in-kind to Gov Rauner for consulting expenses paid to Ari Fleischer Comm. https://t.co/fNF9UAR9TN

— IL Election Data (@ILElectionData) November 7, 2016
I hope that doesn't mean we're preparing to invade Iraq.
* By the way, the governor's most recent D-2 shows he paid $8,339.47 to Peter Noel Murray, Ph.D & Partners LLC. From Murray's website…
The big opportunity in digital media is not the next new technology. It is adding EMOTION to existing websites and social media.

The promise of digital and social media is promoting consumer engagement, creating brand community, and developing customer loyalty. Technology alone is not enough to make this happen.
He's really big on using emotion. That may explain all the pictures of fall foilage, the Cubs, etc. on the governor's Facebook and Twitter feeds.
* From a reader…
Hey Rich - just thought I'd kick this over to you. This was in a plastic bag on my door this morning and looked like everyone else on my block had one also, I am also a solid D and early voted so its obvious there was no targeting done. I've also NO mail from Kifowit or Strick. I've gotten 2 door knocks from the Kifowit campaign.
The flier…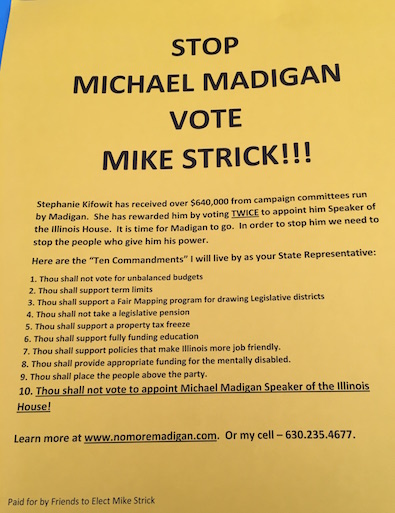 Man, will I ever be glad when this one's over.
* Should we really be happy about this?…
Lines literally around the block for early voting downtown pic.twitter.com/EnZUTWF3Zn

— Will Guzzardi (@WillGuzzardi) November 7, 2016
Another long line for #earlyvoting this one in #Gurnee #Campaign2016 @cbschicago pic.twitter.com/ghuHtbQfRT

— Vince Gerasole (@vincegerasole) November 7, 2016
Line for Chicago's high volume EV location is out the door, down Washington, around the corner and down Dearborn at least to Madison.

— IL Election Data (@ILElectionData) November 7, 2016
Point being, we need to do better. A lot better. People shouldn't be forced to wait in such long lines to exercise their right to vote, whether by nefarious design (as in North Carolina) or by poor planning.
68 Comments











































































































































































































Sorry, comments for this post are now closed.