* So, you wanna be a poll watcher? Well, don't just show up on election day…
[Jim Tenuto with the State Board of Elections] adds that state poll watchers have to be affiliated with a political party, candidate or civic organization. The State Board of Elections or a local election authority also must sign off on them.

"Somebody just can't show up at the polling place (and say) 'I want to be a poll watcher, I want to watch,'" Tenuto explained. "You can't do that; you have to have credentials."

Even so, he says it may not be too late for those who want to serve as poll watchers on election day.
* Raising expectations a bit? We'll see tomorrow…
Pat Brady, a former state Republican chairman who supports Rauner, acknowledged the Democrats "have always killed us on ground game, but not this year."

"We have some legislative districts where we have 30 paid staffers actually working the ground game. We've never had that before," he said. "We are now doing door knocks, going door-to-door. In a state representative race, you can win that race just on door knocks."
* Background on the lockbox proposal…
The "Safe Roads" amendment was the brainchild, sources told the Sun-Times, of the Illinois Chamber of Commerce and the Illinois Road and Transportation Builders Association, who then brought in the trade unions to create a powerful alliance.

This alliance needed to win the approval of the General Assembly in order to get their amendment on the November ballot.

State Sen. William Haine, D-Alton, the chief Senate sponsor of the amendment legislation, told the Sun-Times it came to him on behalf of that alliance through Illinois Chamber President Todd Maisch.

The "Citizens to Protect Transportation Funding" political committee was created with money from that construction industry and trade union alliance to drum up votes to pass the amendment.

However, the "citizens" committee name is misleading – every contribution is from a union or a business-related group.
* From DNAInfo Chicago…
Invoking Donald Trump has become a go-to tactic for down-ballot Democrats all over the country, as candidates of all stripes have tried to tie their opponents to the controversial top of their ticket.

A political action committee aligned with local Democrats is putting an underhanded twist on that tactic, with an ad campaign posing as a tacit Trump endorsement from Chicago's only Republican state representative.

A mailer has circulated with the Republican presidential nominee's face alongside Rep. Michael McAuliffe, who represents Edison Park and parts of Norwood Park along with several suburbs.

One page has "The Trump-McAuliffe team working for us!" printed in Trump's iconic hotel-sign font, below unsubtle declarations like "Donald Trump knows what's best for our families." […]

The Trump-focused ad campaign was paid for by a PAC called Alliance of Illinois Taxpayers NFP, which lists City Council finance committee chair Ald. Ed Burke (14th) and the Service Employees International Union as top donors, according to the transparency site Illinois Sunshine. The PAC has spent money to aid to a broad range of Democratic leaders at the state and local level.
More info about the PAC's funders is here.
* Meanwhile, WGN Radio's Steve Cochran has posted this on his audio page today…
If you want to see change…The Mike Madigan Era needs to end. Here are the list of people that you need to vote against to stop Madigan. Each has voted for unbalanced budgets. All are opposed to term limits and redistricting reform.

Comptroller canditate Susan Mendoza
State Rep candidate Mary Marweg
State Rep Michelle Mussman
State Rep Mike Smiddy
Sate Rep Sam Yingling
State Rep Kate Cloonen
State Rep John Bradley
State Rep Carol Sente
The Tribune editorial board posted a similar list a few days ago.
* From a subscriber who lives in Lincoln…
Not to pick on Tony because I assume this was a package sticker deal with the SJ-R. But probably not the best expense given none of Logan County is in the 99th District.
Oops…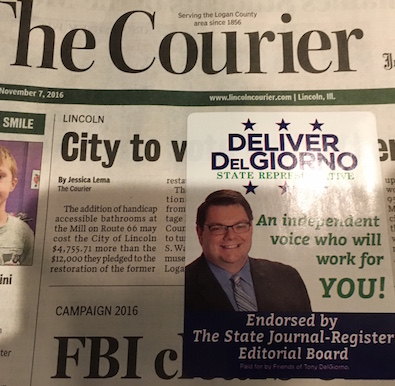 * Other stuff…
* Spending in suburban races shattering records

* Longer early voting period leads to record-setting numbers

* Sangamon County seeing record numbers for early voting

* Signs vandalized: Cook Co Board of Review race next to turn nasty

* Vote rigging, democracy and an accidental precinct captain
13 Comments






































Sorry, comments for this post are now closed.