* Unpaid state vendors can get 90 percent of what they're owed up front by using a state program that allows them to borrow cash from private sector interests. They get the rest when the state pays up and the lender keeps the late fees. Those fees are really piling up, according to Reuters' Dave McKinney and Karen Pierog…
Illinois owes a handful of financial consortia more than $118 million under an obscure program intended to speed up overdue payments to the cash-strapped state's vendors, an analysis of state records shows. […]

But it comes at a heavy cost with unlimited late-payment fees now approaching 20 percent in some cases for Illinois' cash-strapped government, whose general obligation (GO) low-investment grade credit ratings are the lowest among U.S. states. […]

Fees on unpaid bills in the program have been growing by more than $2.6 million per week and could exceed $194 million by June 30, according to a Reuters analysis of state data as of Sept. 28. […]

By the end of Rauner's term in January 2019, total interest on unpaid receivables in the program could exceed $351 million if there is no progress in reducing the bill backlog, Reuters calculations show. […]

As of late September, four participating VSI lenders had bought 15,369 unpaid receivables worth $1.12 billion under the program. Late-payment penalties on those billings surpassed $118 million and continue to grow, Reuters has found.

Illinois law places no limit on how long the late fees can accrue and since 2010 the state has spent about $929 million in late-payment penalties, according to state comptroller data.
* A handy, and striking, visual aid…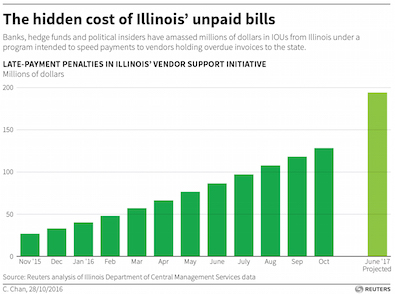 37 Comments














































































































Sorry, comments for this post are now closed.