* The Illinois Republican Party has a new website called BossMadigan.com. The party is making no bones about its three top targets for next cycle and is warning them about their vote for House Speaker in January…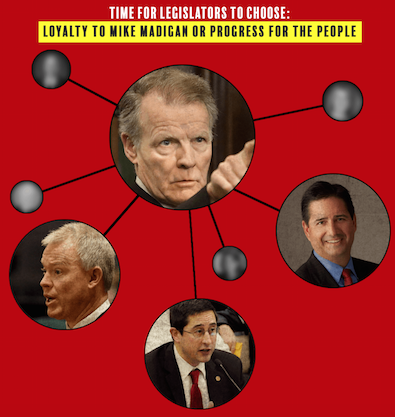 * From the site…
Brandon Phelps has taken over $200,000 from Mike Madigan's political machine and has voted to make Madigan the Speaker seven times. Phelps voted for Madigan's plan to hold funding for his school district hostage to try to bail out Chicago Public Schools. Phelps also voted for Madigan's $8 billion unbalanced budget that would force at least $1,000 tax hike on middle-class families. Phelps even voted for the Madigan-Blagojevich pension scheme that increased pension debt by up to $22 billion.

Despite these actions, Phelps can show he's ready to begin repairing Illinois by opposing Mike Madigan for Speaker in 2017.

Mike Madigan's funneled over $1.6 million to Sam Yingling's campaigns, and in return, Yingling has twice voted to make Mike Madigan the Speaker of the House. Yingling sided with Madigan to hold school funding hostage in an effort to bail out Chicago schools. He also voted for the broken Madigan budget that would have increased state debt by $8 billion and forced a massive tax hike without reforms on hard-working families.

In the weeks ahead, Yingling can show he's ready to put Illinois families ahead of his political patron by opposing Madigan for Speaker in 2017.

Mike Madigan's given Jerry Costello nearly $200,000, so it's no surprise that Costello has twice supported Mike Madigan as Illinois Speaker. Like the rest of Madigan's members, Costello followed orders and held his own school districts hostage to bail out Chicago. And Costello tried to force a $1,000 tax hike on families in his district by voting for Madigan's phony budget that was nearly $8 billion in the hole.

In January, Jerry Costello can show he's willing to start fixing Illinois by voting against Mike Madigan as Speaker.
Discuss.
…Adding… I'm told these are just the "first three" targets. "Long time until the vote for speaker to add more."
…Adding More… From the twitters…
Rep. Phelps, a Dem targeted by new ILGOP site, says attack shows "they want to play more politics more than they want to govern."

— Monique Garcia (@moniquegarcia) November 29, 2016
59 Comments
















































































































































































Sorry, comments for this post are now closed.