* Text from a Democratic pal…
Just got robocalled by the Republican Party on pritzker. They play rod tape of how much he thought jb could raise if he got appointed to the senate seat
I heard that this could be coming so I did a little homework in advance.
* Here's part of the raw audio of the exchange between Blagojevich and his aide Doug Scofield…
* And here's the full transcript of the conversation. It's on pages 6-7 on the Tribune's site…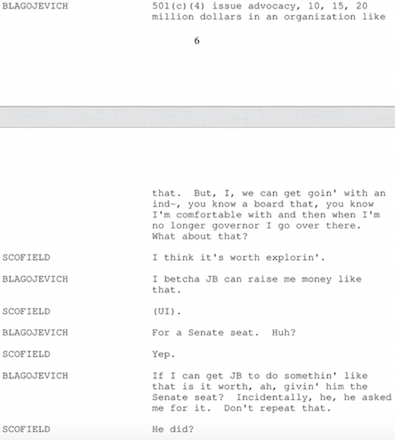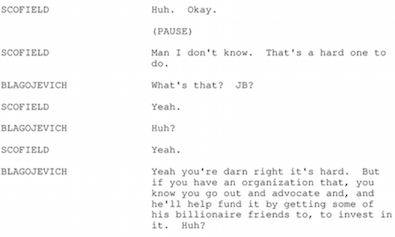 Notice how Scofield says it would be hard to get JB to do that and Blagojevich agrees.
* OK, so here's the Illinois GOP press release…
Today, the Illinois Republican Party released a robocall highlighting potential gubernatorial candidate J.B. Pritzker's deep ties to Illinois' most corrupt political insiders, including Rod Blagojevich and his criminal scheme to sell President Obama's US Senate seat.

"For years, J.B. Pritzker has worked behind the scenes to screw Illinois taxpayers. Pritzker provided nearly a million dollars to Mike Madigan's political front group and inserted himself into Rod Blagojevich's criminal scheme to sell Illinois' US Senate seat. J.B. Pritzker is just another corrupt political insider." – Illinois Republican Party Spokesman Steven Yaffe
* The Republican robocall…
* Script…
JB Pritzker wants to run for Governor. But how well do we really know Pritzker?

We know that political boss Mike Madigan likes Pritzker and his billion dollar fortune as much as disgraced and imprisoned Governor Rod Blagojevich did.

Pritzker told Blagojevich he wanted to be appointed to the U.S. Senate and in exchange Blagojevich wanted JB to personally raise tens of millions of dollars for him.

Here's Blagojevich on FBI tapes talking about it….

[Audio] I betcha JB can raise me money like that … If I can get JB to do somethin' like that is it worth, ah, givin' him the Senate seat? Incidentally, he, he asked me for it. Don't repeat that.

JB Pritzker. Just another crooked insider who seeks to screw over Illinois taxpayers.

[Audio] $10 million dollars, $15 million dollars … JB can do it, couldn't he? … Don't repeat that.

Paid for by the Illinois Republican Party. 872-216-3791
Mess with a guy worth close to $4 billion and you're essentially inviting him to start spending money soon.
Stay tuned, campers.
*** UPDATE ***  From Pritzker's spokesman…
"You would think a governor who has failed to pass a budget for two years and has allowed human services to be gutted would have better things to do with his time than to dredge up the crazy rantings of Rod Blagojevich."
91 Comments
















































































































































































































































































Sorry, comments for this post are now closed.