* My inbox just now…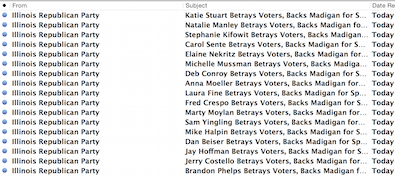 Katie Stuart Betrays Voters, Backs Madigan for Speaker
House Democrats Re-Elect Boss Madigan

"Katie Stuart today chose to put the political machine ahead of the people. She voted to elect Mike Madigan to a record 17th term as Speaker, extending Madigan's decades of power for another two years. Stuart's refusal to stand up to Boss Madigan makes clear that the only way to get a new Speaker in Illinois is by getting rid of legislators like Katie Stuart in Springfield." – Illinois Republican Party Spokesman Steven Yaffe

Today, House Democrats ignored the will of the people by re-electing Boss Madigan as Speaker of the House.

The Illinois Republican Party will continue to hold accountable the legislators who protect the status quo and empower the Madigan political machine.
I really do wonder what would happen if you polled the populace and ask voters whether they favored Madigan or a Republican House Speaker.
40 Comments























































































































Sorry, comments for this post are now closed.