* Much higher bonds for gun defendants aren't working…
Since 2012, the median amount of bond set by Cook County judges for people charged with felony gun crimes has doubled — from $25,000 to $50,000. But over the same time period, the average number of days a defendant spends in jail before posting bond for a gun charge has fallen by more than half, from 42 to 18 days, according to the Tribune analysis. […]

But defendants accused of theft, who often can't afford bond, typically spend more time in jail than those facing gun charges, the Tribune found.
Ugh.
* More from the Tribune…
In the same time period, shootings increased by 42 percent while the number of firearm recoveries, as well as firearm-recovery arrests, have plunged. Firearm recovery arrests dropped by 9 percent, and gun recoveries fell by about 33 percent, from 12,650 in 2012 to 8,416 last year, according to police data.
That last part is a bit misleading because arrests appear to be slightly on the rise after a drop a few years ago…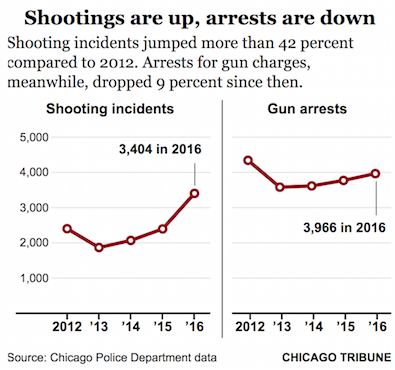 Still, this is not heartening at all.
* Meanwhile…
Following the U.S. Department of Justice's withering criticism of the Chicago Police Department's training efforts, top police officials have vowed to improve a field training program that matches rookies with seasoned cops for on-the-job mentoring and education.

Yet two cops currently in training to become field training officers were themselves involved in separate controversial fatal shootings. Both fatalities resulted in multimillion-dollar legal payouts by the city.


Click here to help buy presents for LSSI foster kids!
7 Comments




















Sorry, comments for this post are now closed.