* From the Illinois Republican Party…
Capitol Fax reported this morning that Mike Madigan showered his legislative enablers this week with engraved crystal clocks.

The cost? Nearly 50 grand.

Madigan's campaign fund reported spending over $46,000 at the end of 2016 at "Sawbridge Studios", where engraved crystal clocks from Simon Pearce are sold.

What's worse? The clocks apparently feature the inscription, "The honorable Michael J. Madigan. Longest serving Speaker of a state House of Representatives in United States history."

House Democrats sold out the people of Illinois and Mike Madigan paid them off with thousands of dollars in expensive clocks while mocking the people of Illinois with gifts as tone deaf as the Chicago agenda he supports.

Now House Democrats and other Madigan cronies can be constantly reminded that they are always on the clock for Mike Madigan.
Man, I hate getting dragged into this stuff, especially since that story was behind a subscribers-only firewall. I'll be having a chat with those boys and girls.
Sawbridge Studios is in Winnetka, by the way. Madigan sends people on his Christmas gift list a Simon Pearce piece every year. Pearce is an Irish-American, so it's kinda fitting.
I didn't look at his campaign committee spending for my story this morning. But I just did and Madigan's campaign committee has spent a total of $535,127.03 at the place since 2005. In October of 2015, Madigan reported spending $39,312.50 at Sawbridge, and this past November, he spent the identical $39,312.50. He reported spending $7,312.50 on December 20th. So, that $50K number quoted above may not be accurate. We'll see if MJM demands a retraction.
* The clock…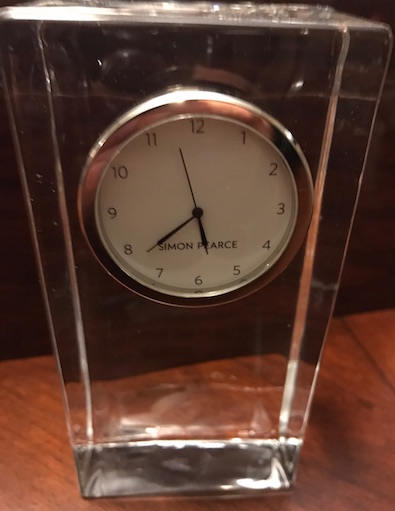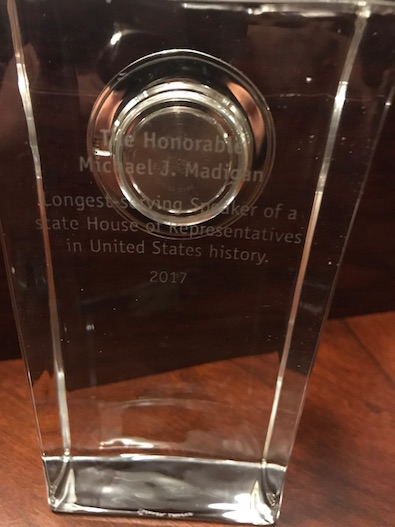 They have some heft, for sure.
* The Question: Caption?


Click here to help buy presents for LSSI foster kids!
71 Comments




















































































































































































































Sorry, comments for this post are now closed.