* Pretty much everyone who knows Steve Schnorf respects him as a professional and loves him as a human being. The former CMS and budget director has forgotten more about running a government than most everyone will ever know. And he's one of the kindest, sweetest souls you will ever meet.
We had dinner a month or so ago and he looked great and we had a very nice evening. A few days later, though, Steve called from the hospital to tell me that he had just been diagnosed with pancreatic cancer.
That's the bad one. It moves very fast. An experimental treatment from the University of Chicago was supposed to prolong Steve's life, but it's not working as billed. He developed a nasty infection and was in intensive care here in Springfield when I visited him yesterday. He said he was being moved out of the ICU to palliative care. Steve said he expects to be sent home in a week for hospice care.
Steve told me yesterday that he and his wife Jane are planning a celebration of life event and he wants it to be held somewhere at his beloved Capitol Complex after he's gone. He and his daughter, a musician, are working on the music.
* Steve has been an integral part of this blog. His comments carry great weight. He told me yesterday the tubes in his hands have prevented him from commenting on or even reading the blog, which caused him to realized how much this website and all the characters who populate it have meant to him over the years.
I asked him if he was OK with me doing a post. He made a joke about how he figured I'd eventually try to monetize his impending demise. We had a good laugh about that one. But, hey, I always laugh a lot when I'm around Schnorf. He's a super guy and I cannot tell you how much I will miss him without breaking down. My heart and the hearts of the few who've known about this sad development have been broken for the last month or so.
But he's taking it like the man he is, and so will I. No tears - just the joy of knowing that I and many others are darned lucky to know this gentleman.
Schnorf has been my friend and my mentor for many years. He has helped so many people and has meant so much to them that I'm not really sure this very modest man understands the full impact of his life.
* So, the point of this post is for all of us to tell Steve what he means to us and to wish him well on his journey. He'll be reading your comments.
This is my favorite photo of Schnorf from last summer before we took Oscar for a spin on the pontoon…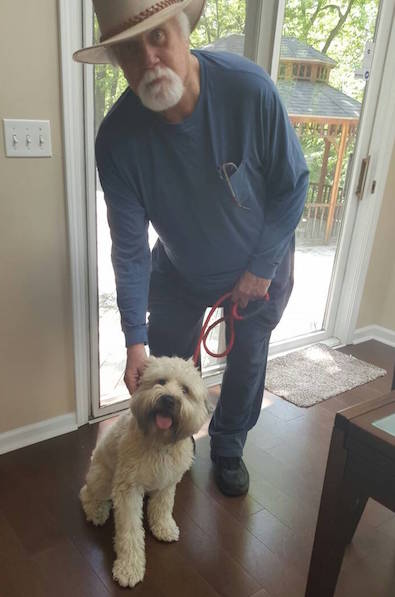 I love you, Steve. Hang in there, buddy.


Click here to help buy presents for LSSI foster kids!
200 Comments























































































































































































































































































































































































































































































































































































































Sorry, comments for this post are now closed.