* Here's a new twist. Check out the fourth paragraph…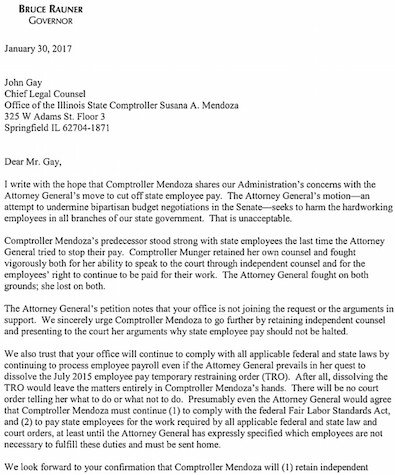 I heard this could be happening earlier today. The AG filed two motions the other day, one was to dissolve the preliminary injunction, but the other was a petition to intervene. The original defendant was Comptroller Munger, who retained her own counsel over the AG's objections.
So, the governor's position is that Comptroller Mendoza should retain her own lawyer, keep AG Madigan out of the case, and even if the judge decides to obey the Constitution and lifts the order that forces the comptroller to pay employees without an appropriation, Mendoza should just keep on paying them until Madigan convinces a judge to tell her to stop doing so. You gotta figure that they'll then demand that Mendoza appeal it.
In other words, they want to delay doomsday as long as they possibly can while making AG Madigan pay the political price every step of the way. And if the comptroller doesn't go along with the governor, they'll make her pay the price, too.
I've asked the comptroller's office and the AG's office for a response.
*** UPDATE 1 ***  From Abdon Pallasch at the comptroller's office…
As the Comptroller said Thursday, the Governor could very easily end this court action by fulfilling his constitutional duty to propose a balanced budget, and then work with the General Assembly to get it passed into law.
*** UPDATE 2 *** Asked for a comment, AG Madigan's spokesperson responded: "No thanks."
Heh.
*** UPDATE 3 *** From the governor's office…
Once again, Comptroller Mendoza was given an opportunity to stand with state employees and fight for their paychecks. Once again, she declined.
Like I said, they want her to pay an ongoing political price.
85 Comments






























































































































































































































































Sorry, comments for this post are now closed.