* From the governor's budget office…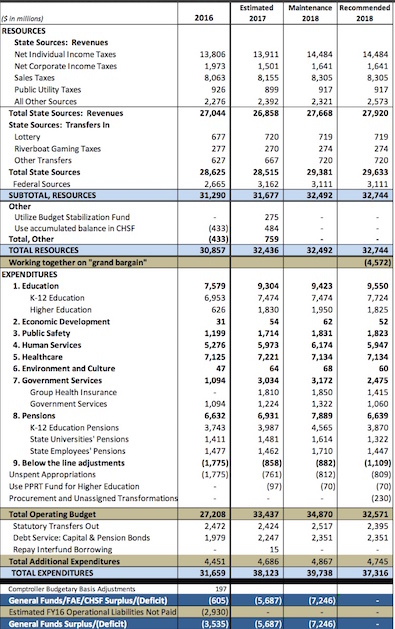 * SJ-R…
Rauner also outlined areas where he wants to increase state spending, including K-12 education, college grants for needy students and more investigators for the Department of Children and Family Services.

However, Rauner did not mention in his speech that his budget proposal would spend about $37.3 billion while state revenues are estimated at $32.7 billion. Rauner's budget plan also counts on $4.6 billion under a category called "working together on 'grand bargain,' a bargain that is still being negotiated in the Senate. Rauner's budget director Scott Harry nonetheless insisted Rauner had presented a balanced budget to the General Assembly.
* Sun-Times…
Rauner's budget proposal — deemed "balanced" by his budget director — is reliant upon on the Senate plan passing. Within the budget proposal is a mixture of spending cuts, revenue and projected economic growth to try to reach a magic number of nearly $4.6 billion. The governor is seeking to fill the remaining $2.7 billion plus by getting legislative authority to make cuts.

"His preferred option is to continue to work with the General Assembly," state budget director Scott Harry said during a briefing with reporters.

The reliance on the plan — as well as lack of specifics in his budget address — had some Democrats launching attacks. Illinois Comptroller Susana Mendoza said Rauner has "shirked his constitutional duty." And State Sen. Terry Link, D-Vernon Hills, said Rauner "shied away from the opportunity to lead."
* Tribune…
Despite repeatedly insisting to reporters that the proposed budget was "balanced," Rauner's budget chief, Scott Harry, did not offer much in the way of specifics as to how the governor would close the hole. Not contained in the 570-page budget book is any mention of ways to raise more money to avoid cuts.

Rather than detail additional cuts to close the gap, Rauner's budget instead includes a $4.57 billion line-item titled "working together on 'grand bargain.'" Harry said the governor's "preferred path" out of the hole would be "a mixture" of more spending cuts, tax hikes to generate new revenue and policies to create more economic growth, which would lead to higher tax revenues.

That deep hole already assumes Rauner would be able to make $2.7 billion in other cuts he proposed in the state's main checking account. One provision would shift state workers into a less expensive pension program by offering a 401k-style retirement plan as an alternative to the constitutionally protected, defined-benefit plan workers currently enjoy. Rauner's team says the move would save $500 million. When asked how the administration had estimated the savings when participation in the new plan would be voluntary, Harry punted to another Rauner aide, who said only that "assumptions were made on what the choices would be."

Also factored into Rauner's proposed savings is $240 million he estimates would be generated from selling the state's James R. Thompson Center building in the Loop, $340 million in savings from changes to the state's procurement processes, $120 million in cuts to a program that allows people with disabilities to avoid institutionalization by receiving home-based care and a $500 million reduction in compensation for state workers.
I didn't go to that budget presentation, but it sounds like it was similar to some recent White House press briefings.
42 Comments





























































































































Sorry, comments for this post are now closed.