* Our good friend Steve Schnorf passed away last night. This is from his official biography…
In his distinguished governmental career, he has held the positions of:

* Director, Illinois Bureau of the Budget (1997-2002);
* Director of Policy for Governor Jim Edgar (1994-1997);
* Director, Illinois Department of Central Management Services (1991-1994, 2002);
* Director of Drivers Services, Office of the Secretary of State (1983-1990); and
* Administrator of the Senior Citizens Division, Office of the Secretary of State (1981-1983).

…In his various capacities in Illinois state government, Schnorf played lead negotiating roles on many key legislative initiatives, including: Illinois welfare reform (1995); Chicago school reform (1996); reorganization of the Department of Human Services (1997); Illinois FIRST (1999); and Soldiers Field renovations (2001).

He participated in all meetings of the Governor and four legislative leaders for five years, affording him broad exposure to the interactions between the executive and legislative branches. Schnorf's governmental experience includes:

* contract negotiations with the state's largest employee union;
* developing five state budgets, each totaling approximately $50 billion;
* supervising all state bond sales for five years (consisting of some 40–50 sales totaling more than $10 billion); and
* serving as the Governor's key liaison, on a variety of issues, with business and labor interest groups, as well as political leaders.

He also chaired the Procurement Policy Board of Illinois (1997-2002); chaired the Illinois Debt Collection Board (1991-1994, 2002); and served as a member of the State Employee Retirement Systems Board of Trustees (1997-2002).

Prior to beginning his state governmental career, Schnorf served people with disabilities on behalf of several not-for-profit organizations and associations (1969-1981) and taught History and Social Studies at Robinson High School (1966-1969).

Schnorf received his Bachelor's and Masters degrees in Education from Eastern Illinois University. Schnorf resides in Springfield, Illinois.
He was also instrumental in passing landmark legislation to reform the state's adoption process. He and his wife Jane are adoptive parents.
Steve was my friend, but he was also one of my most valued mentors and advisors. And a lot of folks can say the very same thing about him. We're all better off for having known that man.
* From his daughter Rebecca…
Last night I had to say goodbye to the man who has been the most constant presence in my life over the past 32.5 years; to the man who has stood by me and supported me through every struggle and who has been there to celebrate every success; and to the man who, when we started the wild ride called parenthood 8.5 years ago, completely rearranged his life, without being asked, to step in as another primary caregiver for our kids. My family's grief over the past 2.5 months since this terrible disease called cancer entered our lives has been immense, but today it feels particularly overwhelming. My kids miss their pop pop.
He was a heck of a good grandfather and he loved being involved in their lives. I wish I was half the man he was.
* One last photo before we say our goodbyes to one of our most valued and respected commenters…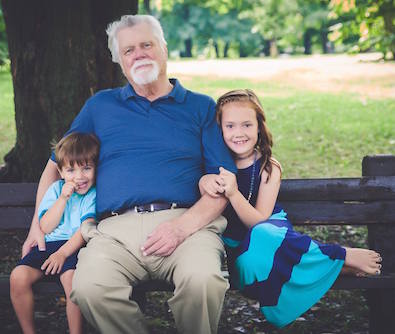 Steve didn't want a funeral, but he did want a "celebration of life." He and I talked about it for a while, and it'll probably be held later this month or early April, depending on family schedules. I'll make sure you know as soon as I know.
66 Comments





































































































































































































Sorry, comments for this post are now closed.