* The Illinois Republican Party got itself involved in some Schaumburg Township trustee races and is using a familiar storyline…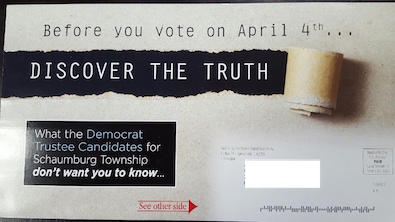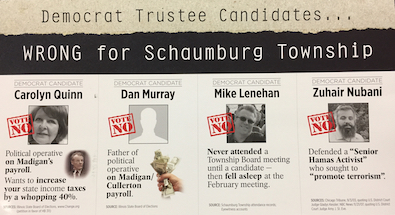 I've heard of sins of the father, but not sins of the son.
* Dan Murray is the father of my former intern Mike Murray. Mike helped run former Sen. Dan Kotowski's campaign in 2012 and was Rep. Fred Crespo's campaign manager in 2016. Crespo won with 63 percent, so it's not like this was some hugely targeted race. I barely remembered Mike was working there because I don't think I ever actually reported on that no-contest race.
But, hey, "Madigan" is one of our state's favorite pejoratives these days.
Also, Zuhair Nubani is an attorney. Never met the guy, don't know him. But some background on that particular ILGOP claim is here and here.
…Adding… From Zuhair Nubani…
In my 25 years as a practicing attorney I have represented many clients across a wide spectrum of races, religions and creeds. Unlike my opponents I believe everyone in the United States has a fundamental right to legal counsel regardless of their race, religion or political belief. Bigotry and fear mongering has no place in our society
16 Comments















































Sorry, comments for this post are now closed.