* Press release…
Governor Rauner today toured the Illinois Science and Technology Park and discussed changes to increase job growth and the importance of innovation and technology in Illinois economy.

"The Illinois Science and Technology Park is on the forefront of innovation to help grow Illinois. This facility allows for smaller companies to grow and flourish," said Governor Rauner. "In order to move Illinois forward, we have to continue to invest in small businesses that our transforming our economy. We need to make structural changes to get our state back on track."

As part of the tour, Governor Rauner met with employees and discussed the administration's plan to create good-paying jobs and strengthen our schools. The administration has delivered unprecedented funding for grade schools and put more emphasis on apprenticeships to create a well-trained workforce. Currently, the administration is working to cut the red tape in state agencies and making it easier for people to do their jobs in a safe and efficient way.

The Illinois Science and Technology Park is a corporate research campus with multi-user wet-lab research and office space for life science and technology companies. Approximately 1,400 jobs are based in the park with 25 different companies including LanzaTech, Northshore University Health System and start-ups from Northwestern University.

Attached pictures may be used for publication.
* One of the attached photos…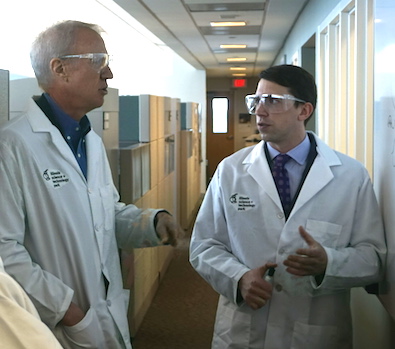 * The Question: Caption?
57 Comments










































































































































































Sorry, comments for this post are now closed.