* This event is a week from tomorrow…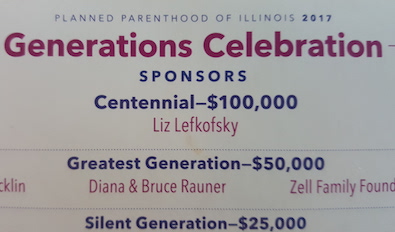 * As you know, Rauner said last week that he will veto HB40, which would delete the "trigger" language in state law that some say would return Illinois to pro-life legal status if Roe v. Wade is overturned. The bill would also provide for Medicaid funding of abortions beyond what is provided now.
Needless to say, HB 40 is the top legislative priority for groups like Planned Parenthood. Vetoing the bill would break a promise to pro-choice voters made by his wife and others during the campaign. So, things could get, um, interesting at the gala.
JB Pritzker and his spouse are listed as $10,000 "Baby Boom" contributors.
Maybe I should take my tux to the cleaners.
*** UPDATE 1 ***  I expect this has something to do with what Gov. and Mrs. Rauner told pro-choice activists in 2014…
RAUNER DECEPTION ON REPRODUCTIVE RIGHTS TO BE REVEALED

Pro-choice group releases evidence exposing Governor's frenzy to curtail women's right to choose

What: Personal PAC makes major announcement regarding Gov. Rauner's position on HB 40

When: April 19, 2017; 12:30 p.m.

Where: Allegro Hotel, 171 W Randolph St, Chicago, IL 60601 (Palladium Room)

Who: Marcie Love, Personal PAC Founder & Chair Emerita
Melissa Widen, Personal PAC Board Chair
Terry Cosgrove, Personal PAC President & CEO
Toni Preckwinkle, Cook County Board President
Anna Valencia, Clerk, City of Chicago
*** UPDATE 2 *** Susan Musich, Board Chair, Planned Parenthood of Illinois…
Last week, Governor Rauner let us know his true stance on reproductive rights. By stating his intention to veto HB 40, Governor Rauner is refusing to safeguard legal access to abortion in Illinois in the event that Roe v. Wade is overturned. Further, he is perpetuating discrimination against women with low-incomes by prohibiting them from using state Medicaid coverage to access abortion care.

Planned Parenthood believes that women should have access to comprehensive reproductive health care, including abortion, regardless of where they live or the source of their health care coverage. The uncertainty of reproductive health care policies in Washington DC means that we must ensure there are protections in place at the state level. Governor Rauner need to stand with all Illinois women, not just some!
*** UPDATE 3 *** Posted by a commenter…
In 2014, Bruce Rauner took the pro-choice position to every question in the Personal PAC questionnaire except on Parental Notification, as confirmed by Diana Rauner

http://illinoisreview.typepad.com/illinoisreview/2014/10/diana-rauner-bruce-convinced-pro-lifers-to-put-aside-their-views-on-this-issue.html

That means that he answered YES to questions 1, 5, and 6

https://drive.google.com/file/d/0B4Bi-iePG1O6SmMwei1LMjFCazA/view

Question 1 asks:

A 1975 Illinois Law (Illinois Abortion Law of 1975: P.A. 81-1078) states that when the 1973 Supreme Court Roe v. Wade decision is overturned or modified, Illinois law will revert back to its pre-Roe status, meaning abortion will again become illegal in Illinois as it was prior to 1973.

1. Do you SUPPORT legislation repealing this 1975 law and replacing it with a law stating that decisions about reproductive matters are to be made privately between a woman and her doctor, without government interference?

Question 5 asks:

5. Do you SUPPORT restoring abortion coverage under the state Medicaid plan?

Question 6 asks:

6. Do you SUPPORT legislation to restore state employees' health insurance coverage for abortion?

Bruce Rauner said he supports all 3, which is what HB 40 does
54 Comments

































































































































































Sorry, comments for this post are now closed.