Oppo dump!
Thursday, Apr 27, 2017 - Posted by Rich Miller
* As Mary Ann Ahern reported last night, JB Pritzker supported Hillary Clinton for president in 2008 and then said this in the spring of 2012 when he was asked if he was supporting President Obama's reelection…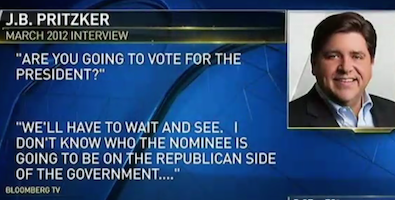 Ouch.
Ahern admitted during the press conference, by the way, that the quote was pointed out to her by one of Pritzker's primary opponents.
* Pritzker's response to Ahern yesterday…
My opponents will suggest a lot of things, I'm sure, that aren't true. Here's the thing, I'm a Democrat. You've heard what my progressive values are. I've stood for those things. I've fought harder than anybody that's running in this race against Donald Trump.
He also pointed out that he backed Obama after the 2008 primary and supported him in 2012.
Even so, those 2012 comments will make for a heck of a TV ad or ads on Chicago black radio stations.
* Meanwhile…
"He was down on the ground with us regular folks when we were out there knocking on doors for the democratic party," [Ald. Walter Burnett] said. "J.B. was there too and his wife was there also – who I met before he even married her. He knows how to feel people."

And Pritzker was expressing some of those feelings on the South Side. Pritzker announced his campaign kickoff in Alderman Michelle Harris' South Side ward, and Harris said the enthusiastic turnout was well earned.

"Out of every candidate, his concepts, his ideas and his vision for this state really connects with the African American community," Harris said.

Harris admits another major fact is the fact that Pritzker is worth billions and has the money to run against wealthy incumbent Republican Governor Bruce Rauner.
41 Comments


























































































































Sorry, comments for this post are now closed.