* Back in 2014, it seemed like everybody was posting videos doing an "ice bucket challenge." You'll recall it was a big fad back then and it raised a ton of money for the ALS Association. Candidate Bruce Rauner posted a video featuring three helpers dumping ice water on his head. Gov. Pat Quinn did a video as well.
JB Pritzker's ice bucket challenge video is no longer online. A reporter pal brought up the subject last night. He said he saw the video back in the day, but he can't find it now. So, I reached out to a trusted opposition researcher last night. He told me he'd also heard about it, but, sadly, has come up empty time and time again. I asked the Pritzker campaign what happened to the video this morning and am still awaiting a reply.
* Pritzker is dressed as the Dr. Evil character from the "Austin Powers" movies in his video, stroking a toy cat and wearing one of those bald wigs. The reporter who watched the video says Pritzker talked in a Dr. Evil accent while cheesy, 70s style sound effects played in the background. From a story done at the time by Shia Kapos…
He appears in his video, above, dressed as Dr. Evil, the fictional character played by actor Mike Myers in the "Austin Powers" films — bald head, tipped pinky and all.

Seated in a chair "deep below the Merchandise Mart," he says he was nominated "by the techno geeks at 1871."

"Little do they know, I'll be turning the tables on them with 'operation ice bucket,'" he says with a sinister laugh. "I'll pour one million bajillion gallons of water over Chicago!"

The buckets drop with the help of two assistants, and a drenched Mr. Pritzker then peels off his mask to say he's giving $26,000 to the ALS Association — $100 for each of the 260 companies in 1871. He also challenged his "evil brother" Tony Pritzker, Graff CEO Henri Barguirdjian and professional poker player Phil Hellmuth.
Man, somebody really needs to find this thing.
* A person who hates the Pritzker family posted a screen capture, which is all we have to work with. Click the pic for a larger image…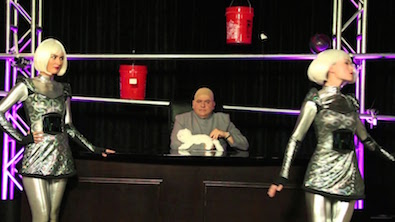 39 Comments




















































































































Sorry, comments for this post are now closed.