* From the Senate Democrats on the budget/revenue plan…
The comprehensive budget for Fiscal Year 2018 is the product of more than a dozen negotiating sessions with Senate Republicans on a balanced FY 18 budget and is heavily influenced by the budget package Senator Bill Brady filed on March 28, specifically SB2181 and 2182. It eliminates a $10 billion deficit through a mix of cuts, savings and new revenue. […]

Negotiations left a $475 million gap between spending and revenue. This plan closes it by means testing certain income tax breaks, adjusting the borrowing to pay old bills plan and making $60 million in additional reductions.
* More…
Negotiation highlights:

• Sen. Brady presented the group with a spending base of $41 billion
• Based on current revenues, that spending level would exceed revenues by over $10 billion
• Sen. Brady offered a combination of revenue and budget cuts to achieve a balanced budget
• We (Senate Democrats) agreed to 22 (of 26 proposed) items that would reduce state spending by $3.8 billion
• The group collectively agreed to $5.7 billion in additional resources to help reach a balanced budget
• We came to a point where we had a deficit of $475 million and have not been able to make progress on how to close the gap
• We offered to adjust the amount and terms of a borrowing plan to pay down the bill backlog in order to adjust spending levels
• The plan we are proposing today incorporates that borrowing plan along with other spending reductions and a limit on an income tax break for mansion owners in order to close the gap and achieve a balanced FY18 budget

Key GOP priorities included in the proposals:

1. Uses 4.95 tax rate.
2. Reform the state pension system, including moving to a defined benefit program proposed by Gov. Rauner 
3. Reduces Medicaid spending by over $400 million (5 percent)
4. Cuts the amount of state revenue dollars that are shared with local governments 
5. Increases p-12 spending by over $350 million
6. Reduces state agency spending by 5 percent compared to the governor's proposed budget.
7. Cost reductions for group health insurance program.

Revenue:
Personal income tax: Increases to 4.95 percent from current 3.75 percent.

• Generates $4.453 billion annually.
• This is a 1.2 percentage point increase, or a 32 percent increase in the tax rate.
• The rate will return to 3.75% after seven years

Corporate income tax: Increases to 7 percent from 5.25 percent.

• Generates $514 million annually.

Eliminates three corporate tax loopholes worth a combined $125 million a year:

• Eliminates the domestic production deduction (decouples Illinois from federal tax law; Wisconsin and Indiana already did this.)
• Repeals the non-combination rule
• Eliminates loophole exempting areas outside of standard U.S. from taxation, "outer continental shelf"

Imposes a cap of $1,000 a month on the tax rebate that retailer's receive: $83 million

Implements a sales tax on services. Total: $149 million

• repair and maintenance of personal property 44 million
• landscaping services $14m
• laundry and dry-cleaning $4m
• storage (cars, boats, property) $18m
• cable/satellite/streaming services $46m
• pest control $4m
• private detective, alarm and security services $5m
• personal care $16m

Means testing applied to state income tax breaks: $81 million

Individuals making more than $250,000 and joint filers making over $500,000 would not be eligible for the person exemption ($18M), property tax credit ($59m)and education expense credit ($4M).

Example: homeowners get a tax credit equal to 5 percent of their property tax bill. The more expensive the mansion, the higher the tax break. Gov. Rauner gets a $4,500 credit on his income taxes. This closes that tax break to those whose taxable income exceeds a half million ($500,000) a year jointly or a quarter million ($250,000) individually.

Tax credits: cost of $264 million state

• Increases the Earn Income Tax Credit (EITC) by 50 percent over a 5 year period. This benefits lower income workers.
• Increases the family cap on the Education Expense Credit to $750 from $500.
• Creates a $250 tax credit for teachers who spend their money on classroom supplies.
• Reinstates and makes permanent the Research and Development Tax Credit Extends the Film Tax Credit to Jan. 1, 2027.
• Rolls the currently expired Manufacturing Purchase Credit and Graphic Arts Equipment sales tax exemption into the existing Manufacturing Machinery & Equipment sales tax exemption (streamlines the exemptions and puts us in line with how other states provide the exemption).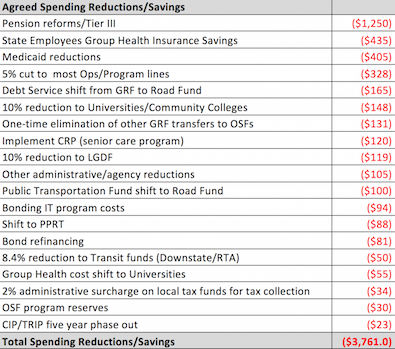 The budget passed this afternoon. The revenue package has not been voted on as I write this. The budget implementation bill, however, was defeated. Click here for the text of that legislation.
*** UPDATE ***  From the Senate Democrats…
We won't proceed to revenue. Many of the budget cuts were in the bimp.
It's needed for the whole budget package. Our side of the aisle can't, on its own, pass the list of cuts that Republicans brought to the table and we included.
* Related…
* Illinois Senate OKs budget, but defeats power to implement it
120 Comments







































































































































































































































































































































































Sorry, comments for this post are now closed.