* Press release…
Pritzker Campaign Introduces Tick Tock The Budget Clock

Tick Tock Will Join Bruce Rauner For Breakfast Today At A Private Golf Course, Rich Harvest Farms, Then Later At An Orland Park Press Conference

Chicago, IL – Today, on day 695 without a budget, the Pritzker for Governor campaign is introducing Tick Tock the Budget Clock. Tick Tock joins Crisis Creatin' Rauner, a multimedia campaign designed to highlight the budget crisis of Bruce Rauner's own making and the families, schools, and social service agencies that continue to pay the price.

As the hours and days tick up, Tick Tock's presence will serve as a constant reminder of the damage Rauner's crisis is creating in Illinois. The fact is, it is past time that Illinois families receive a budget from their failed governor and Tick Tock won't let Rauner forget it.

"Time is running out for Bruce Rauner to take responsibility for the crisis he has created and even though he runs away from reporters, Bruce Rauner won't be able to hide from Tick Tock the Budget Clock," said Pritzker campaign spokeswoman Jordan Abudayyeh. "As the clock counts up, this historic budget crisis of Rauner's own creatin' is doing irrevocable damage to our state. Rauner deserves a constant reminder of how his failed leadership has hurt working families across Illinois – and Tick Tock will remind him of the alarming mess he has created every step of the way."
* The accompanying, um, Tick pic…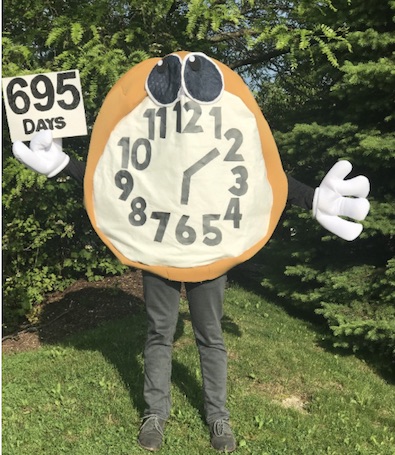 * Politico made Tick the lead story today…
It's an anti-Bruce Rauner move right out of the Rauner playbook. Rauner's campaign team, some of whom worked for former Sen. Mark Kirk, love these characters. During Kirk's 2010 campaign, they sicced a shark to follow around his opponent, then-state Treasurer Alexi Giannoulias, to remind him of a loan to the mob-associated Michael "Jaws" Giorango. In 2014, the Rauner campaign came up with "Quinnochio" to badger then-Gov. Pat Quinn outside of events. That character was dressed up as Pinnocchio. If you've forgotten, here's Quinnochio on youtube. They also slapped a mask on another staffer who dressed in an orange jumpsuit to represent imprisoned ex-Gov. Rod Blagojevich. […]

We're confident the Rauner camp will come up with a rebuttal caricature in short order. But, gee, we can't imagine what this race will look like when we're actually within the same calendar year of an election.
…Adding… The Pritzker campaign seemed quite pleased this morning at all the attention their new mascot got from the TV types (those teevee people love them some visuals, no matter how silly they might be). But the Republicans sent me their own Tick pic…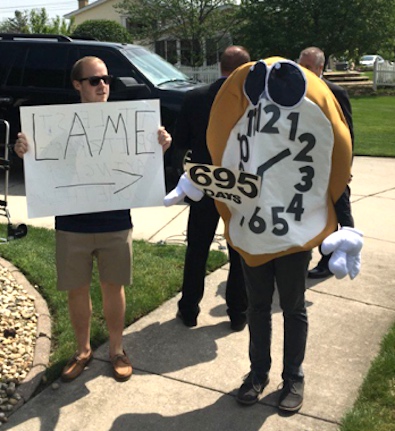 True, but so was Quinnochio and they did it anyway. This stuff works.
…Adding More… Heh…
It's going to be a long GOV race, Rauner supporter comes to diss Pritzker supporter #ILGov18 pic.twitter.com/jQArWqKtf0

— Mary Ann Ahern (@MaryAnnAhernNBC) May 26, 2017
…Adding Still More… Check out the video clip to see how the Chicago TV cameras gravitated to the new mascot today. Like I said, this stuff works, even if it is goofy…
@BruceRauner And of course, Tick Tock was on hand to remind Rauner about the crisis he created. #Day695 #twill pic.twitter.com/dTWIBNwOdA

— CrisisCreatin'Rauner (@RaunersCrisis) May 26, 2017
53 Comments






























































































































































Sorry, comments for this post are now closed.