* Yesterday it was robocalls, today's it's digital ads. From the ILGOP…
ILGOP Releases Digital Ads Ahead of House Tax Hike Vote
Will House Democrats end session by voting for a tax hike while rejecting true property tax relief?

Days ago, NBC Chicago reported that 46 members of Mike Madigan's House Democrats planned to vote for a 32% income tax hike with no reforms, protecting Madigan's broken status quo.

Illinois homeowners cannot afford another tax hike without true and lasting property tax relief.

Today, the Illinois Republican Party launched digital ads heavily targeting 19 House Democrats. Will they side with taxpayers and pass a balanced budget with real property tax relief or will they side with Madigan and pass a massive tax hike with no reforms to fix Illinois' broken system?

Or will they end session in complete failure and refuse to pass any budget and reform plan whatsoever?
* The ad…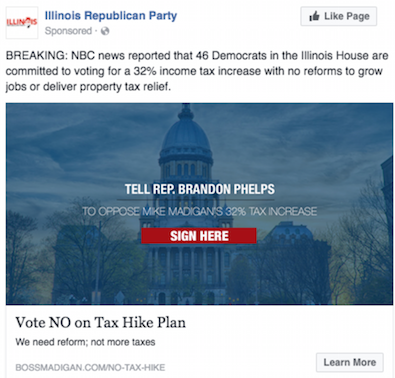 * Targeted districts…
HD 15 – John D'Amico
HD 17 – Laura Fine
HD 18 – Robyn Gabel
HD 43 – Anna Moeller
HD 44 – Fred Crespo
HD46 – Deb Conroy
HD 55 – Marty Moylan
HD 56 – Michelle Mussman
HD 57 – Elaine Nekritz
HD 59 – Carol Sente
HD 62 – Sam Yingling
HD 72 – Mike Halpin
HD 84 – Stephanie Kifowit
HD 98 – Natalie Manley
HD 96 – Sue Scherer
HD 111 – Dan Beiser
HD 112 – Katie Stuart
HD 116 – Jerry Costello
HD 118 – Brandon Phelps
4 Comments











Sorry, comments for this post are now closed.