* From the Pritzker campaign…
** MEDIA ADVISORY: TODAY at 11:00 AM **

JB Pritzker and Congressman Luis Gutierrez
To Make Press Conference Announcement

WHAT
JB Pritzker and Congressman Luis Gutierrez join community, faith and business leaders to make an announcement.

WHEN
Monday, June 19 at 11:00 AM

WHERE
Lincoln United Methodist Church
2242 South Damen Avenue, Chicago
* Mary Ann Ahern…
New: IL Cong Bobby Rush to endorse @KennedyforIL while @natashakorecki reports Cong Luis Gutierrez will endorse @JBPritzker

— Mary Ann Ahern (@MaryAnnAhernNBC) June 19, 2017
The Kennedy endorsement is at noon at Captain's Hard Time Dining, 436 E 79th St. in Chicago.
*** UPDATE 1 ***  The Republicans were waiting outside of the Pritzker endorsement with a familiar character…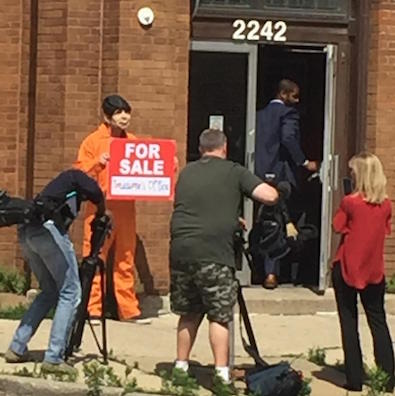 GOP sends Blago cartoon character to poke fun at Cong Gutierrez endorsement for @JBPritzker pic.twitter.com/Txuh2dENqP

— Mary Ann Ahern (@MaryAnnAhernNBC) June 19, 2017
*** UPDATE 2 *** Pritzker campaign…
"For over 30 years, Congressman Gutierrez has been a fierce advocate and fighter for our immigrant communities and the most vulnerable in Illinois. I am honored to receive his endorsement and humbled to have him standing with me in this campaign," said JB Pritzker. "As governor, I will work with Congressman Gutierrez to pass the TRUST act, ensure DREAMers can graduate and contribute to the economy, invest in quality education for all Illinoisans, and support small businesses and access to capital in the communities that need it most. Most importantly, I will partner with Congressman Gutierrez to stand up to Donald Trump and Bruce Rauner's fear-mongering and attacks on Illinois families. Rauner refuses to stand up to Donald Trump's hate and has decimated funding for immigrant services in Illinois. The nearly 1.8 million immigrants in Illinois deserve a governor who will fight for them and I look forward to standing with Congressman Gutierrez to be that governor."

"I am proud to endorse JB Pritzker for governor because I know that he will bring people together and fight for what's right in Illinois," said Congressman Luis Gutierrez. "JB has spent his life lifting up our most vulnerable communities and fighting for Illinois families. But our current governor has failed our families and refuses to stand up to Donald Trump's attacks. Unlike Rauner, I know that JB will be a partner and a friend to our immigrant communities in Illinois and he will never be afraid to stand up to Donald Trump. JB has the background and the values to take on Bruce Rauner and ensure that Illinois is a state that always welcomes and protects immigrants. JB will be a great governor for our state and I look forward to standing with him in the fight ahead."
*** UPDATE 3 *** Kennedy campaign…
This afternoon, at Captain's Hard Times Dining, longtime U.S. Rep. Bobby Rush endorsed Chris Kennedy as the next Governor of Illinois. Congressman Rush hailed that Kennedy would bring "radical change" to Illinois' state government, with a focus on helping the middle class and poor families who have been neglected under Governor Bruce Rauner.

"Governor Rauner's days are numbered," Congressman Rush said. "He has been more cruel and coldhearted than any governor in our history. He has slashed the social safety net, ignored gun violence and cut funding for Chicago Public Schools. We need change. I stand with Chris Kennedy because I believe in Chris Kennedy and I know Chris Kennedy. He is the best candidate to restore the promise of the American Dream for millions of Illinois residents. He will work for those who are left out and for those who do not have access to the American Dream. Chris will bring a radical approach to state government and give us a state government that works for every family in every neighborhood."

Congressman Rush went on to address political dynamics in this election. "The Democratic establishment here in Illinois wants to package up with ribbons and deliver the nomination to the candidate of their choice. My message to them is that you cannot gift wrap the gubernatorial nomination because it is not yours to give. It belongs to the citizens of the state of Illinois. Chris is in and Chris will win," added Rush.

Kennedy thanked Congressman Rush for his endorsement. "I am humbled that Congressman Bobby Rush has chosen to stand with me and support my campaign. His work has not only inspired me but my whole family. He is a longtime public servant who has worked to better the lives of everyday people, hardworking middle class and poor people who deserve a government that does not push them away but instead welcomes them here. Illinois state government needs radical change and Congressman Rush has long advocated for radical change. I am honored to stand with him to ensure that we keep the promise of our state, and restore the American Dream as the dream for all Americans," Kennedy said.
* Greg Hinz…
The key [Bobby Rush] quote: "You can't gift-wrap the nomination. It's not yours to give. It belongs to the citizens of Illinois…Chris is in and Chris will win."

That's a clear shot at Pritzker, who has been much more active in getting help from Madigan and others to line up endorsements. Of course, the endorsement of Bobby Rush is, um, an endorsement, but Kennedy said he won it on his own without anyone giving orders to anyone.
13 Comments






































Sorry, comments for this post are now closed.