* Vinicky…
An updated "doomsday" picture offered by Comptroller Susana Mendoza warns that without a budget in place soon, come August she won't be able to write checks to pay for the most basic of services, including state employee payroll, school funding and requirement debt service.

Illinois is already $15 billion behind on paying its bills, as payments for other services have been pushed aside for those and other core priorities as established by law and court orders.

"This has never happened before," Mendoza said Friday after she privately briefed legislators on the scenario. "The situation couldn't be more critical."
* Finke…
[Comptroller Susana Mendoza] said Friday that in a "best-case scenario," the state will fall $185 million short of what it needs to meet payments required by various court orders, consent decrees and state laws that have been responsible for the state to continue paying some bills in the absence of a full state budget [in August].

"We will no longer be able to fully comply with all of the court orders that determine payments in our core priority sectors," Mendoza said. "This has never happened before." […]

"In August, I will have zero flexibility," Mendoza said. "I guarantee you nursing homes will close. I won't be able to help them. I won't even have enough money to make the core priorities that are mandated by the courts."

Courts have ordered continued payments for some human services programs and for the state employee payroll. State law requires payments to pension systems and debt service. The state has also managed to keep current with state aid payments to schools, although reimbursements for things like transportation costs have fallen behind.

However, Mendoza said that in August, if nothing is done to resolve the budget stalemate, even school aid payments could be in jeopardy, not to mention what might happen if the state can't make payments decreed by the courts.
* Mendoza distributed this to House Democrats yesterday. That squiggly red line represents mandated core expenditures…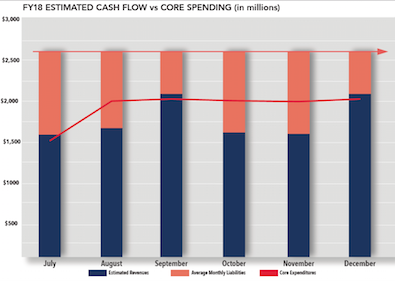 Click here for the full handout. Mendoza also gave it to Leader Durkin.
9 Comments


























Sorry, comments for this post are now closed.