* From the ILGOP…
Just yesterday, Mike Madigan called efforts to get lasting property tax relief an "extreme right-wing agenda."

This comes as Madigan and House Democrats continue to push for massive tax hikes.

Does Rep. Natalie Manley agree with Madigan? Is property tax relief really an extreme agenda?

Manley should stand up for homeowners and speak out against Boss Madigan's attack on the middle class.
* As you can see from this screen shot of my in-box, they put out a bunch of these…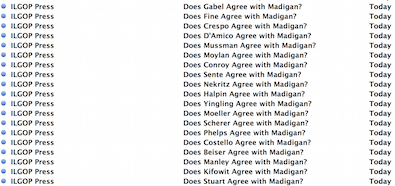 * But this is from the Center for Tax and Budget Accountability…
Cost of Property Tax Freeze to IL Schools? Up to $830 Million

CTBA analysis indicates that a two-year property tax freeze would be devastating for Illinois' public education system, effectively cutting between $430 million and $830 million from K-12 education per year by the end of 2019.

Late last month, the Illinois Senate passed Senate Bill (SB) 484, which would freeze property tax collections for school districts across the state for two years. Such a measure has been a central demand of Governor Bruce Rauner, who has insisted that he will not sign a full state budget without a property tax freeze.

CTBA's projection was derived by applying the property tax freeze in SB484 to property tax collections by school districts in 2014 and 2015, the most recent years for which full property tax data is available from the Illinois Department of Revenue. Because the base of collections has increased since then, a funding gap created by the freeze of the same proportion would be greater in nominal dollars today. The smaller amount, $430 million, assumes that every district will increase its levy by the full Consumer Price Index (CPI), which SB484 would allow only for debt and pension payments. The larger amount, $830 million, is the effect of the freeze if no district has debt payments for which it can increase its levy under these terms.

These cuts would hit all areas of the state. Cook County would see an annual schools funding cut of between roughly $200 million and $360 million; the collar counties, between $76 million and $214 million; and districts in the rest of the state, between $156 million and $250 million. On a per-pupil basis, these cuts amount to as much as $496 for every student in Cook County, $382 for every collar county student, and $375 for every student in the rest of Illinois. Figures 1 and 2 illustrate these cuts.
* Attachments…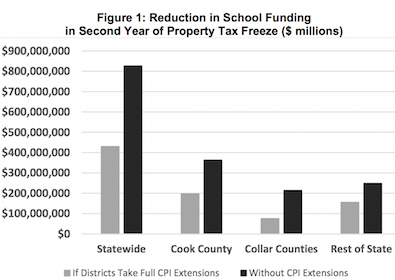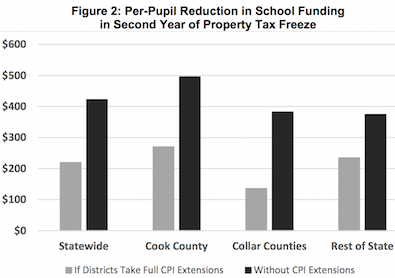 37 Comments














































































































Sorry, comments for this post are now closed.