* ILGOP…
Illinois lawmakers led by House Speaker Mike Madigan have barely worked during the special session – convening for only 122 minutes and sometimes not even showing up.

While Mike Madigan stalls, Illinois crumbles. Financial institutions are threatening junk status.

Madigan needs to get serious before his caucus of junk politicians fails to send the Governor a balanced budget for the second year in a row.

Today, the Illinois Republican Party is releasing a digital video highlighting the legislature's inability to get to work.

Time is running out.
* The ad is based on an Illinois Policy Institute report and uses TV coverage of the special session…
* Meanwhile, as I told subscribers this morning, this is one of the five Illinois Republican Party mailers that have been sent into Democratic Rep. Jerry Costello's district in the past seven days…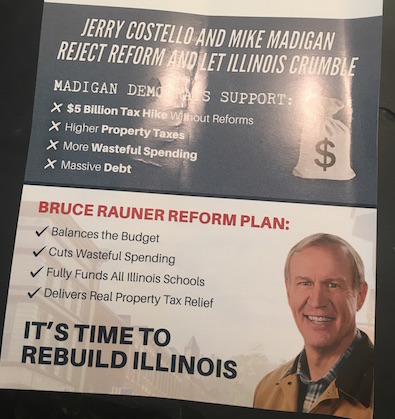 Notice anything missing from the Rauner plan? A way to pay for it, perhaps?
27 Comments
















































































Sorry, comments for this post are now closed.