Here we go…
Friday, Jun 30, 2017 - Posted by Rich Miller
* Tina Sfondeles leads our coverage…
Illinois House Speaker Michael Madigan plans to call a Democratic spending plan for a vote on Friday, amid a midnight fiscal budget deadline and the very real threat of credit agencies dropping the state to "junk" status. […]

Leaders met again on Thursday to iron out their differences, including on workers' compensation and pension reform. While Madigan said he'd call the Democratic spending plan on the floor, Deputy Majority Leader Lou Lang, D-Skokie, said House Democrats have a backup plan, placing provisions within the spending plan into "smaller subsets" in case the overall spending bill fails.

"We took the higher education portion, the K-12 and the transportation provisions into separate bills. They're ready to go. They look exactly the way they look in the main bill. And we may or may not call them. We'll just see how the votes goes when we vote on the entire spending plan," Lang said.

State Rep. Greg Harris, Madigan's appointed budget negotiator, filed an amendment on Thursday to the Senate's revenue bill. While the income tax rate hike remains at 4.95 percent, streaming and satellite fees have been removed.

"We have closed corporate tax loopholes. We have increased the earned income tax credit for working families to keep more in their pockets. We've also restored the research and development and manufacturers' tax credit to attract more businesses and bring jobs," Harris said.
* Tribune…
*Where they're at on tax increases: There's general agreement to hike the state income tax from 3.75 percent to 4.95 percent but disagreement on whether to make the start date Saturday or retroactive to Jan. 1, which would take a bigger bite out of your paycheck. There's also disagreement about whether to make the tax hike permanent. And there's disagreement about whether to expand the service tax or close corporate tax loopholes.

*What else is up in the air: The tax hikes almost certainly won't pass without resolution of Republican Gov. Bruce Rauner's economic items. Differences remain on a property tax freeze. A four-year freeze is agreed to, but House Speaker Michael Madigan wants exemptions for Chicago Public Schools, Chicago City Hall, troubled school districts and pension costs. Rauner is opposed. Another sticking point is workers' compensation reform. Rauner wants to further cut fees that doctors, hospitals and pharmacies receive for treating injured workers. Madigan said if those fees were cut, they wouldn't be cut as deep as the low amounts set by Medicaid rules. Madigan also wants to regulate workers' comp rates set by insurance companies.

*The potential ramifications if nothing gets done: A Wall Street downgrade to "junk" credit status, no Mega Millions or Powerball lottery games, uncertainty for some school openings in the fall, the future of what remains of a frayed social service safety net and the prospect of road construction project shutdowns. In addition, a federal judge's ruling is expected on a lawsuit that seeks to require the state to start paying hundreds of millions of dollars more each month to Medicaid providers. All of that led Democratic Comptroller Susana Mendoza to say that the consequences to the state of failing to reach a budget agreement by midnight Friday go from currently "horrific" to "catastrophic."

*The backup plan: If those measures fail to gain enough support, state Rep. Greg Harris said Democrats would consider a series of bills to appropriate funds in key areas such as social services and education. But those efforts would not come with the needed dollars to actually pay for the programs, meaning they are likely designed to provide political cover to allow Democrats to say they voted in favor of projects important to their districts.
* The House Democratic perspective from Rep. Kathleen Willis' Facebook page…
Today I plan to vote on a full budget. It is a spending plan that is lower than the governor's proposed plan and lower than what we are spending now under court orders. It is funded by a combination of cuts, closing corporate loop holes and returning the income tax to 4.95 percent.
* The anti-tax House Republican perspective from Rep. John Cabello's Facebook page…
The note on the left a unknown person put on my car at the hotel I am staying at. The note on the right I put on my car in response.
* The notes…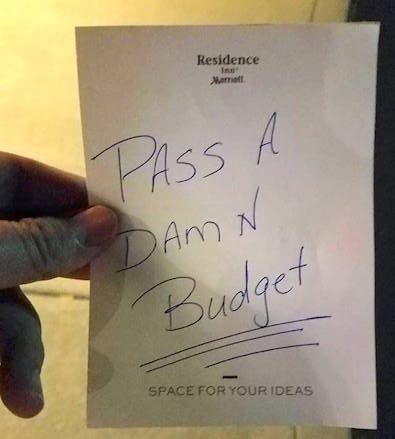 68 Comments











































































































































































































Sorry, comments for this post are now closed.