* Roll call…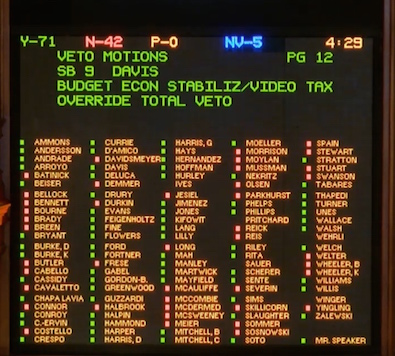 The House also just overrode the governor's veto of the BIMP bill. And then they overrode the spending bill.
*** UPDATE 1 *** Republican Reps. Cavaletto, Davidsmeyer, Meier and Reis all switched from being "Yes" on 3rd Reading to being "No" on the override. So, they lost 5 Republicans (Rep. Pritchard was absent) and still approved the motion.
*** UPDATE 2 *** Democratic Reps. Halpin, Manley, Mayfield and Scherer switched from No to Yes. Scherer had said repeatedly that she was a "No" vote and is considered a target, so that one is really interesting.
*** UPDATE 3 *** Check out the big board games…
VIDEO: Illinois House votes to override @GovRauner's veto of the budget. This bill raises taxes, and is the first of three on the budget. pic.twitter.com/BGsBLGOVm2

— Brian Mackey (@BrianMackey) July 6, 2017
*** UPDATE 4 *** From Speaker Madigan's remarks…
Today, Republicans and Democrats stood together to enact a bipartisan, balanced budget and end a destructive 736 day impasse.

Our budget agreement was made possible by legislators on both sides of the aisle who looked beyond partisan differences and put the best interests of our state and its residents first.

The people in this chamber did not do what was easy today, but we did what was right for the future of out state. There are a lot of things that will be said about this vote, but the most important thing I can point to is that Republican legislators and Democratic legislators got this done together.
*** UPDATE 5 *** Mayor Emanuel…
"I want to thank Senate President Cullerton and Speaker Madigan for their leadership, and I want to thank Democrats and Republicans in the Illinois House and Senate for coming together to put the people of Illinois before party politics. Like so many others across the state, I wish the governor had been willing to actually compromise at some point in this process because the only thing his my-way-or-the-highway approach has gotten Illinois is nearly three years of gridlock and $15 billion in unpaid bills. Thankfully, today's bipartisan, balanced budget is the first step in bringing stability and certainty back to Illinois and putting our state back on track."
162 Comments





































































































































































































































































































































































































































































































Sorry, comments for this post are now closed.