* Nice rhetoric…
we don't condone hate or threats. open debate, you bet. https://t.co/fXCAbJODzT

— Illinois Policy (@illinoispolicy) July 6, 2017
Keep in mind as we move forward that Facebook allows users to automatically block profanity and specific words in comments.
* Earlier today, I posted this from the group's Facebook page…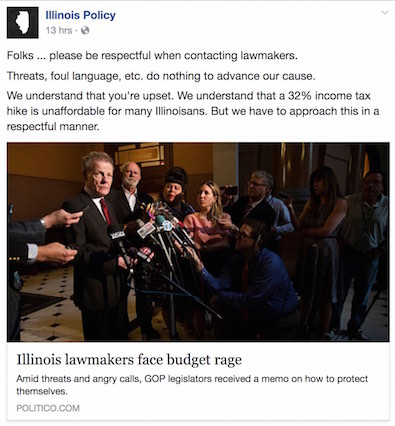 * A few examples from comments on that post, with expletives edited by me…
Jarrod Dowell: I think we're beyond respect now. Look at the complete lack of respect these piece of sh*t scum bags have while claiming to "serve" the citizens. F*ck them! Maybe it's time to water the tree of liberty.

Paul Sr Cappetta Eat sh*t Madigan!

Eric Quesada: I have a lot of respect for this page but I think it's being on threats, these f*ckers are steeling tha people's money, I think it's time to go to war and get rid of them, just my opinion

Hallene Brooks: Respect is earned as it is given, these scumsucking Springfield parasites do not deserve one iota of respect, for what?? For spewing lies in order to get elected over & over again, to continue to blatantly extort the actual WORKING citizens of this sorry-*ss state?? Screw them & the golden taxpayer-funded horse they rode in on, they have no respect for their citizens, they get none, they'd prbly try to tax us for that too, thieving b*stards…..

Tim Mangia: Respect???
Since when has Madigan and his crones respected anybody but themselves!!! F*ck Madigan!!! He deserves to be b*tch slapped!!! This is exactly why our good Trump was elected! The hardworking middle class is sick and tired of getting spit on and kicked in the gut, (metaphorically speaking!), while the lower class gets more money every month and a sh*t ton of tax credits, and food stamps while driving around in cadillac escalades that have rims that cost more than my whole d*mn car!!! F*ck Madigan and any politician that votes to undo Rauner's veto!!! It's f*cking time the middle class gets what we have earned!!!

Reese Hartman: *sshats temp. Raised it before. What happened to all that money?? Madigan is a piece of sh*t that needs to go! GONE! f*cking clowns are completely ruining this state if they haven't done so already

Carmine Coglianese: See thats the thing we don't respect crooks and cronyism. A good old Lynch mob used to clear this sort of thing up QUICK! To H*LL with the Madigan's, to h*ll with corruption, special interests and lobbyists. Here's to term limits and running the scum out of office!

Teresa Hutchens Jimenez is a lying cow, Chad Hayes is a coward and Madigan is a money mongering *sshat. He has been the author of the downfall of a once great state. He is concerned with nothing but his lucrative pension while the taxpayers he is supposed to help and protect are dying without their medical care and starving. I squarely out the blame on those who re-elected the murderer.

Christopher O'Connor: so are pitch forks and torches respectful? I think it is about time for a lynch mob in springfield.

Tom Sye: Hey you f*cking lawmakers do you mother f*cking jobs you worthless pieces of sh*t. You all should be put to death for f*ck the Illinois citizens over! We citizens should be able to have you in a locked room with each of you *ssholes. That would be justice. You should pay back Illinois with those fat pensions you will be steeling from us.! You talk about respect you pr*cks you earn it oh boy you have not. So take this the wrong way when I tell you to go f*ck yourselves

Chuck Clifton: Why should we give a sh*t about them they don't give a sh*t about us receiving threats well yeah I guess so me personally I hope he has a heart attack and dies

Paul Hart: You mean I shouldn't say madigan go f*ck yourself. Is eat sh*t and die ok?

Dave Langenhorst: How about rope and tree for Madigan!!
And, remember, these were under a post supposedly designed to encourage civility.
87 Comments




































































































































































































































































Sorry, comments for this post are now closed.