* Gov. Rauner was asked by reporters several times today about the details of his threatened amendatory veto of SB 1. "We need it on my desk and you will see," he said to one reporter.
"We can't have any rational discussions until that bill's on my desk," he told another who asked about leaders meetings. "There's nothing really to discuss without that bill being on my desk."
"If they would actually deal with the reality and have the truth come, I could, you could read my amendatory veto and you'll see what I do. They don't want the truth. They don't want an open debate. They don't want this to be out in public. Because the truth is so bad for their position."
Um, SB 1 is out there for everyone to see. The governor's plan is the only secret here. There can be no public debate until we see his plan, and I don't see what the harm would be in making it public. Perhaps I'm wrong. What do you think?
*** UPDATE 1 ***  From the DGA…
In a bizarre press conference today, Governor Bruce Rauner repeatedly dodged direct questions about his plans for SB1. In addition, Rauner called for Democrats to send him SB1 so that he could amendatory veto the legislation, but refused to spell out what his changes will actually entail.

Perhaps Rauner's reluctance to talk to address the specifics of SB1 has to do with his general campaign of misinformation regarding the school funding formula. Greg Hinz of Chicago Crain's writes that Rauner has "decided to demonize part of his electorate, Chicago, in a way I haven't seen in this state's politics for many decades" and he's "cherry-picking" numbers to do it. Hinz continues:

"Rauner, for instance, while wailing about those fat-cat Chicago teachers and their big pensions, is promoting a website that shows how much other districts would get under his school funding plan. The trouble is in the fine print: The site purports to redistribute money that would come not from pension funding but from phased-out block grants. Apparently taking away money from impoverished kids in Chicago isn't as popular as whacking teacher pensions."

Worse, Friday Rauner admitted the state's school board of education was not even involved in the math behind Rauner's planned veto, and instead the work was done by unnamed administration people. Dusty Rhodes of NPR Illinois writes:

"He hasn't shown the work behind his calculations, and said he didn't know whether the Illinois State Board of Education had been involved in the creation of the spreadsheet. ISBE, which is headed by Rauner appointees, traditionally models funding proposals using their in-depth database. Full models of other proposals, including SB1, sponsored by Sen. Andy Manar (D-Bunker Hill) and SB1124, sponsored by Sen. Jason Barickman (R-Bloomington) are available at isbe.net."

It sure seems like Governor Rauner's concerned about the policy here.

"Bruce Rauner's actions these past two weeks showed a governor more concerned about his reelection than about making sure schools open on time," said DGA Illinois Communications Director Sam Salustro. "Rauner has pursued a campaign of misinformation designed to divide one state against the other, and today Rauner's cynical strategy was exposed when he refused to address direct questions about his plans for SB1. Illinois families have seen this failed style of leadership when Bruce Rauner dragged the state through a two-year budget impasse that drove jobs and people from the state."
*** UPDATE 2 *** ILGOP…
ILGOP Releases Digital Ads
Ads Highlight Mike Madigan's Chicago Bailout, Attempt to Hold Schoolchildren Hostage

Mike Madigan's attempt to hold schoolchildren hostage for a $500 million Chicago bailout is everything wrong with Illinois politics.

Madigan is willing to put politics ahead of the interests of Illinois children. He's willing to take money from children across the state to bailout his friends in Chicago with no promise of reform. It's just plain wrong.

That's why today, the Illinois Republican Party is releasing digital ads calling out Mike Madigan for his scheme to force through a taxpayer funded Chicago bailout.
The ads…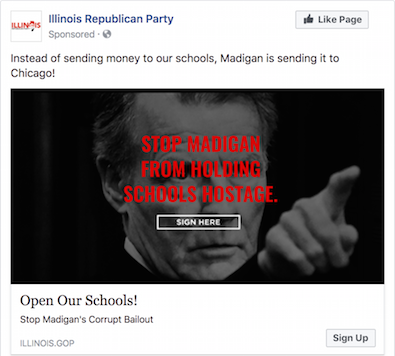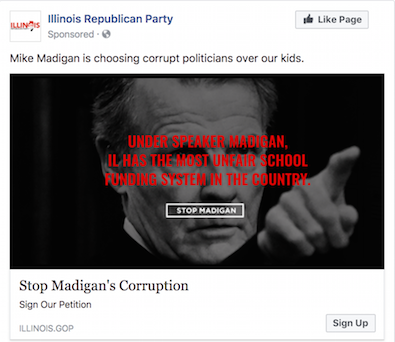 33 Comments


































































































Sorry, comments for this post are now closed.