* Press release…
Crisis Creatin' Rauner released a new video today highlighting Bruce Rauner's so-called "best team in America," a group of radicals and amateurs, many of whom were hired directly from the Illinois Policy Institute.

After Rauner was asked about his controversial new hires by a Quad City TV station, Rauner said, "we're building the best team in America." So far that team has included a staffer fired on his first day for "racially-charged, homophobic and sexually explicit tweets," and a still employed staffer who "compared abortion to Nazi eugenics." In total, over 20 Rauner staffers have been fired or resigned in protest and have been replaced by people with little to no government experience and extremist views.

"The only thing Rauner's new team is 'best' at is unleashing crisis on this state," said Pritzker campaign spokeswoman Jordan Abudayyeh. ''His new hires will only aid Rauner in furthering the damage he's done to the state, and their radical views are deeply out of step with the people of Illinois. Surely, even Bruce Rauner and the Illinois GOP can do better than this."
* The video…
Oof.
*** UPDATE ***  That video reminded me of something that a buddy pointed out to me earlier this week and I forgot to post. This is from Gov. Rauner's recent WSIL TV interview about the hiring and firing of his one-day body man, who, you'll recall, tweeted out some pretty disgusting things…
REPORTER: But weren't you involved in interviewing him?

RAUNER: Interviewing?

REPORTER: When he was hired?

RAUNER: No. I met him once.
If you watch the video, "I met him once" was said in an offhanded way.
We already know that the governor's denial about interviewing his own body man has been contradicted by reporters, including Tina Sfondeles at the Sun-Times.
* And if you click here and let the video run for a few seconds, you'll see the governor appearing at an event with his body man on the day he was fired. Here's a screen grab…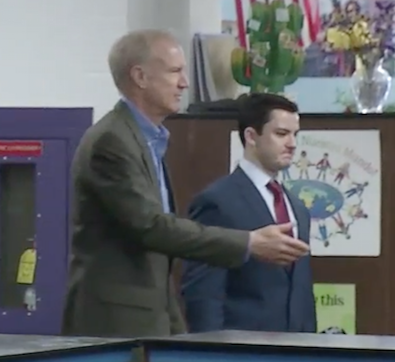 I suppose that traveling with the guy for a couple/three hours back and forth to an event in Mt. Zion could be characterized as meeting him "once." Or maybe he was just hoping nobody would notice.
By itself, on a scale of 1-10 this might rise to a 1.3. Not a big deal at all (which is why this is an update and not its own post). But politicians who establish a pattern of telling little fibs to reporters can often find themselves in hot water down the line.
[ *** End Of Update *** ]
* And this is from the ILGOP…
It's been over 57 days since Mike Madigan and his machine have taken school funding and the futures of Illinois children hostage for their $500 million Chicago bailout.

Today, the Illinois Republican Party has updated BossMadigan.com with a stopwatch to remind voters just how long the Madigan Machine has taken our children hostage.

On May 31st, SB1 passed the General Assembly. Per the Illinois Constitution, the bill is supposed to head to Governor Rauner's desk.

But Mike Madigan and John Cullerton are intentionally holding the bill, perverting the legislative process.

It's a blatant assault on our democracy in order to create pressure for their Chicago bailout.

See the updated BossMadigan page here:
21 Comments






























































Sorry, comments for this post are now closed.