* Bernie recounts Gov. Rauner's claims about Speaker Madigan's alleged conflict of interest…
"When a person who sets tax policy and has controlled it for 35 years also controls a property tax appeal law firm that fundamentally makes money from the property tax policy in a way that … specifically disadvantages the families of Illinois, that is wrong; our system is broken; it's fundamentally unfair."
* Here's some of Madigan's response via Bernie's column…
Asked about it at his own news conference later, Madigan reiterated what he has said in the past: His law firm's clients are a matter of public record, and an extensive newspaper investigation into his law practice found no client that got special or inappropriate treatment.

"My firm and myself operate under conflict rules," Madigan said. "Any potential client seeking a state benefit is rejected. If a client requests my intercession with a state agency, I refuse. If a client expresses an interest in legislation, I recuse myself from consideration of the bill."
* Steve Brown sent me the outline of Madigan's statement that he read to the press yesterday…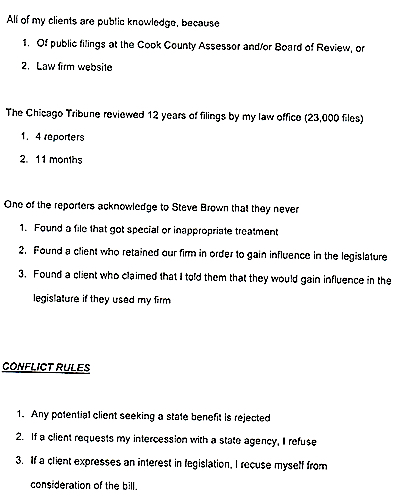 * It's plain that they're talking about two different types of conflicts of interest. Madigan is focusing on the legal and direct ethical conflicts of dealing with law firm clients. Rauner is talking about the broader concept.
Raw audio of Madigan's presser is here.
42 Comments





























































































































Sorry, comments for this post are now closed.