* The latest on the Illinois Policy Institute's cartoon from Mary Ann Ahern…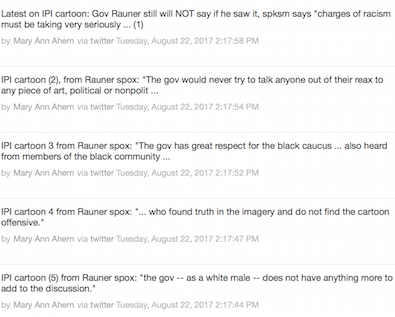 …Adding… Setting aside the whole "white male" issue and even the cartoon, this is a really odd response during a national debate over public statues and memorials to the Confederacy. Not to mention the Chicago debate over the Balbo monument. With his comment about political "art," is he now excusing himself from that whole thing?
…Adding More… The governor said this just last week about President Trump's recent remarks…
"We are all Americans. It doesn't matter what party, it doesn't matter who we vote for. It doesn't matter. What matters is that we stand for justice and fairness and equality. That's what America is about. And racism and bigotry and violence has no place in our society."
*** UPDATE 1 ***  Full statement…
Charges of racism must be taken very seriously. The tragedy in Charlottesville and its aftermath serve as sobering reminders that even today, some remain who would use violence and hate to divide us. We must never relent in working toward a future built not on what divides us, but what unites us.

The governor would never try to talk anyone out of their reaction to any piece of art, political or nonpolitical, right or left, good or bad. Those reactions deserve respect on their own terms.

The governor has great respect for the black caucus and members of the General Assembly who voiced concerns about the cartoon. The governor's office has also heard from members of the black community who found truth in the imagery and do not find the cartoon offensive. Here is where things stand: The cartoon was removed days ago. And the governor – as a white male – does not have anything more to add to the discussion.

The fixation on this cartoon and the governor's opinion of it has been disappointing. What the media and political class should be concerned about is ensuring schools open on time and stay open with a fair funding formula. Now is the time to come together to do what's right for all of Illinois' children.
So, now they're experts at what reporters should be writing about? Great messaging.
*** UPDATE 2 *** Rep. Christian Mitchell (D-Chicago), who was the first to call out the Illinois Policy Institute's cartoon, responds…
"Refusing to comment on the Illinois Policy Institute's offensive cartoon 'as a white male' is a display of cowardice and a stunning abdication of moral leadership by Governor Rauner. Furthermore, it raises more questions than answers. Is Governor Rauner's identity as a white male more important to him than his job as Governor? Will he no longer comment on issues affecting non-white Illinoisans? Will he no longer stand against reproductive rights for women, since he's a male? These are just a few of the questions now facing Bruce Rauner."
*** UPDATE 3 *** Pritzker campaign…
Instead of denouncing the racist cartoon published by the Illinois Policy that has sparked widespread outcry, a spokesperson criticized the reaction, calling it "disappointing." In a bizarre and baffling statement almost a week after the cartoon was published, the spokesperson said, "[Rauner] — as a white male — does not have anything more to add to the discussion."

Six days ago, the Illinois House rose in overwhelming, bipartisan opposition to the cartoon and denounced it from the House floor. Also six days ago, Rauner said, "racism and bigotry and violence has no place in our society" in another days-late response to the Charlottesville attacks. His attempt to wipe his hands of his responsibility to respond to blatant racism from an organization he is closely tied to is absurd. Bruce Rauner calls out racism when it is politically convenient for him and otherwise can't seem to be bothered.

"As the governor of this state, Bruce Rauner has an obligation to use his platform to fight racism in Illinois," said Pritzker campaign spokeswoman Jordan Abudayyeh. "Rauner's refusal to denounce the racist cartoon from the Illinois Policy Institute is what Illinoisans should now expect after the failed governor staffed his administration from their ranks. This is a complete abdication of Rauner's responsibility to provide moral leadership and defend the values of this state."
*** UPDATE 4 *** Mayor Rahm Emanuel…
"The governor should be embarrassed for turning a blind eye to what is plain for everyone to see. The cartoon issued by the governor's allies at the Illinois Policy Institute is unambiguously racist. We can give no quarter to racism, and there can be no justification for leaders unwilling to stand up and call out racist acts. For a man so eager to speak his mind so often, the governor's silence is deafening."
*** UPDATE 5 *** Press release…
Tom Elliott, communications director for Ameya Pawar's campaign for governor, issued the following statement today in response to a comment by a spokesperson for Governor Bruce Rauner that, "as a white male he has nothing more to add to the discussion" over the racist cartoon published by the Illinois Policy Institute:

"I am shocked Gov. Rauner would admit he is not qualified to lead a state as diverse as Illinois."

"Rauner's silence on this issue abdicates his responsibility as governor and ignores his own privilege and the role it should have in fighting racism and bigotry."

"We need to elect leaders like Ameya Pawar who will address the serious issues surrounding race and class, and who will work tirelessly to bring our state together. The only way we will overcome our inequities is by uniting as one Illinois, and resisting the tactics Rauner uses to divide us so nothing at the top ever changes."
117 Comments






























































































































































































































































































































































Sorry, comments for this post are now closed.