* From the Fox News Channel's Bret Baier interview of Gov. Bruce Rauner…
BAIER: There are some families who say they've lost loved ones because of sanctuary status or policy and they're trying to meet with you. Do you want to hear that point of view?

RAUNER: I want to hear everybody's point of view. I work for everybody in the state of Illinois. Our immigration system is broken and we need to have a system that keeps the people of Illinois safe, the people of America safe. We've got to put that as the first priority.
* The Illinois Review did a brief piece on this social media meme…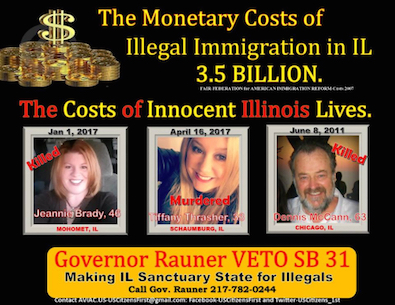 * From the story…
The families of these three Illinoisans that died at the hands of immigrants in American illegally have yet to hear from Governor Rauner, although he promised Fox News' Bret Baier he would speak with them before his final action on SB 31. The deadline for action on the bill is August 29th.

"No, the governor hasn't called me yet," Brian McCann told Illinois Review Tuesday morning. "It's very disappointing. There are four families that want a chance to share their stories with him in person. We're all hoping he does what he said he would do."

The above meme is circulating the internet, encouraging calls to the governor's office to veto SB 31.
* As you already know, the governor is supposed to sign SB31 next Monday. But that's giving time for public pressure to build…
Fran Eaton, co-founder of the conservative Illinois Review website, questioned whether Rauner's support for the bill was "the beginning of the end."

"If he wants Republican support, then govern like a Republican," Eaton tweeted. "It's simple. Otherwise, it's a waste of time & energy." […]

State Sen. Dave Syverson of Rockford has said Republicans are concerned the "blanket prohibition could result in leaving criminal illegal immigrants, including those accused of violent crimes, on the streets." The conservative news organization Breitbart just wrote an article on the bill suggesting Rauner would be helping Democrats "frustrate federal immigration enforcement."
* But Lake County Sheriff Mark Curran, a Republican and a supporter of Donald Trump, supports the bill…
The legislation requires that local police not comply with immigration detainers and warrants not issued by a judge. Curran said that's already standard practice.

But writing it into the law could help stop other sheriffs or police chiefs from going rogue, supporters say.

In addition, the TRUST Act would prevent local police from stopping, searching or arresting anyone based on their immigration or citizenship status.

Again, that's already how it's done in Lake County, Curran said. […]

"In order to police these communities, protect these communities from the true predators, you have to be able to pull up with lights and all and not have widespread fear and panic among citizens that really have nothing to do with the crime."
* And that makes me wonder if Rep. Cabello understands the legislation…
Also critical of the bill is Rep. John Cabello, a Republican of Mexican heritage who is a Rockford police detective and also co-chair of the Illinois Trump Victory fund. Cabello said the measure puts police in the position of choosing whether to uphold federal law or state law.

"We can't cherry-pick which laws we are going to enforce, it doesn't matter if this bill is signed into law or not, law enforcement will do what we have to do," he said. "I think this bill is symbolic, no law enforcement officer is going to follow this bill."
* Related…
* Illinois Review: Despite threats of federal police funding cuts, Rauner to join Emanuel in defying federal immigration laws
50 Comments





















































































































































Sorry, comments for this post are now closed.