* Roll call…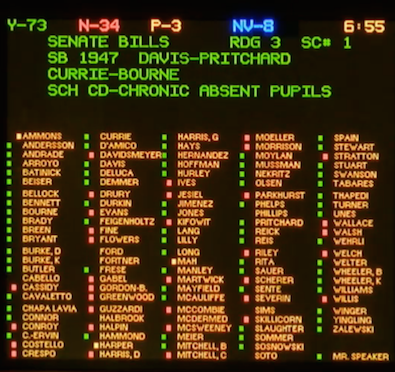 * The House Speaker's "member management" worked. He gave his members a chance to blow off steam by voting against a bill that contained the private school scholarship tax credits, then gave them a shot at overriding SB1 and then, when it was clear there was no other alternative, passed the bill. The only alternative was to either wait until a true crisis built or re-worked the entire bill, which would have been a grueling task that would've likely hurt CPS.
I'll post react as it comes in.
*** UPDATE 1 ***  Speaker Madigan…
House Speaker Michael J. Madigan issued the following statement Monday:

"Today we saw compromise. Instead of pitting children and communities against each other, Democrats and Republicans came to an agreement on much of what's in this bill. And even where we don't fully agree, we're willing to work together in good faith and meet each other half way.

"This bill provides the same promise of permanent funding for our schools as Senate Bill 1, with some additional items included at the request of Republicans. Even if all members did not agree with 100 percent of what is in the final bill, this bill still delivers 100 percent of what schools throughout Illinois need. This bill is a permanent promise of more funding for schools statewide. Every district in Illinois wins under this plan.

"Through compromise, we've included some provisions that many members would not have supported on their own. But a package that permanently provides more money for Illinois schools and puts us closer than ever to fixing Illinois' broken school funding system is too important to let partisan differences get in the way."
*** UPDATE 2 *** Mayor Emanuel…
"The Illinois House took a significant step tonight by passing an education funding plan that provides parity and stability for children across Illinois. I want to thank Speaker Madigan, Leader Durkin, Rep. Will Davis and the bipartisan group of legislators who put politics aside to address decades of inequity. As a new school year begins, students and educators deserve peace of mind. We are hopeful the Senate will take action and Governor Rauner will sign this historic legislation to support the education of children throughout Illinois."
*** UPDATE 3 *** Gov. Rauner thanks… Speaker Madigan? Yep…
"Today, members of the Illinois House of Representatives voted to bring historic education reform to Illinois children and their families. I want to thank Speaker Madigan, Leader Durkin and their staff members for finding common ground that will reverse the inequities of our current school funding system.

"Aligned with the framework provided by the Illinois School Funding Reform Commission – a bipartisan, bicameral working group chaired by the Secretary of Education – this bill has much to celebrate. First, every district in Illinois will have an adequacy target based on 27 elements brought forth through an "evidence-based model" of school funding. Second, new state funds will be distributed to ensure that those districts with the largest gap between current spending and adequacy will be funded first. Third, no district will lose state funding as compared to last year.

"The compromise includes the much-needed flexibility for school districts through mandate relief, while providing avenues for property tax relief. It increases transparency related to how districts are funded through local, state and federal resources.

"It protects the rights of parents to choose the school that best meets the needs of their children – providing more school choice for children from low-income families. By setting yearly minimum funding targets, this bill also ensures that Illinois will continue to invest in our most important resource – our children's education.

"I encourage members of the Senate to also pass this bill, which I will sign quickly in order to ensure that our schools – many of which have already opened for the 2017-2018 school year – receive their much-needed resources."
*** UPDATE 4 *** IFT…
Illinois Federation of Teachers President Dan Montgomery released the following statement after the House passed Senate Bill 1947:

"Tonight, state legislators moved Illinois closer to doing what we have needed to do for decades – treat our poorest students and communities fairly. Unfortunately, it came at a very disappointing cost. Governor Rauner capitalized on the crisis he created when he vetoed the original bill and used it as leverage for private school tax credits that benefit the wealthy while working families continue to struggle. We're on a better path toward equity and adequacy, and we must move forward in our classrooms and communities. But it's clearer than ever that this Governor does not prioritize public schools, and we must fight for one who does in 2018."
* And the CTU…
IL Senate votes tomorrow. We urge them to reject vouchers and keep public funds for public schools, and not a tax break for the wealthy.

— ChicagoTeachersUnion (@CTULocal1) August 29, 2017
*** UPDATE 5 *** Pritzker…
"I am relieved to know that our schools will be funded using an equitable school funding formula, but it is disappointing that Bruce Rauner used our students as pawns in his political games to get a back-door voucher program put in place," said JB Pritzker. "As governor, I will not support school vouchers and will work to do away with this program."
97 Comments


































































































































































































































































































Sorry, comments for this post are now closed.